On Tuesday, Microsoft kicked off TechFest, a research fair of sorts where the company's engineers emerge from their darkened labs and reveal their notion of the tech future. Over twenty projects – including adaptive machine learning, analyzing viral content, older exhibits such as one that lets you animate household objects using your body and yesterday's the Kinect handgrip - will be on display.
Microsoft, which insists that it sees large-screen computing devices playing a dominant role in the home and workplace, says it will make that a reality. One of the most significant presentations came from senior researcher Michel Pahud, who showed off how users could interact with large-screen displays, either directly or using their phone.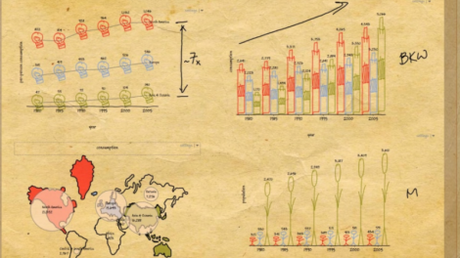 The following concept video is a showcase for what Microsoft calls "natural user interfaces," or ways of interacting with computers via touch, voice and gestures instead of a keyboard. (remember the "smart glass" concept from 2009 and another video in 2011 that showcased holograms.)
Placing a finger on the screen opens a "palette" of available options, similar to the radial menu that Microsoft included in its OneNote application. When the fingers are spread, the palette expands to include new options. Part of this could be enabled with a touch display; alternatively, a Kinect sensor could also be used to "see" how a user is actually interacting with the display.
When a user approaches with a Windows smartphone, the phone syncs with the display. When the user is close to the display, the phone shows the palette options. Farther away, the phone shifts into a "remote control" mode, presenting a keyboard and allowing the user to search and control via his voice.
Cool…
"So in conclusion we have been looking at the strengths of the large display, the strengths of the phone, and combine them together as a society of appliances," Pahud said.
Microsoft's TechFest doesn't necessarily mean that these products will come to market and be built into next-generation Microsoft-branded products and buying a wall-sized display seems a little funny at the moment. But it's a good indication that this is the direction the company is headed.
N.