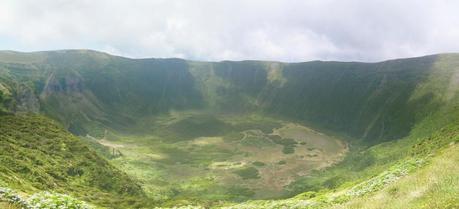 Faial Caldera, Faial Island, Azores, Portugal.
A new microgrid control solution developed by ABB, a multinational corporation operating mainly in the power and automation technology areas, will handle the wind power intermittency, thus allowing the island of Faial in the Atlantic ocean to add more wind energy to its power mix.
Faial Island, also known in English as Fayal, is a Portuguese island of the Central Group of the Archipelago of the Azores, located about 850 mi west of Portugal. The island of 15,000 inhabitants has an electricity network which operates as a self-contained microgrid, powered by six oil-fired generators that produce up to 17 MW of electric power. The island has also referred to as the Blue Island, derived from the writings of Portuguese poet Raul Brandão, due to the large quantity of hydrangeas that bloom during the summer months:
The local power utility, Electricidade dos Açores (EDA) has installed five wind turbines as part of its efforts to boost capacity of the microgrid by more than 25% and minimize environmental impact on Faial, where tourism is an important industry.
"ABB's technology will facilitate the control and monitoring of all the wind turbines and oil-fired generators on the island," said Claudio Facchin, head of ABB's Power Systems division. "This is an important function as the intermittency associated with wind energy can cause frequency and voltage fluctuations that can destabilize the microgrid, and in extreme cases even lead to power disruptions and blackouts."
The control solution, a flagship technology of the recent Powercorp acquisition, will calculate the most economical configuration, ensure balance between supply and demand, maximize the integration of wind energy into the microgrid and optimize the generators so that the entire microgrid system performs at peak potential. The integration of wind energy combined with ABB's innovative solution will save an estimated 3.5 million liters (0.92 million gallons) of fuel per year enough for a car to travel about 2,300 times around the world. This has the potential to reduce annual carbon dioxide emissions by around 9,400 tons.
ABB has previously delivered solutions to integrate renewable energy into the diesel-based power systems of the Azorean islands of Flores and Graciosa, enabling fuel savings and reductions in carbon dioxide emissions.