Published as:  A Little Slice of Home From crowded cities to a trailer park of tiny houses planned for Sonoma County, California, multiunit micro-housing complexes are popping up all across America.
Slideshow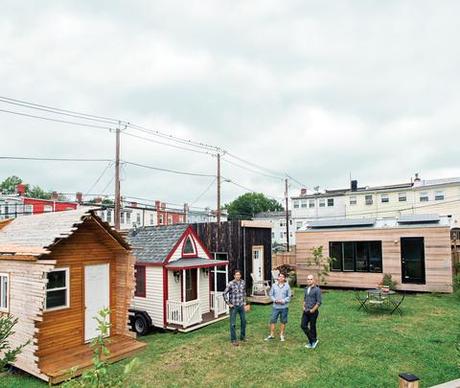 Brian Levy, Tony Gilchriest, and Jay Austin (left to right), are creating the Boneyard Studios complex in Washington, DC, along with Lee Pera and a team of architects and builders. The four structures onsite are both experiments in small-space living and, during public "work days," a base for educating the community about construction, design, and tiny houses.
In Texas, where bigger is supposedly better, there's a budding demand for very small homes. Fort Worth might be one of the last places you'd expect to find a waiting list for tiny housing, but if the city's new White Buffalo micro-unit complex is any indication, the yen to live small is a nationwide trend. White Buffalo's 63 units range from 540 to 995 square feet—grand by micro-home standards, but miniscule for Texas—and were fully leased in half the time developer Lang Partners predicted.
The Big Apple is currently undertaking the adAPT NYC micro-housing project, a pilot program on public land in the Kips Bay neighborhood. Architects and partners Eric Bunge and Mimi Hoang of nArchitects won the commission to design the 55-unit building in January 2013. And as former dwellers in a 350-square-foot apartment, they relied on their experience to devise the winning design. What the couple most missed during their tenure in a tiny home was natural light and air, so each of the 250-to 370-square-foot units will have nearly ten-foot ceilings and Juliet balconies.
Slideshow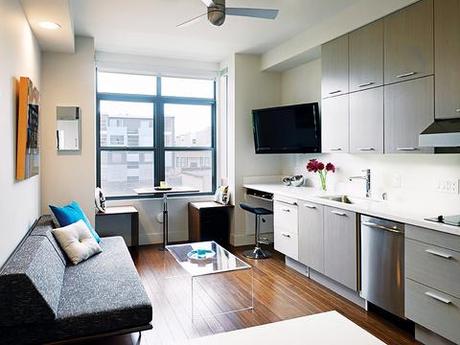 "It's important to be able to get rid of the bed," says developer Patrick Kennedy. "To me, there's nothing inherently more depressing than looking at the bed all day."
In San Francisco, sky-high rents and a forward-looking bit of 2012 legislation spearheaded by City Supervisor Scott Wiener have paved the way for Smartspace SoMa, a new prefab building containing twenty-three 295-square-foot apartments, developed by Panoramic Interests. In fall 2013, students from the California College of the Arts will move in. Rents are set at $1,600 per month, a staggering sum in many cities but a relative steal in tech-boom San Francisco, where studios can fetch $2,500 to $3,000 on the open market.
Even the hinterlands are getting in on the action. Jay Shafer moved into his first tiny house 16 years ago and has been helping people lose domestic square footage since 1999, when he founded the venture that would become Four Lights Tiny House Company, manufacturing homes under 300 square feet. Shafer is currently at work on his grandest vision yet: a whole community of micro-dwellings in Sonoma County, California.
Slideshow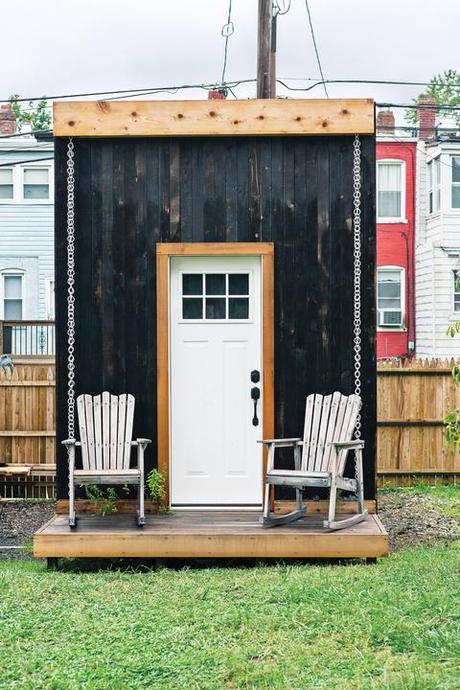 Jay Austin's Matchbox house is only eight feet wide but feels bigger thanks to a well-organized interior.
"I want to build a core of 12 to 20 houses, and then more houses around that," he says. "We'll also have a communal farm." Shafer's cheekily named Napoleon Complex is essentially a trailer park, an R.V.-zoned community of up to 70 houses, each under 400 square feet, set to be completed in 2015. Shafer argues that a success here will create a broader "contagious model for responsible, affordable, desirable housing."
This vision—a community of tiny mobile houses—is already taking shape on an alley lot in Washington, DC, albeit on a smaller scale. Lee Pera, who works for the Environmental Protection Agency, started the Boneyard Studios village with Brian Levy in early 2012, and today she and three cohorts are putting the finishing touches on the interiors of their four 200-square-foot-and-under homes on wheels. For Pera, the project is about paring life down to the essentials, forming a community with her neighbors, and "starting the conversation" in DC about compact, affordable housing.
Though she'd like to live there full time, current zoning forbids it, making Boneyard Studios strictly an experiment. But each mile she travels back to her main residence fuels her commitment to community outreach on living small. The momentum seems to be at her back.