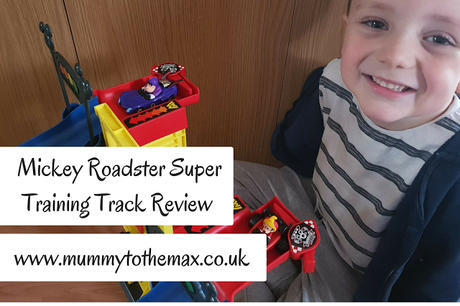 Maxwell is a huge fan of anything Disney. His favorite character happens to be Mickey Mouse. Maxwell was recently excited to be sent the c to review. Being a fan of tracks and cars, I knew this was going to be one of his favorite reviews to complete.
The Mickey Roadster Super Training Track was easy to set up. Inside the box, there were 3 separate bags of track and included in one of the bags, you were able to find a information booklet. On the booklet you were able to find instructions on how to set up the track. Each piece of track was numbered and lettered which meant that the set up was very easy. In total the set up of the track took around 20 minutes. This included the time taken to apply the stickers to the track.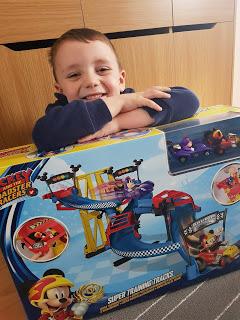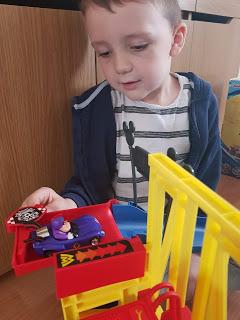 Once the track was built, we were able to see that it was very sturdy and bright. It was very appealing to the eye. Maxwell went straight ahead and got the cars into position so he was able to play with the track straight away. Maxwell got the 2 cars which came with the track into position using the moveable lift and then allowed his cars to wait at the traffic lights to start. After the count of 3, the cars were pushed onto the track thanks to a flipper switch and Maxwell and I waited in anticipation to see which car would win the race. The track is 100cm long. This means that the race to the bottom between the 2 cars which the set comes with is fast and furious and there is no telling who is going to win.
The set comes with Mickey and Pete. Mickey comes in his Hot Dogging Hot Rod and Pete in his Super Crusher. Maxwell loved playing with the 2 cars which came with the set however he also went on to play with other cars in his collection. We found that all types of cars work well on the track which is a huge bonus for us as it brings a whole load of fun to the Mickey Roadster Super Training Track.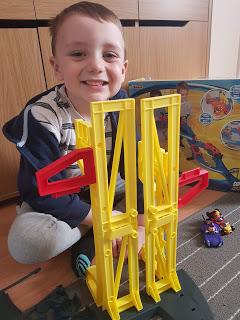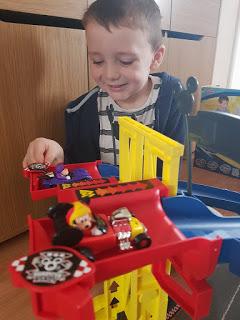 As a parent, I feel this toy would make a fantastic Christmas or Birthday present. It is a toy which is simple to play with however, it creates hours of entertainment. As a parent, it is nice to see a toy which does not require batteries and it is nice to see that Mickey Mouse is back and is back in a fun way.
You can purchase the Mickey Roadster Super Training Track on Amazon and the track has a RRP of £39.99. Will this toy be on your child's Wishlist this year?


*We received the above product mentioned for 

the purpose of this post.  All thoughts and opinions are of our own


*We received the above product mentioned for 

the purpose of this post.  All thoughts and opinions are of our own


*We received the above product mentioned for 

the purpose of this post.  All thoughts and opinions are of our own


*We received the above product mentioned for 

the purpose of this post.  All thoughts and opinions are of our own


*We received the above product mentioned for 

the purpose of this post.  All thoughts and opinions are of our own