When it comes down to off-the-green marketability in the world of golf, who do you think has the "swinging power", Phil Mickelson or Tiger Woods? This E-Poll market research study may surprise you!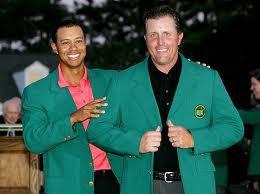 If you thought that Tiger Woods was more commercially bankable than Phil Mickelson, you would be wrong! According to Nielsen and E-Poll's N-Score, which measures endorsement potential, Lefty has almost double the strength in being "down-to-earth", in spite of the fact that people are more aware of Woods. Fans may be more knowledgeable of the Woods brand but only seventeen percent say they like Tiger. Looks like Woods needs to improve his public image...thought he was working on it?
Other likeable professional golfers as rated by N-Score include Tom Watson, Fred Couples and Ernie Els. Watson actually came in second, above Tiger, in the rankings and, in my opinion, it's easy to understand. Tom and Fred have a rich history playing Augusta with sixty-seven Masters Tournaments played between them and both have not had any real negative off-the-course media pronouncements...in orther words, fans want to cheer these two guys to a win. Still, Woods did make it to third place so likeability alone is not enough.
Although Tiger Woods seems to be recovering from his personal issues with his first win last week in years at Bay Hill and a record of four Masters wins entering Augusta this week, he has not yet bounced back in the public eye.
Will a Masters victory be the turning point for Tiger Woods? "It will be interesting to see if another green jacket at the Masters this year can win back the favor of the public and corporate America," Nielsen Sports VP Stephen Master stated. 
What do you think? We'd like to know.
Voice your opinion on Twitter @Golf4Beginners and friend on Facebook.
Here is how Nielsen and E-Poll Market Research "N-Score" came up with their findings:
Using combined research expertise, the N-Score is an in-depth look at a sports figure's overall endorsement potential, factoring in the attributes and demographic measures that align brands with endorsers. Each individual N-Score National survey is administered to 1,100 people within that panel via the Internet. The sample is representative of the general population based on gender, income, age, and education. Awareness, as noted in the Wire post above, is determined by showing half of the survey participants a picture of the athlete and half the athlete's name. Appeal is the percentage of participants aware of the athlete who say that they like an athlete or like an athlete a lot.
photo credit: linkslifegolf.com