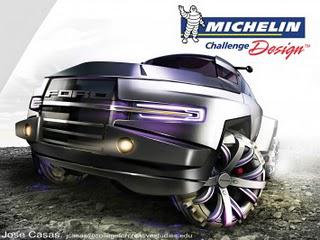 Dear friends,
Michelin
announced the new
Design Challenge for 2013
, the title this time is:  "
Half! Lightweight with a passion
". The objective is to create a lightweight family vehicle, registration will begin on 1st of October.
As consumers and governments push for dramatic gains in fuel efficiency, the automotive industry is looking to design and develop lightweight next-generation vehicles.
Designers create the inspirational forms that drive desire for vehicle ownership, but they will also contribute to lightweight vehicle development through materials choices and using the most effective manufacturing techniques. Successful design relies on closer cooperation between design, engineering, manufacturing and planning than ever before.
Participants are asked to explore lightweight vehicle development by designing a family vehicle capable of transporting between four and six people, meeting consumer demands for safety and comfort, usable on the current road infrastructure, and production feasible using materials, powertrain solutions, or manufacturing solutions that are in use today or in development for use in the foreseeable future...
Continue reading and discover all rules for registration clicking:
Michelin Design Challenge 2013
Info via

Carbodydesign.com