Truth to Power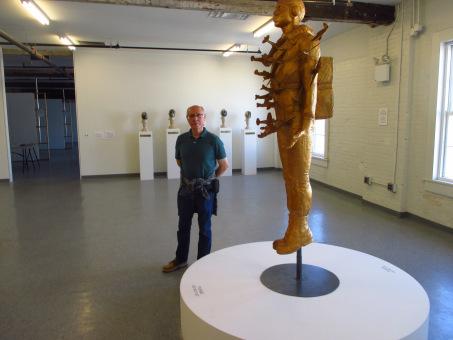 Yours truly beside sculpture of
Tar Baby vs, St. Seba
stian (Photo courtesy of Lower Manhattan Cultural Council, Sep. 2016)
These are the photographs and/or descriptions of the remaining works left behind by the late Michael Richards, an artist and sculptor who perished in the 9/11 attacks that brought him and thousands of others down with the Twin Towers of the World Trade Center in New York City.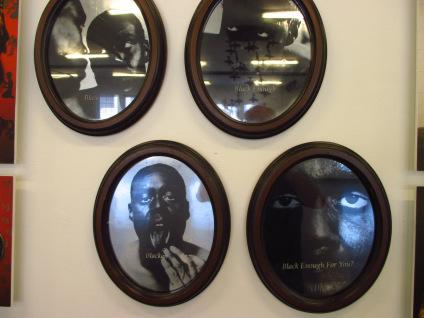 Let Me Entertain You, 1993, Mixed media installation with video, Installation images courtesy of the Studio Museum in Harlem and the Michael Richards Estate
"The installation takes the form of a historical dressing room of famous performer Bert Williams … A video of the artist applying blackface is projected unto the mirror. On the left wall of the room are four mirrors, printed with photographs of the artist, on which text is silk-screened questioning the degree of blackness reflected: 'Black, 'Blacken,' 'Black Enough For You.'"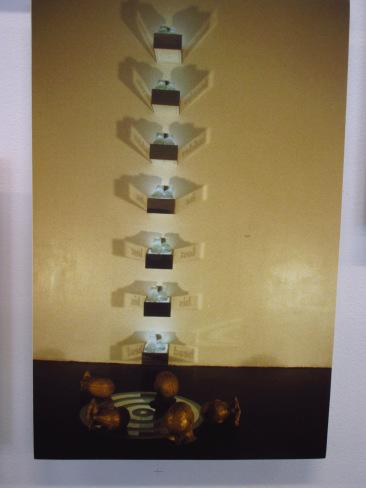 Climbing Jacob's Ladder (He Lost His Head), 1994, Resin, mirrors, lights, Installation images courtesy of Socrates Sculpture Park and the Michael Richards Estate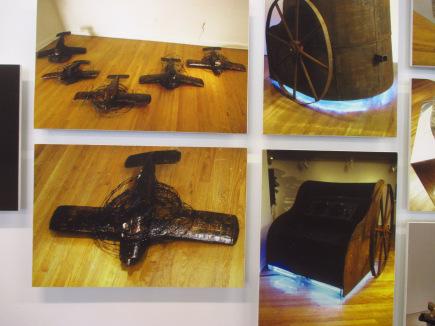 Escape Plan 76 (Brer Plane in the Brier Patch), 1996, Wax, resin, paper, metal, rubber, lights, Installation images courtesy of the Studio Museum in Harlem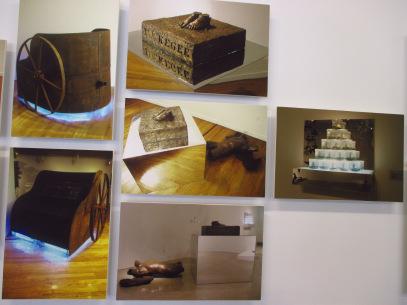 Swing Lo', 1996, Steel, neon, wood, speakers with musical soundtrack, audio tape, Installation images courtesy of Socrates Sculpture Park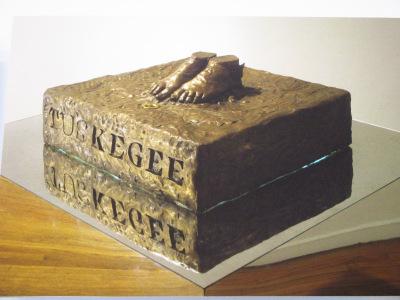 "Swing Low, Sweet Chariot," an old spiritual, the voice of reason — preaching tolerance and understanding. But at the same time, holding a "mirror" up to life's inequities and how we have been treated by those who have exploited race and economic equality for their own purposes.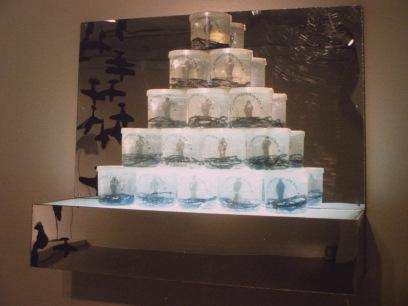 The Great Black Airmen (Tuskegee), 1996, Wood, resin, plexiglass, tar, feathers, paper, bonded bronze, Installation images courtesy of the Studio Museum in Harlem
Untitled (Air Lift), 1997, Super hold hair gel, plastic, wax, pigment, and plexiglass, Installation image courtesy of the Bronx Museum of the Arts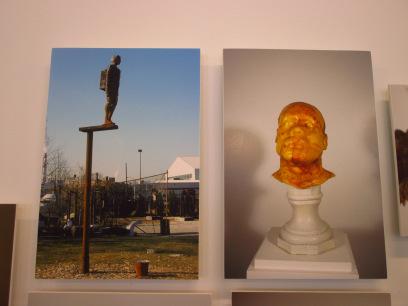 Free F'All, 1997, Resin, steel, mirror, Installation image courtesy of the Studio Museum of Harlem
[Untitled] (Free F'All), 1997, fiberglass and resin with iron oxide, Brooklyn Museum, Anonymous gift in honor of Michael Richards, 2007 © Estate of Michael Richards, Installation image courtesy of Brooklyn Museum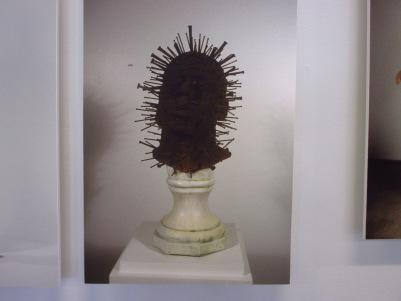 Map Head, 1999, Urethane, resin, transfer, Installation image courtesy of the Studio Museum in Harlem
N'Kisi Nigga, 1999, Urethane, metal, Installation image courtesy of the Studio Museum in Harlem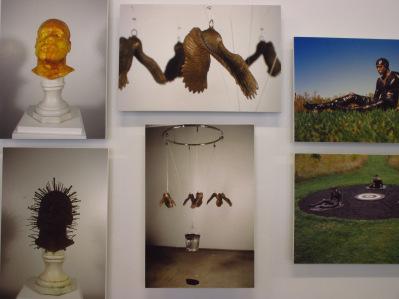 Tar and Feather, 1999, Bonded bronze, tar, metal, Installation images courtesy of Franconia Sculpture Park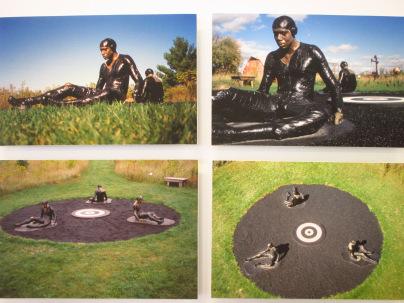 Are You Down?, 2000, fiberglass, bonded bronze, resin, concrete, black beauty sand, Installation images courtesy of Franconia Sculpture Park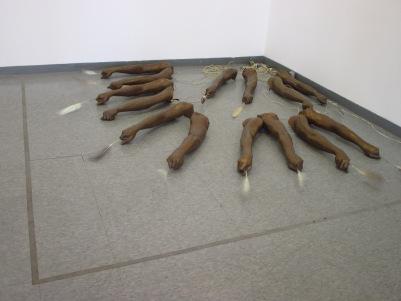 Fly Away O' Glory, 1995, Resin bronze, feathers, motors, Courtesy of the Michael Richards Estate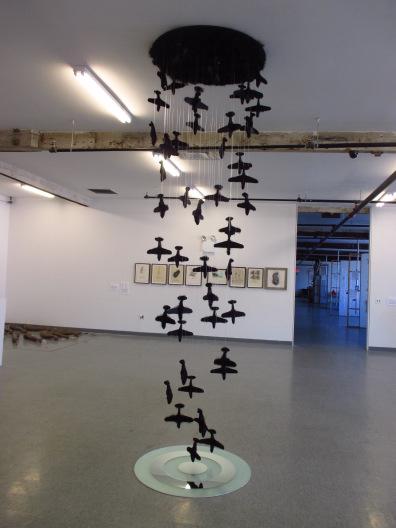 Air Fall 1 (His Eye Is on the Sparrow, and I Know He's Watching Me), 1998, Hair, latex, and glass, Courtesy of the Michael Richards Estate
Planes plummeting from the ceiling above into a mirrored abyss — again, Michael's prescience was captured by his ultimate realization of the existing 9/11 Memorial, built on the exact spot where the North and South Towers once stood: two rectangular-shaped pools of water, open spaces, with middle squares of water pouring into a hole.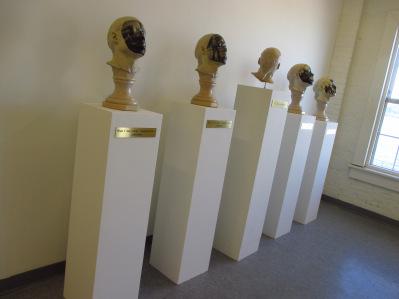 A Loss of Faith Brings Vertigo, 1994, Resin, marble dust, wood, motor, photo transfer, Courtesy of the Michael Richards Estate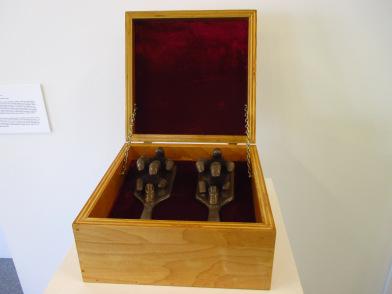 Travel Kit, 1999, Bonded bronze, hair, and wood, Courtesy of the Michael Richards Estate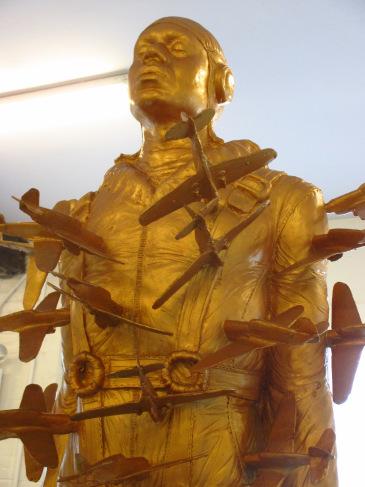 Tar Baby vs. St. Sebastian
Say It Loud!
And these are the voices of those who knew and worked with Michael, along with his own special words:
Sam Seawright, Artist: "For Michael making art and getting his message to a diverse audience was essential to his being, and a vital component of his core beliefs. One beautiful lesson I learned from Michael was the importance of overcoming prejudices, lack of funds, false perceptions and misguided criticisms and to make art at all costs, in the end the art speaks for itself. He was able to practice in the studio the lessons he learned from the hardships persevered in his personal life. He preached compassion and understanding with his art and practiced generosity of spirit in his life."
John Hock, Artistic Director/CEO and Co-founder, Franconia Sculpture Park: "Of the many blameless people annihilated that day in 2001, few can have meditated quite as much as this man did upon the quick rise and quicker fall of hope: a Jamaican, an immigrant, a black man, Richards knew something about the loneliness of exile, and the feeling of exclusion from others' realities. It is no presumption to imagine Michael, at times, had nothing to go on but his rage against an identity projected on him by apartheid."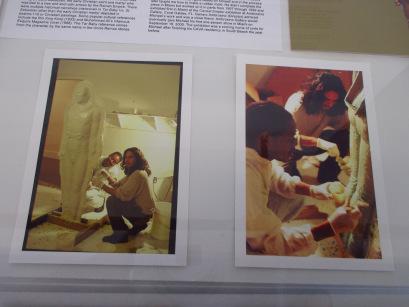 Carolyn Swiszcz, Artist: "I would describe Michael as soft-spoke (but not shy), confident (but not overbearing), and sophisticated (but not pretentious). He had a knack for charming pretty much everybody he met. It seemed to me that he didn't suffer from the kind of prickly bad moods I struggled with, or maybe he was just much better at managing them. What stays with me most, almost twenty years later, is his smile. He shared ut often. I can easily envision it spreading across his face in response to a joke or in an attempt to express a sympathy."
Wendell Walker, Deputy Director for Operations, Exhibitions, and Design, Museum of the Moving Image: "The fantasy of flight was a frequent topic between us during our early days together at the Grey [Art Gallery]. We shared dreams of flying — both beautiful and frightening ones — that we both had as children, and I cherish those conversations even though they now haunt me. I feel those dreams represent such a critical part of Michael's work and life, and I feel strangely reassured that, on that horrible day, he decided to fly."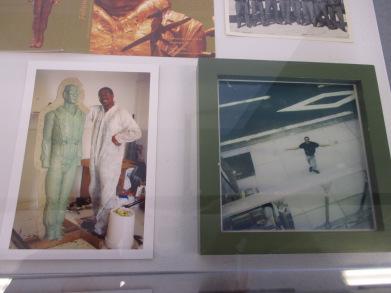 Marysol Nieves, Vice President, Specialist, Latin American Art, Christie's Former Senior Curator, The Bronx Museum of the Arts: "The impressive body of work Michael Richards produced during his brief, yet prolific career reflects the discourse on identity, racial and gender politics that was so pervasive in the landscape of contemporary art during [the] 1990s. yet his work eschewed many of the tropes often associated with identity based art by tackling the complexities of, and at times painful histories implicit in the investigation of such notion as blackness, masculinity, and power."
Dread Scott, Artist: "As much as I will remember Michael as an incredible brilliant artist and some of his unrealized projects, I really remember him as a fried and the simple things that make up friendship. What I remember most is him frequently greeting me in intentionally thick patois saying: 'Whayousay Dread?'"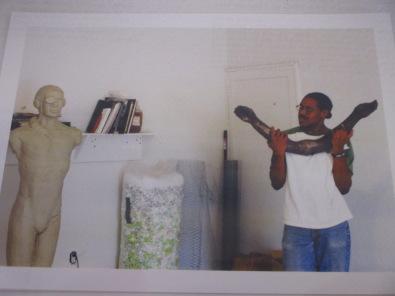 Jorge Daniel Veneciano, Executive Director, El Museo del Barrio, former Curator of Exhibitions, The Studio Museum in Harlem: "Michael was a poetic soul. Somewhat quiet, with a bemused, all-knowing smile. He had a keen sense of irony. It suffused his work, sharpened his artistic wit. A poetic sensibility for human contradictions deepened the aesthetic value of his work… His interest in metaphors of flight adds a confounding layer of irony to his life and passing. Like Icarus, perhaps he flew too close to the sun — too close to the truth. And the dark poetry of the universe answered in an unforgiving way. Yet Michael's work prevails as a living, lasting retort to the unmoved universe."
Genaro Ambrosino-D'Amico, former owner, Ambrosino Gallery: "You know when sometimes you meet someone and you think, 'Wow, he's so cool! I want to be his friend'? That's how Michael was. He was handsome, he dressed well, had a killer smile. He was loving and warm and made sure that you knew that you could count on him. He was smart, street and book smart. He could talk politics, art, music, history and popular culture with the same ease and knowledge, and always with a consistency that made you agree with him, even when you really didn't! But one thing above all I loved of Michael, and makes me miss him most. He was fair, he was just. And you can't say that of many people. That's why he was so 'cool.'"
Michael Richards, Artist Statement:
"— Does the glass ceiling which excludes also reflect the desire to belong?
"My current body of work investigates the tension between assimilation and exclusion. By focusing on issues of identity and identification, I attempt to examine the feelings of doubt and discomfort which face blacks who wish to succeed in a system which is structured to deny them access.
"How do systems of representation, and the portrayal of success both seduce and repel? I wish primarily to give voice to the psychic spaces in which exist both hope and frustration, faith and failure, and the compromises which must be negotiated in order to survive.
"Though the issues which inform the work may be seen as primarily political, I use language of metaphor to express them. The use of feathers and tar, mirrors and ladders, the concept of flight both as freedom and surrender, all attempt to open a metaphorical space into which the viewer can be seduced.
This space allows for an examination of the psychic conflict which results from the desire to both belong to and resist a society which denies blackness even as it affirms.
"In attempting to make this pain and alienation concrete, I use my body, the primary locus of experience, as a die from which to make casts. These function as surrogates, and as an entry into the work."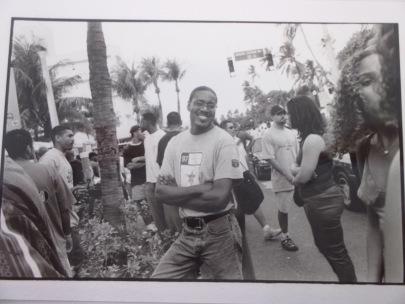 The End Game
We look in vain for clarity to horrific events, and for meaning to our lives. Michael Richards discovered both fairly early in his career. I cannot help but think of the Winged exhibition, a spare memento of the artist's state of mind, as an austere expression of his Spartan lifestyle.
Here, one may presume that Michael found closure in enclosed surroundings. His surviving works, as few in number as they were, have been arranged in predetermined patterns. We are left with a mere handful of artifacts, objects conceived and sculpted in cogent thought, in the hope of achieving a higher purpose and in demonstrating to the observer the many injustices that Michael witnessed around him.
What would Michael Richards have said about the Black Lives Matter movement? About the NFL protests by quarterback Colin Kaepernick of the San Francisco 49ers? How would he have reacted to the treatment of young black men — which he, too, happened to be one — to the violence around them?
These are the true tragedies of Michael Richards' death; the art and political world were deprived of his powerful, reasoned voice.
The exhibition of his remaining work, at the Art Center at Governor's Island, sponsored by the Lower Manhattan Cultural Council, offers, if nothing else, a singular vision of what it was like to live as a talented black artist in a racially and economically divided America.
Unlike the noise and strife that surrounded him, amid the tumult of world affairs — the so-called "body politic," and the use of his own body to portray that very politic, spiraling out of control — Michael's voice was one of calm and reason. To paraphrase a line from the poem "Invictus," he was the master of his fate; he was the captain of his soul. He commandeered a measured, more pensive response to the world's problems. He gave thought to his actions, yet put action into his thoughts.
I see a severed head (his own, if such as thing were possible) encased in a football helmet, the American flag draped around the lifeless body of a football player, kneeling before us. In my mind's eye, I see the artist's statement — it is Michael himself.
With gratitude to Alex Fialho, co-curator with Melissa Levin, for the use of photographs and literature from the Michael Richards: Winged exhibition, and to the Lower Manhattan Cultural Council for their help, support and cooperation in the writing of this article.
Copyright © 2017 by Josmar F. Lopes