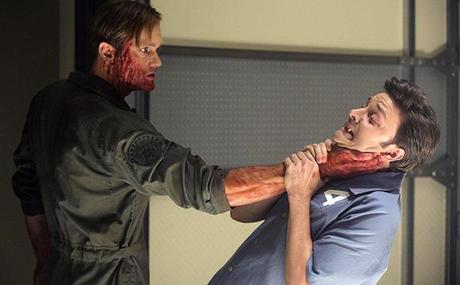 If you haven't watched last Sunday's Episode of True Blood you don't want to continue reading because there will be big spoilers coming up.  The second last episode of Season 6 focused on two major storylines – Terry's (Todd Lowe) funeral and the freeing of the vampires at Vamp Camp.  While people were mourning and burying Terry the vampires were on a killing rampage but a few deaths really stood out.  First was the doctor that had his testicles removed by Eric (Alexander Skarsgard).  On a show of death that is one we haven't seen before!  Next up Bill (Stephen Moyer)came across the same doctor who was bleeding out on the floor and the Dr. requested that Bill just kill him.  After finding out he had abused Jessica, Bill complied with the good doctor's wishes and promptly stomped on his face – another new one for the show.  The final death worth mentioning was poor Steve Newlin (Michael McMillian).  While all the vampires in the white room were drinking from Bill, Steve was like the runt of the litter trying to get in for a drink.  Unfortunately for him as he tried to make a run for the door he ran right into the waiting hands of Eric Northman.  Eric finally took his chance to help Steve meet the true death and just as Steve was about to burst into flames and die he yelled "I love you…Jason Stackhouse".  Michael talked with Vulture after the episode aired about that final scene, the mystery surrounding who Steve's maker is, and Sarah and Steve's sexual relationship.
The first topic discussed was that line ("I love you, Jason Stackhouse) that Steve yelled at the end of the episode.  McMillian revealed that he was actually the one that suggested that line, saying:
If this were Lost, Jason would be Steve's constant. And it's not only Steve's final proclamation for his one true love, but it's also a giant fuck-you to his ex-wife. It was a line I actually pitched to [showrunner] Brian Buckner. One of the things I missed most this season was that Ryan Kwanten and I hadn't had any scenes together, so when they called and said I was going to be killed off, I asked, "Am I going to have any more scenes with Ryan?" And Bucky said, "No, but he's going to be at the camp and he'll be watching from the observation room when you die." And so I said, "Then I want my final words to be, 'I love you, Jason Stackhouse.'" "Will that make you feel better?" "Absolutely." And he wrote it into the script. [Laughs.]
The death of vampires results in a messy pile of goo exploding all over everyone after they catch on fire.  When asked about shooting that scene Michael revealed a few secrets from the set.  According to him his stunt double, Tim Eulich, is the one that is actually lit on fire and then the image of him burning is edited over top of Michael's image.  McMillian doesn't really say how far in advance he found out that Steve was going to die, but he acknowledges that the character had built himself quite the following of enemies.
When asked about whether he thought Steve was straight, gay or bi-sexual, McMillian reveals that he used to have this discussion with Anna Camp (Sarah Newlin):
Yeah, well, Anna Camp and I used to talk about it, and we still do. We think that they still had a bit of a kinky sex life there for a while. I think they married young, and they were both virgins when they got married, and I think she was just trying to keep Steve happy for a long time. I think there was probably some intense dom/sub play going on in the bedroom. I think Sarah was willing to perform certain acts for Steve to keep her husband happy.
When asked who Steve's maker was, McMillian says that even he isn't sure.  The name had been written in a script last season but it ended up being taken out.  When asked if he had seen the name he doesn't exactly confirm it, but he says when writing Steve Newlin's Field Guide to Vampires (and Other Creatures of Satan), him and Gianna Sobol approached Brian Buckner about using that as a plot point but they were asked not to reveal it yet.  Wonder if that means we will be seeing Steve in flashbacks during Season 7.
To read the complete interview with Michael and see what he has to say on topics like Steve and Sarah's sex life and the True Blood comics he has been helping to write, click here.
Were you sad that Steve met the sun?  Happy?  Personally I loved the comedy that his client always delivered particularly since becoming a vampire.
Source: Vulture.com – True Blood's Michael McMillian on Newlin's Fate
Image Credit: HBO
Source: