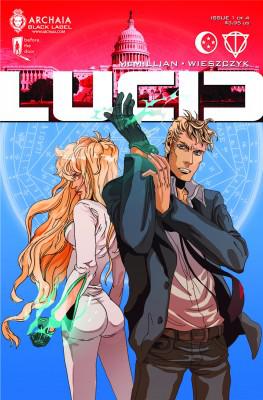 Congratulations to Michael McMillian. The True Blood star's Archaia Entertainment's comic book miniseries has been picked up by Warner Bros.  The comic series, titled,"Lucid" will be in the hands of writer-producer Akiva Goldsman to develop and produce as a potential new film franchise. Zachary Quinto's production banner Before the Door, which created the book, also is on board to adapt the property for the bigscreen.
With "Harry Potter" having ended its run at the studio, WB is on the hunt for new projects to take its place. When it was first introduced at San Diego Comic-Con, in 2009, "Lucid" was described as a tale of what would happen to Harry Potter if he grew up and joined the CIA.
Penned by "True Blood" thesp Michael McMillian and illustrated by Anna Wieszczyk, the four-book series takes place in a parallel universe where magic is real and world leaders have secret agents working to fight off supernatural threats. Main character is a young agent, recently appointed "Protector of the Realm," who must use his skills as a covert spy and combat mage to stop an occult technology dealer.
No screenwriter has yet been hired to adapt the fantasy actioner.
Archaia's editor-in-chief Stephen Christy would also serve as a producer on the pic.
"Lucid" was the first comicbook to come out of Quinto's Before the Door banner with Archaia before following that up with "Mr. Murder is Dead," written by Victor Quinaz, with art by Brent Schoonover.
The "Lucid" deal is the second for Archaia with Warner Bros. and Goldsman after recently setting up reclusive dinosaur-tale "Bolivar," based on the upcoming book from Sean Rubin, as an animated feature that Kerry Foster's Weed Road is also on board to produce and Kealan O'Rourke will write and direct.
source: variety.com