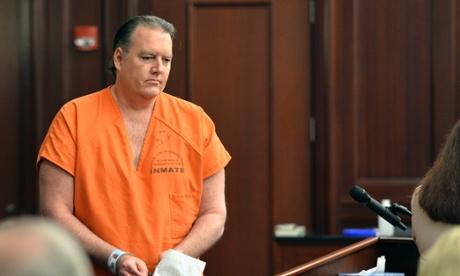 The Guardian
The man convicted of shooting dead a Florida teenager in a dispute over loud rap music has been given the maximum possible sentence of life in prison without parole plus 90 years.
Judge Russell Healey sentenced software engineer Dunn, 47, to maximum prison terms on all counts: life without parole for the first-degree murder of Davis, three consecutive 30-year sentences for the attempted second-degree murder of the teenager's friends, who were in the car with him, and an additional 15 years for shooting into a moving vehicle.
"Mr Dunn, your life is effectively over," Healey said. "This tragedy should and could have been prevented."
At his murder trial that ended on 1 October, Dunn admitted firing 10 shots into the youths' Dodge Durango during the altercation over loud music blaring from the SUV parked alongside his car. Even though he fired the final shots as the vehicle sped away, he claimed he was acting in self-defence because Davis, he said, had brandished a gun and moved to attack him after refusing to turn the volume down. Police found no weapon and witnesses said they never saw one.