& 5 Things I Didn't Realize')">
Now that I've recovered, it's time for a Miami recap! I had an amazing time! Between lazy breakfast buffets poolside at our hotel, jogs along the boardwalk, lounging at the beach, and late night adventures in dining and dancing, it was a great trip!
5 THINGS I DIDN'T REALIZE ABOUT MIAMI:
It's really international.
Having lived my life in Hawaii, Santa Monica and New York, I miss being in a place where travelers from around the world come to visit. We met so many fascinating people in Miami! I especially loved that at our hotel, the staff members wear name tags with their country/U.S. city of origin. (Most unique: our cabana boy was from Macedonia.)
/
Hotels are where it's at (not necessarily South Beach).
Our first night we went to the Fontainebleu, and even the lobby bar was jam packed…on a Thursday. The dance club there LIV** was amazing! Friday night we ventured out to the SLS, where their outdoor bar/lounge/club Hyde Beach is really quite nice with a DJ. And on our last night, I have always wanted to see the Delano — more low key but the famous pool bar and the FDR club were fun. People were dancing barefoot in the pool…which was entertaining! But I guess mostly, I just really enjoyed being in hip places with hip people again.
/
Miami is very good to the ladies.
We didn't have to wait in a single line, pay a single cover or buy a single drink. I have traveled enough to know that that is not always the case! I don't know if it's because everyone is in vacation mode and feeling generous? Regardless, it was nice to be treated so well!
One thing we noticed about the women: very much like Vegas. Lots of tight, short dresses! No judgement, but we opted for slightly more sophisticated options since that is more our style, and we felt just fine. (Although they all looked hot in Hervé Léger bandage dresses, don't get me wrong!)
/
You don't go out until 11pm/12am at night.
Being on West Coast time, this was not so much of a problem for us. But it does feel seedy to be heading back to your hotel at 4am! Thankfully our hotel was the perfect place to recoup during the day.
/
There's a little oasis in the middle of it all.
I am so thrilled we stayed at The Palms Hotel & Spa! It's nestled between the W/SLS/Delano area (around 18th street) and the Eden Roc/Fontainebleu area (around 44th street). It really reminded me of a small Hawaiian resort, actually. It's right on the beach, with large lanai's and a breezy lobby — there's even a tiki bar at the pool. It's landscaped beautifully so it feels like your own private enclave. And you cannot get any better than full service on a beach lounge chair, just sayin'. The staff were all so accommodating that it was the most relaxing hotel stay I could have imagined!
My two fave menu items: the Miami Mule cocktail and the Quinoa Tabouli salad (which I sprinkled Truffle Oil Marcona Almonds atop). Yum!
/
**There was one hiccup!! My purse was snatched right out of my hands at LIV. According to a cab driver we met, this is a not uncommon there. I was more ticked off than upset, honestly, that my first day in Miami consisted of canceling credit cards, working out a fax from the DMV back in California, and having to get a new phone. But I wasn't going to let it (and the jerks who stole it) ruin my trip!
/
Definitely will be going back! Yearly girls' trip? ;o)


& 5 Things I Didn't Realize')">

What I wore: the dresses in the photos above were budget buys! Blush (which I had shortened) / Green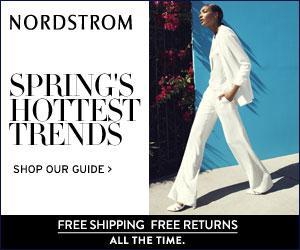 Back to Blog