Yesterday I had the pleasure of visiting Mezzet, a Lebanese restaurant in East Molesey, close to Hampton Court. Mezzet is a small family run restaurant situated on Bridge Road, very close to Hampton Court Station. You can recognise this road by the abundance of antique and coffee shops. Mezzet is perhaps the friendliest restaurant I have ever been in with waiters dedicated to ensuring you make the right choice of food and wine. The design of the restaurant is modern with slick service to match. The restaurant is spacious despite being fully booked up on most evenings. If you arrive early you will be able to sit near the large open frontage. There are a few tables situated outside if you want to eat al fresco.
Here are 5 reasons to go to Mezzet restaurant today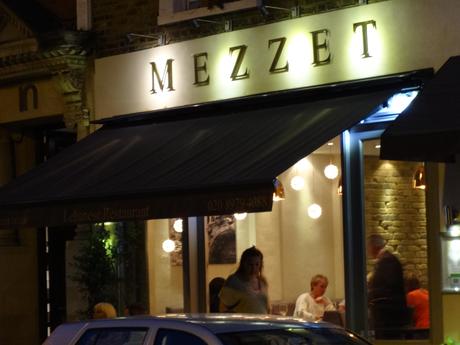 5 reasons to go to Mezzet Lebanese Restaurant
1. Lebanese food is perhaps not your first thought when deciding to eat out in a restaurant, however the delicately spiced food is perfect for sharing and is definitely a talking point. The colours of the food are vibrant and this is something that really strikes you when the food is presented in front of you.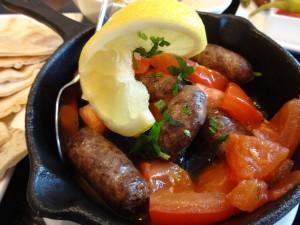 Sautéed Lamb Sausages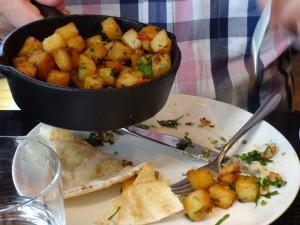 Sauté potatoes w/aleppo pepper/coriander/garlic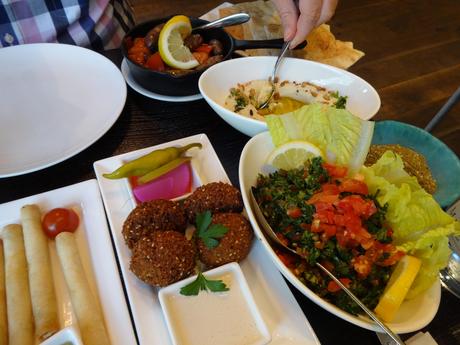 Fava beans & chickpea croquette w/ tarator sauce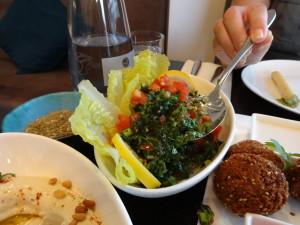 Lebanese garden salad
2. There is a choice of a set menu (which we had ) to a la carte choices- the set menus seemed a popular choice with the customers. The food is plentiful and served with passion. The waiters were very knowledgeable about the food and could describe the numerous spices used in great detail. All spices are sourced from Lebanon. The spiced sausages served with the starter collection were superbly spiced with sweet pepper and coriander. At Mezzet you are well looked after and there are more staff working than in most restaurants I have been to. This adds to the bustle of Mezzet. The staff are keen to recommend the food they offer and will readily answer any questions you may have about the extensive choices. The menu contains a good selection of European and Lebanese wines. I also noticed cocktail choices which we did not try, but next time will definitely be tempted to as they were created by one of the waiters.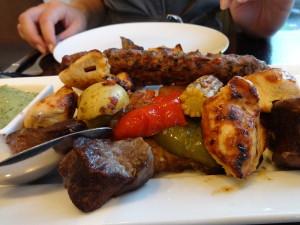 Shish taouk/ kafta / lamb meshwi /Roast vegetables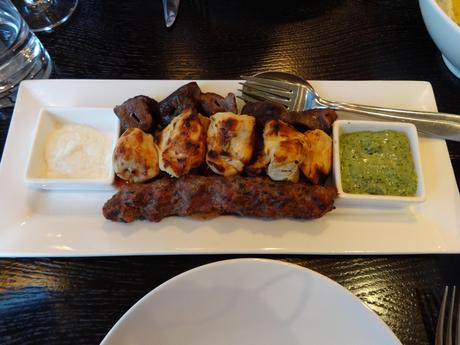 3. The dessert on the set menu was a selection of fresh fruits including cherries, raspberries, blackberries, kiwi fruit, melon, grapes, orange and strawberries. This was served with a rich chocolate ice cream on one side and a delicate rose petal and vanilla variety on the other. We were told that this ice cream was served to the Queen and is is made at Gelateria Danieli. It certainly was high quality and refreshed the palate before coffee.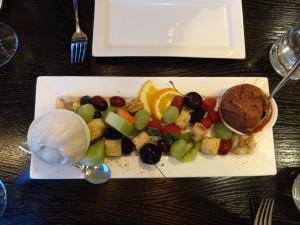 Fresh fruit platter
4. The coffee was rich and strong and the Jasmine tea which my partner had was excellent and served in a glass pot exposing the Jasmine leaves. At Mezzet they have a special tea and herbs menu, I counted twelve all sourced from Germany. The tea and coffee were served with two small, rich and gooey chocolates, one spiced with chilli which gave the taste buds a bit of a shock. Chocolates were home made by Trish founder of  Cloud Cocolan Chocolate in West Molesey.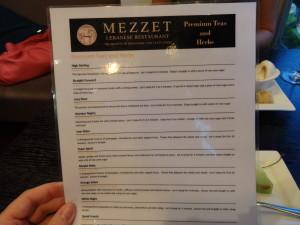 The extensive premium tea and herb menu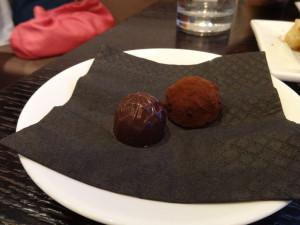 Chocolates served with coffee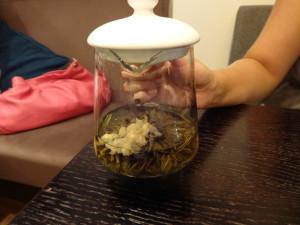 Jasmine Tea
5. Mezzet was very busy (always the sign of a great restaurant) so if you're going to pay a visit – and I thoroughly recommend it – then I would advise you to book in advance or arrive early. Mezzet is popular and from the quality of the food we ordered you can see why. The food is made from the freshest of ingredients and the flavours are uniquely different. It was clear in the restaurant that many people eating there were return customers and the staff knew them by their first names. Everyone at Mezzet receives a warm welcome and high quality service.
All in all I would thoroughly recommend anyone to visit Mezzet Lebanese restaurant if you are after high quality, perfectly flavoured food. I won't talk about prices here as you can read the menu easily here. I would advise you to travel by train so you can enjoy a drink. Trains run to and from London Waterloo every 30 minutes and the station is less than a five minute walk away. You will not go hungry as the food is plentiful and it's a good place to take your friends to share the experience with. Enjoy!
David Ridings