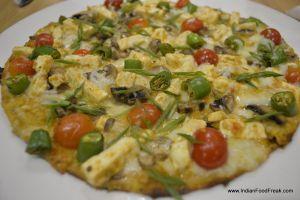 I am back at The California Pizza Kitchen for their Mexifornian promotion that will be going on till 21st June at all outlets. I had been here for the launch about a year ago but was not too excited to write about it. But this time, one can see the positive changes that the new chef has implemented in the menu.
One thing that comes to my mind is that how the California Pizza Kitchen is different from so many other pizza chains in the city. A pizza can be reviewed on mostly three factors – The dough base, the sauce and the cheese. Toppings are accompaniments that should complement the base and bring out the flavors. In my view, most of the other chains have the ubiquitous tomato base for their pizzas while very few have started experimenting with the pesto base. California Pizza Kitchen has variety of sauces that can keep a guest coming back for more.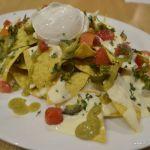 I find the Nachos at TGIF to be the best, but Nachos at California Pizza Kitchen are no less and have liquid cheese spread evenly with bell peppers, jalapenos and sour cream being the perfect accompaniment.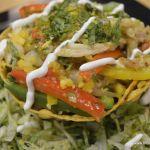 The chicken strips tossed in garlic, onion and trio peppers in Tomatillo Chille Chicken needs more bites than one. The Mexican green chili sauce however, needs more punch which in my view, is very mild. If you are a salad person, don't miss the simple flavors of Tortilla salad, which is served with an option of chicken strips or paneer strips.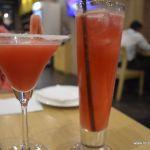 There are three margaritas – Green Apple, Watermelon and pineapple-passion. Made with fresh chunky fruits, my favorite is the Green Apple margarita followed by the watermelon one. They are a perfect and refreshing thirst quencher for Delhi's hot summers.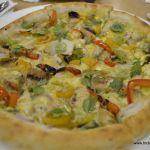 Now moving on to the Pizzas, Chicken Asada Pizza uses cilantro pesto as the base. The cheddar and fontina cheese bring out a good flavor with roasted peppers providing a much needed smokiness to the pizza. I tried it in the regular crust but would recommend a thin crust to enjoy the flavors even more.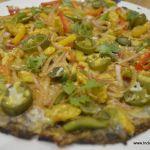 Mexican Habenaro Pizza is supposed to be hot with habenaro chilies, which this one is definitely not. While the pizza itself is great with baja cottage cheese, white mushrooms and cherry tomatoes, habenaro is not the one that you get in US. In my view they should rename this pizza else most Indians who have never had the real thing will form a wrong opinion of habenaro chilies.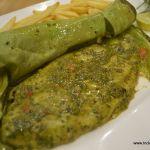 The basa as a fish will not excite many fish lovers, but would also not disappoint them. The baja marinated fish wrapped and baked in banana leaf brings out the freshness in a pizza-oriented Kitchen menu, which also grills some amazing chicken. If you like shrimps then CPK has an option to serve Cheesy Chimichurri Penne with chicken and shrimp.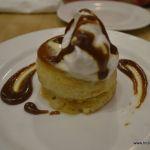 And no one, I repeat, no one should miss the in-house desserts of The California Pizza Kitchen. Their red velvet cake has always been my favorite, but during the promotion they are serving Mexican Caramel Banana Flan that is served on bed of Vanilla sponge and caramel sauce. Don't miss it.
California Kitchen is a place for matured taste buds. If you want to graduate from the normal pizza chains, then one must plan a visit here. I just hope that they soon introduce more options in pizzas for non vegetarians apart from our national foodie bird, chicken.
Ratings (Out of 5)
Food: 4.0 | Ambience: 3.5 | Service: 4.0 | Overall: 4.0
Meal for Two: Rs. 1200 | Credit Cards: Yes | Alcohol: Yes | Timings: 12.)0 pm to 11 pm | Wheelchair Access: Yes
Address: The California Pizza Kitchen, Ground Floor, Cyber Hub, Gurgaon | Phone: 0124-6518888
Disclaimer: This review was done on an invitation from the restaurant. Due judgment and care has been applied by the author to remain objective and unbiased in the review, but readers need to consider this review keeping this fact in mind.