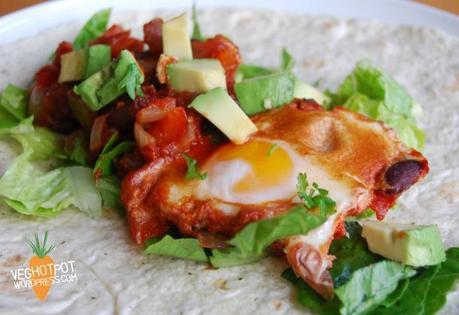 I love tomato based dishes, there is something so deliciously homely about a meal that starts with an onion and a can of tomatoes. I had my sister round for dinner last week and I cooked my puy lentil and tomato curry and she raved about it for days! In fact she's put in an order for me to cook that the night before her wedding :) She told me she missed eating tomato based meals as her and her fiance eat a lot of grilled protein and veg instead and it made me realise how much I enjoyed them too!
Tomato based recipes are usually the most humble and rustic, they rarely contain too many ingredients (because once you mix onion, garlic and tomatoes together what more do you need!) and they are also very healthy as you do not have any creamy rich sauces. Just the humble sweet tomato.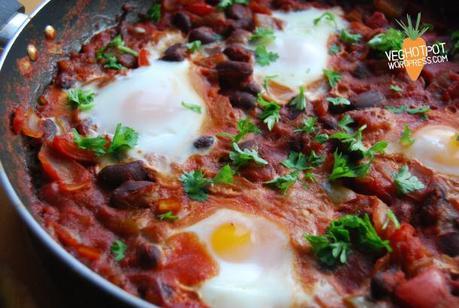 In this recipe I have added kidney beans, peppers, paprika and eggs to the simple tomato sauce to create a really delicious Mexican style baked eggs.
I haven't reinvented the wheel here, I have just shared what I think to be a rather special rustic dish. The great thing about this dish is that it is very healthy whilst being very filling. I'm the sort of girl who REALLY likes her food but I am always trying to watch what I eat. I find the times I actually lose weight and maintain it is not when I am depriving myself and going hungry but instead when I am filling myself up with whole foods.
Beans are high in fibre and a good source of protein, great for vegans (this recipe would still be nutritionally balanced without the eggs if you are vegan). Avocado is another ingredient I make the most of when I am consciously being healthy, it is very filling, full of good fats and great to add a creamy element to your meal.
Eggs are another powerhouse ingredient I like to fill me up. There is approx 55-80 calories in an egg depending on it's size making them a perfect addition to your meal, and the fact they are pretty much pure protein means they will fill you up for a long time! To find out more information about the nutrition and calorie content of an egg visit the British Lion Eggs website here.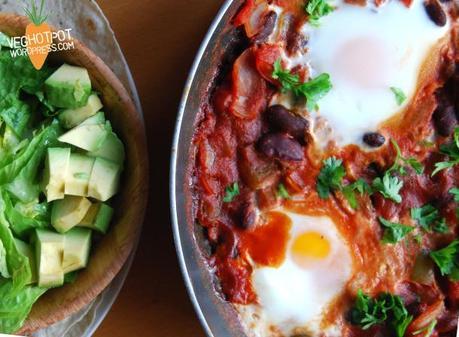 This recipe should really serve 4 people however me and a friend scoffed down pretty much the whole lot between the two of us last night....so much for keeping an eye on my eating ;)
1 Onion
1 Red Pepper (or a mix, I actually used 1/2 red and 1/2 green. Use whatever you have!)
1 Garlic Clove
1/2 Red Chilli
1 tspn Smoked Paprika
1 Can Kidney Beans
1 tablespoon Tomato Puree
1 Can Chopped Tomatoes
Seasoning
4 eggs
Parsley
Olive Oil (or oil of choice)
Avocado
Lettuce
Tortilla Wraps (can use GF)
Grated Cheese/ Vegan Cheese optional
To prepare your vegetables - peel and finely dice your onion, de-seed and finely chop the pepper, peel and crush the garlic and de-seed and finely slice the chilli.
Preheat the oven to 150c.
In a frying pan drizzle a little oil and add the onion, pepper and garlic and fry for 4-5 minutes on a medium-high heat until the onion begins to go translucent and the peppers are cooked through.
Add the chilli, paprika, (drained) kidney beans, tomato puree and chopped tomatoes and stir well to combine.
Reduce the heat slightly and leave the sauce simmer and thicken. Give it a stir every now and then and add a splash of water if it begins to dry.
Once you have a nice rich thick sauce add a little seasoning then make 4 wells in the pan and crack an egg into each well.
Place the pan into the oven and cook for 8-10 minutes until the egg white has set. Sprinkle with chopped parsley
Serve with tortilla wraps, sliced avocado, sliced lettuce and cheese if you wish.
Whats your favourite way to eat eggs? Do you like Mexican food? Would you tempted to eat this for breakfast.... I would!
NB - disclaimer - This post is sponsored by British Lion Eggs
I have shared this recipe with Fiesta Friday recipe sharing event over at The Novice Gardner event. clickhere to see what other goodies have been shared!