With the unseasonably warm Spring weather, we currently find ourselves with a surplus of squash blossoms. They are absolutely luscious, particularly when lightly cooked. Because their season is usually so short, we hate to miss the chance to eat every last flower. Squash blossoms are highly perishable and should be used within 48 hours of gathering so they don't go to waste.
Blossoms from members of the Cucurbita pepo family of squashes which include acorn squash, zucchini, summer squash and pumpkins are found in many recipes across South America. They also appear in any number of recipes in Italy, Spain, and France.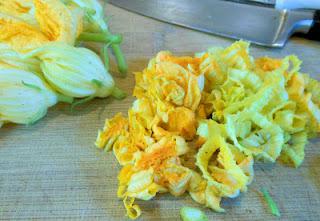 This soup, Flor de Calabaza Sopa (Pumpkin Flower Soup), is wonderfully light and makes an excellent first course or side soup we chose to preserve the texture and subtle flavors of the various ingredients, but it can also be pureed with ½ cup of cream for a sumptuously rich soup.
1 ½ tablespoons butter
1 small onion or 2 shallots
1-2 cloves garlic, sliced
18-24 squash blossoms
1 ear of corn, kernels removed
2 cups vegetable broth
1/8 teaspoon cinnamon
1/8 teaspoon cumin
Ground cayenne pepper, to taste
Lime wedges for serving
Start by cleaning your blossoms. So as not to lose any of their amazing flavor by rinsing them, gently brush of any dirt with a dry soft paint brush (designated for kitchen use only – works wonders on fresh mushrooms too.) For this soup, the stems, caps, and stamens should be removed. Coarsely chop the flowers and set aside.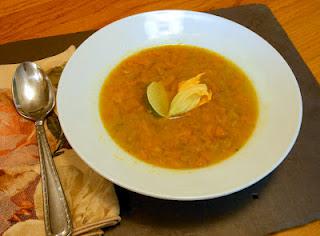 Heat butter in a medium saucepan. Slice your onion into 1/4" pieces and once the butter has melted, and then add them to pan and sauté until soft. Add garlic and corn to the pan and sauté for another two minutes over low heat, and then add the blossoms and cook until just wilted, about 45 seconds. Resist the urge to over stir at this point so you don't break up the delicate blossoms. Next, add the vegetable stock and spices and bring the soup to a boil cooking for 4-5 minutes. Remove from heat and serve into 2 soup bowls with lime wedges and tortillas or fresh crunchy bread.