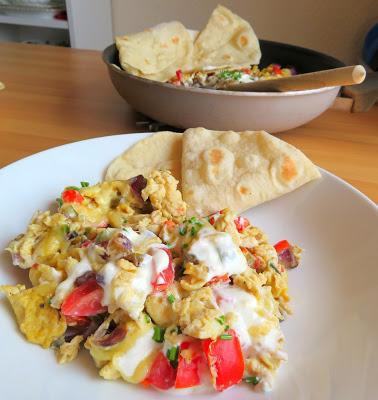 The other day I made us some tasty Mexican Scrambled Eggs for our lunch/supper.  We both enjoy Tex Mex flavours, and do enjoy a meal such as this every now and then. Quick each and incredibly delicious as well as being quite colourful!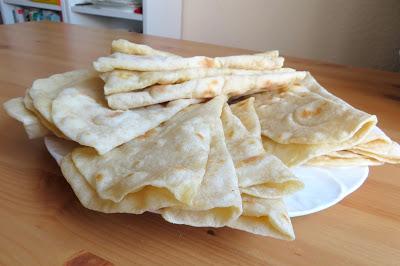 I decided to make my own tortillas for this.  I have a recipe of my own that I have been making for many years now. I started doing this back in the 1980's when mexican ingredients were not all that readily available.  You can
get that recipe here
.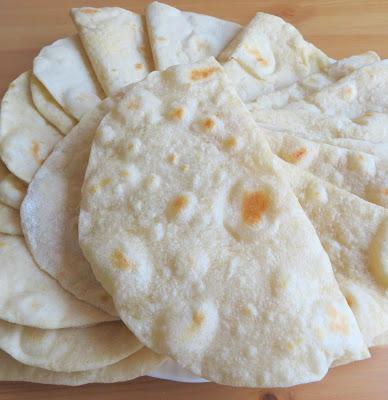 My family loved my enchiladas and I started making my own tortillas so that I could make them enchiladas from my leftover turkey and other roasts. I had seen
this recipe
however on Pinterest from Cafe Sucre Farine.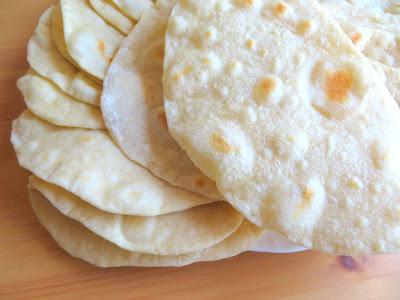 I really wanted to try it.  They looked really good and I know that blog has a great reputation for producing good food.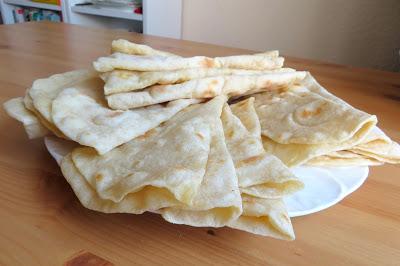 I decided to use their recipe to make tortillas to serve with my Mexican Eggs.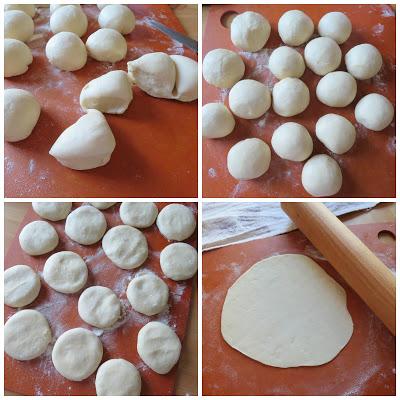 The recipe was really easy to follow, although I always have had a problems rolling out perfect circles no matter what method I try to use.  I suspect that only a tortilla press will give me perfect circles.  These tortillas however, excellent. I highly recommend.  I have shared the British measurements here.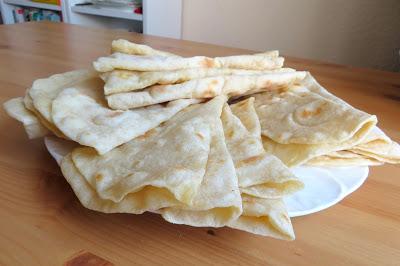 Print
Soft Flour Tortillas
Yield:
Makes 16
Author:
Marie Rayner
These are simple to make and nice and soft.  Delicious as well! Adapted with British Measurements from Cafe Sucre Farine.
Ingredients:
420g plain flour (3 cups all-purpose)
1 tsp salt
1 tsp baking powder
80ml canola oil (1/3 cup)
240ml warm water (1 cup)
Instructions:
Measure the flour, salt and baking powder into the bowl of a stand mixer (fitted with a dough hook) or into a bowl.  Give it a good whisk together to combine.  Mix together the water and oil.  Drizzle this mixture into the flour with your mixer running on medium speed until a soft dough is formed. Reduce the speed to low and beat on low for a further minute or so until smooth.  I needed to add a tiny bit more flour. (If you are doing this with a hand mixture. Tip out and knead on a lightly floured surface until you have a smooth dough.) 
Divide the dough into sixteen equal pieces.  Shape into balls. Flatten each ball slightly with your hands.  Cover with a clean soft kitchen towel and set aside to rest for fifteen minutes.  (You can leave to rest  for as much as 2 hours.)
When you are ready to cook them, place each dough round, one at a time, onto a lightly floured surface and, using a floured rolling pin, roll out to a circle 6 to 7 inches in diameter. (Mine were not completely round as much as I tried. I think the only way to get them truly round is to use a tortilla press.) Do not stack them as they will stick together.
Heat a 10 inch non-stick skillet over medium heat.  Working with one tortilla at a time, cook for 40 to 60 seconds on one side in the heated skillet (the tortilla should have some light brown blisters and some bubbles should appear on the uncooked side) and then flip over and cook for about 15 to 20 seconds longer. Remove from the skillet and stack in a covered container to keep warm while you cook the remaining ones.
These will keep in the refrigerator for up to one week in an airtight container or a zip lock bag. You can freeze them for longer if you wish.  Separate them in the bag with a square of baking or greaseproof paper.
Did you make this recipe?
Tag @marierayner5530 on instagram and hashtag it #EnglishKitchenCreated using
The Recipes Generator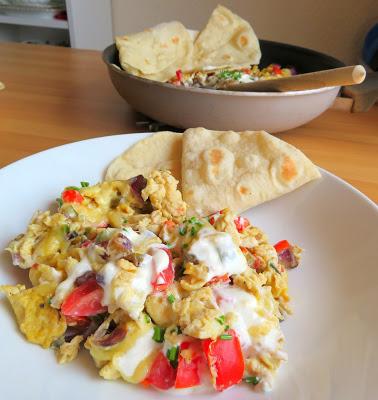 They were perfect to serve with the Mexican Scrambled Eggs.  I like toast with my eggs. I am an egg and toast person.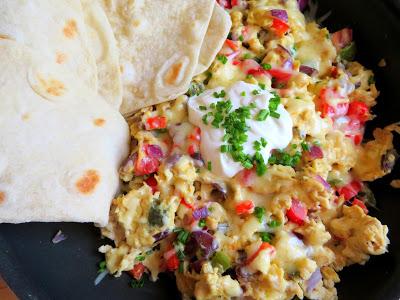 Mexican Scrambled Eggs however deserve a different kind of bread to accompany them and soft flour tortillas are the way to go!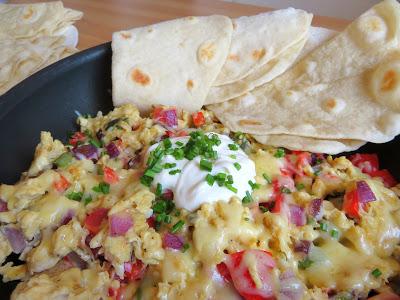 This is the perfect lunch dish (or breakfast) for two people, with plenty of color and flavor.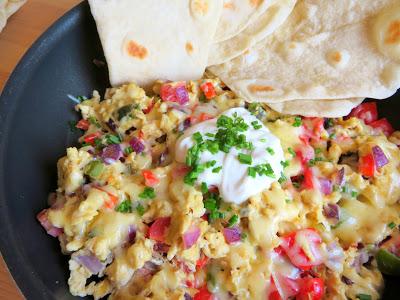 Two kinds of peppers, red and green  . . .  chopped red onion  . . .  a bit of pickled jalapeno for heat and some chopped fresh tomato. I used quartered cherry tomatoes.  Softened and mixed with perfectly scrambled eggs.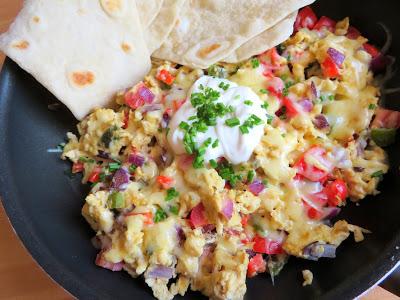 I like to serve them with some jack cheese melted on top, a dollop of sour cream and then a garnish of chopped spring onions or chives.  These were fabulous.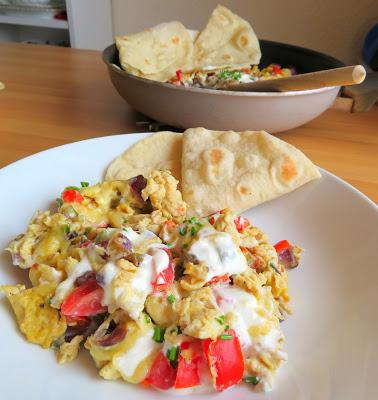 Print
Mexican Scrambled Eggs
Yield:
2
Author:
Marie Rayner
These flavourful eggs make a great breakfast or lunch. Filled with plenty of color and texture.
Ingredients:
3 large free range eggs
2 TBS milk
1/2 medium red onion, chopped
1/2 green pepper, chopped
1/2 red pepper, chopped
6 cherry tomatoes, quartered
1 TBS chopped pickled jalapeno peppers
salt and pepper to taste
2 TBS of butter
a handful of grated jack cheese to sprinkle
chopped chives or spring onion to garnish
sour cream
warm soft flour tortillas to serve
Instructions:
Prepare your vegetables. Melt 1 TBS butter in a skillet. Add the onion and peppers. cook stirring until softened. Add the tomatoes and jalapeno pepper. Stir through and cook for one minute longer. Remove to a bowl. Keep warm. Wipe the pan clean.
Beat the eggs together with the milk. Season lightly.
Melt the butter in the skillet over medium heat. Once it begins to foam, pour in the egg mixture. Let set just until it begins to set on the bottom and around the edges, then begin to lie the cooked portion with a wooden spatula so that the uncooked portion can flow underneath. Repeat until the eggs are softly cooked. No stirring needed. They will be thickened through and yet still moist and fluffy.
Fold in the cooked vegetables and stir though.  Scatter the cheese on top and allow to melt.   Add a dollop of sour cream and sprinkle with spring onions or chives.  Serve immediately with warm soft tortillas.
Did you make this recipe?
Tag @marierayner5530 on instagram and hashtag it #EnglishKitchenCreated using The Recipes Generator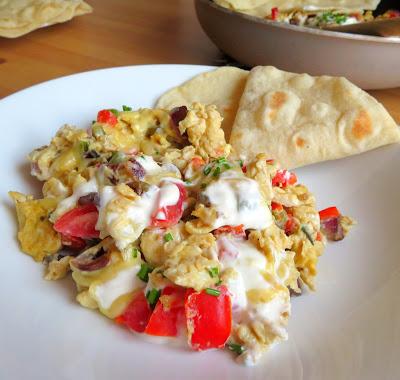 I don't think you can go wrong if you are looking for a nice light breakfast or lunch for two. I would even serve these as a light supper with a salad on the side.  These beautiful tortillas also really added a special touch! 

Follow my blog with Bloglovin