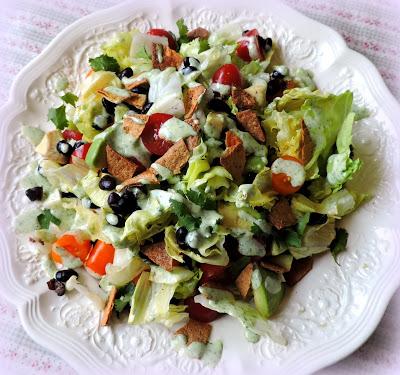 This salad I am sharing with you today has actually been in my recipe queue for a few weeks now.  I can't believe that it is the first of August today and I am just now getting to share it with you!  The summer seems to be just flying by!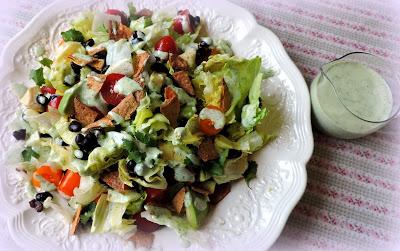 We have had some really gorgeous weather thus far this summer, which means we have been really enjoying Al Fresco types of meals.  Salads, picnics and grills.  This was a salad I made a few weeks back that we both really enjoyed.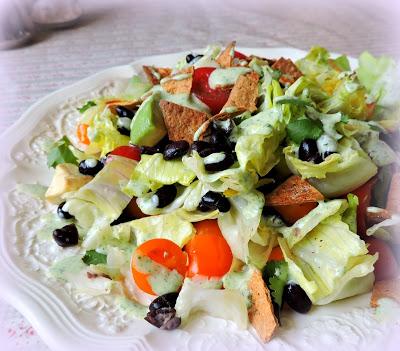 Well, in all honesty . . .  I don't think Todd ever really enjoys salad per se . . . .  but he will be the first to tell you that I have never made him a salad that he didn't find tasty.  He once said that my salads were never boring, which  . . . coming from him . . .  was a bona fide compliment!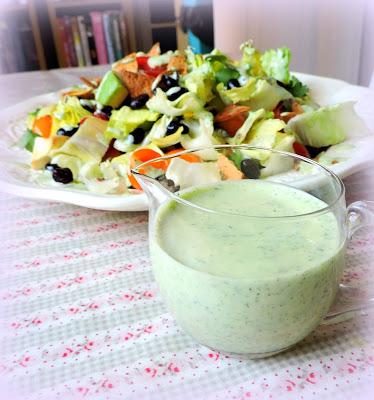 A salad is only as good as its dressing and this one has a wonderfully flavourful dressing. Coriander and Lime.  It has a lovely green freshness from the use of coriander leaf. This is also called Cilantro in North America and I understand that there are some people that just can't abide it. If you are one of those you can substitute a similar amount of basil and parsley in its place.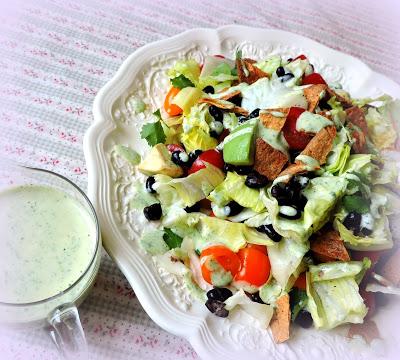 Garlic, apple cider vinegar, lime juice and honey are also flavours you will find in the dressing. I could eat it with a spoon. It's excellent and would also be wonderful on grilled chicken salads.  Just sayin' . . .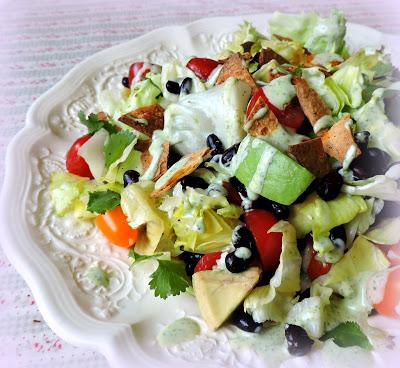 The salad itself is a wonderful mixture of color and textures  . . .  with creamy rich avocado chunks . . .  meaty black beans . . .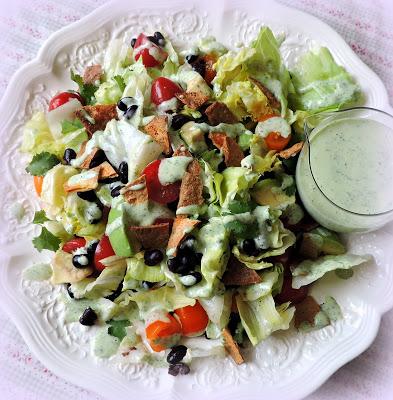 Sweet fresh cherry tomatoes  . . .  crisp iceberg lettuce  . . .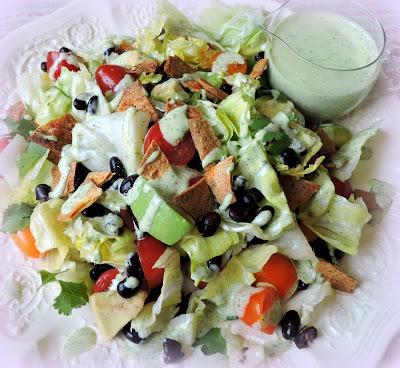 You could also add chopped spring onions and black olives.  They would make an excellent addition.  I used a mix of red and yellow cherry tomatoes . . .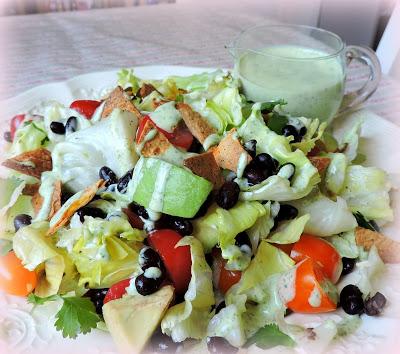 I make my own Tortilla Crisps to sprinkle over top like you would croutons.  They are very easy to do and taste really wonderful.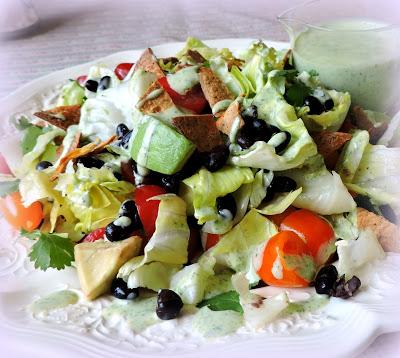 You could also crumble ready made tortilla crisps over top.  I think the cool ranch ones would be especially nice, but then again, any would work well.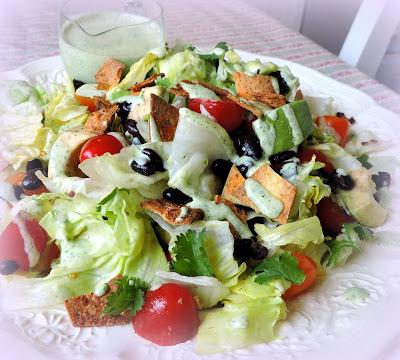 Altogether this was a super delicious and really satisfying salad.  It makes for a lovely light lunch!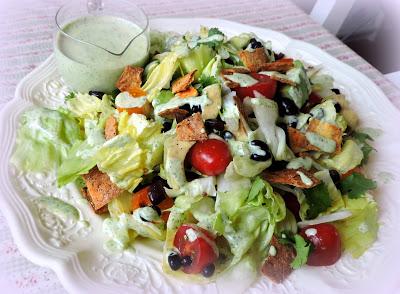 *Mexican Salad with a Coriander Lime Dressing*Serves 4Printable Recipe  
I like to make my own tortilla crisp for this, but you can use ready made if you like. 
3 corn tortillas, cut into triangles1 TBS olive oil2 tsp Mexican seasoning1 head of iceberg lettuce, torn into chunks400g tin of black beans, drained and rinsed (14-oz tin)200g pack of cherry tomatoes, halved (1/2 pound)2 avocados, halved, stoned and cut into chunks the juice of one limeadditional coriander leaf to garnish (cilantro) 
For the dressing:1 bunch of fresh coriander, stems removed and discarded(Cilantro)120g mayonnaise (1/2 cup)60ml olive oil (1/4 cup)2 TBS fresh lime juice1 clove fresh garlic, peeled and minced1 tsp apple cider vinegar1 tsp honeysalt and black pepper to taste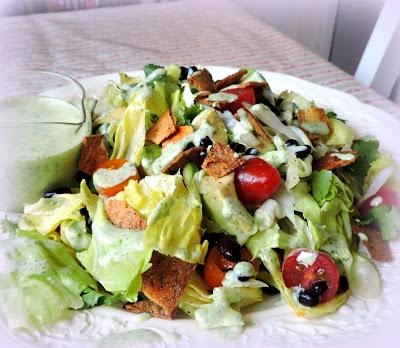 Preheat the oven to 200*C/400*F/ gas mark 6.  Line a baking tray with baking paper.  Toss the tortilla triangles in a bowl with the olive oil and Mexican seasoning. Spread onto the baking tray in a single layer and bake for 8 to 10 minutes, until golden and crisp.  Remove and set aside.
Put the coriander, mayonnaise, olive oil, lime juice, garlic, cider vinegar, honey and seasoning into the bowl of a small food processor or blender. Blitz until smooth. Set aside.
Toss the iceberg lettuce black beans  and cherry tomatoes together in a bowl.  Toss the avocado with the lime juice and add to the other salad ingredients.  Spread out on a salad platter for serving. Scatter with coriander leaves and serve along with the dressing for drizzling.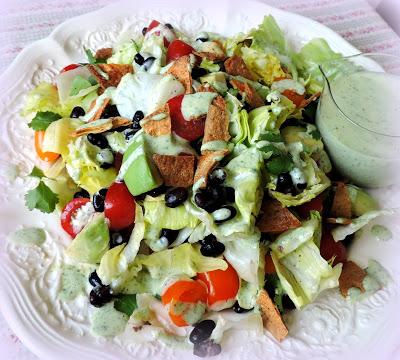 The clever cook could turn this into a substantial main meal by adding chopped cooked poultry or meat  (think leftover roast chicken or cooked steak or pork) to the salad, and or some grated or cubed cheese.  I recommend a medium Cheddar or a Jack cheese. Bon Appetit!