Here's another review for you lovelies! Once again, for those of your who don't feel like making your own dishoap, here's a product that you might want to try. The great thing about Method Pump Dish Soap is that you can also purchase refills which saves you money now, and landfills in the future. Here's my review.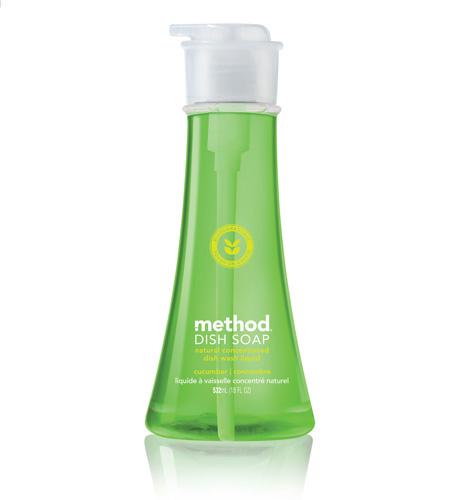 Method Pump Dish Soap 18oz. $3.99
Ingredients: Plant Based and Biodegradable Surfacant Blend, Corn Alcohol, Glycerin, Citric Acid, Table Salt, Light stabilizer, Fragrance, Color, Preservative (under 0,1%), Purified Water
I picked up this dish soap over a month and a half ago and the 18 oz. container is still over half full. I've used it on baked on, burnt pans, plastic cutting boards as well as china and it cleans everything quite well. Now, to be honest, Sexy and I are vegetarians, so I can't vouch for how it will work on chicken grease. But it did a great job cleaning burnt pasta and olive oil out of the bottom of a cast-iron pot I had if that helps. The *cucumber scent* also makes the kitchen smell great! The thing I think I like the most about this product is that a little goes a long way. I was hoping to find it for less than $4 but if this stuff lasts me another month it will definitely be worth it.
RATING: 5 Smart – Great product, great ingredients, great price, and refills are available!
As always. This product is available in the Savvy Shop
Savvy Ratings: 5=Savvy 4=Smart 3=Suitable 2=Satisfactory 1=Stupid