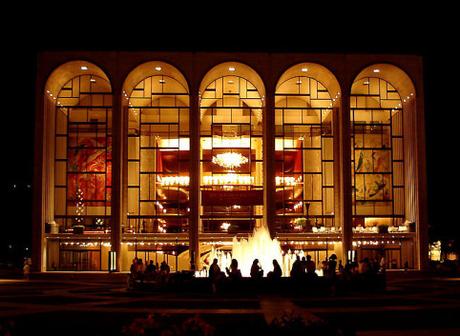 Metropolitan Opera House at Lincoln Center (Photo: John Glines)
And Now, a Word from Our Sponsor
This has been a heck of a year for opera houses in general, especially for the good ole Metropolitan in New York. That's the one we hear about most in our area, and the one this writer listens to and blogs about more than any other.
Why is that? Well, it helps to have grown up in the city (which I did). It also helps to have attended performances at the Met (which I did), or its sister company across the plaza, the once defunct but now revitalized New York City Opera (which I most emphatically did). Having lived in a foreign country for a number of years, one gets cut off from the operatic mainstream. When you come back to the States, you kind of want to get away from all the problems you had previously left behind in the first place. Ah, yes, it's an odd love-hate relationship we have with opera, a constant give-and-take, albeit one I find most enthralling. Quite rightly, we fans put up with a lot for our opera. It's all part of the process, I assure you.
Let me give you a for instance: about a month ago, I read a series of online articles discussing the current state of this country's opera houses. Of course, the Met was at the center of the controversy. There's no question about it: the Metropolitan is the most expensive house in the world to run and plan for, as well as to eke out a profit from. If you want my unsolicited advice, ANY opera house is a hard sell in financially troubled times, but for me that's a non-starter: one either loves the arts, or one doesn't; either music soothes the savage beast in you, or it doesn't. I couldn't live without opera for too long. It's been ingrained in my system from earliest youth, and so have the untold problems associated with it.
With that bit of business out of the way, one of the articles put forth readers' suggestions for improving the finances of said U.S. opera houses — with the mighty Met high on the list. To get its fiscal house in order, so to speak, and improve its ability to deliver what for most folks is a fairly expensive proposition (opera has always been considered a luxury in most quarters), a slew of cost-saving proposals, practical ideas, and potential long-term solutions were disseminated. I haven't the time or inclination to go through every one of these proposals in depth, but I do want to highlight a few of the more sober observations.
Weekends at the Waldorf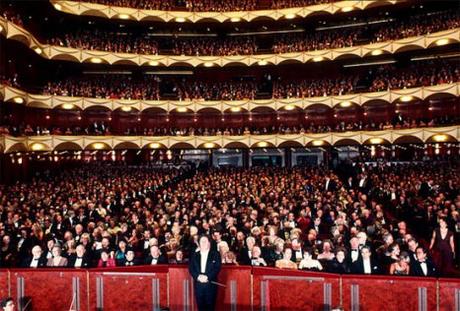 Inside the Met Opera auditorium
One of them was to provide for more weekend performances, in particular on Sunday afternoons, something the Met has rarely if ever done. The NYCO used to have Sunday matinees. I should know: I participated in a number of them. The rationale behind this ploy is that Broadway, off-Broadway, and other select venues, including restaurants, movie theaters, shopping malls, commercial establishments, and the like, cater to the tourist trade — with spring, summer, and fall being the most favorable seasons. Would the Met's board of directors be open to presenting opera, say, on a Sunday afternoon at two? That would be an attractive option, one that in my own city (Raleigh, North Carolina) is an opportunity I have taken full advantage of from time to time.
Part of the problem with that is the Met's multiple contracts with workers, stage hands, orchestra players, chorus members, and front- and back-office personnel. Why, the overtime alone would far outweigh any possible benefits realized from such a plan. How this specific scheme would be handled by the various unions and their members is a matter of conjecture. If money for the arts is indeed tight, as has been stated at the outset, then I have no clue as to how presenting opera on a Sunday would help matters any, given the circumstances I've just described.
If It's English, It Must Be Opera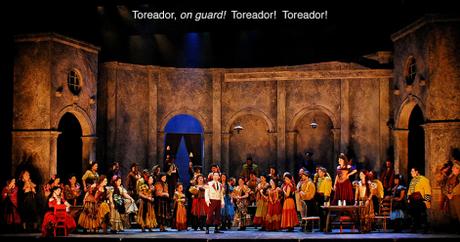 Supertitles over Bizet's
Carmen
Other issues were brought up, such as performing opera in the vernacular (in English, in this country's case). Believe it or not, historically this was a fairly common practice in the U.S. (and on 1950s television) long before supertitles and surtitles became fashionable. This begs the question as to whether singers, familiar with their parts in the original language (be it Italian, French, German, Russian, Spanish, Czech, or what have you) are inclined to re-learn them in American or British speak.
Then there's the matter of intelligibility. The fact that artists are singing in what appears to be English does not necessarily indicate they will be understood in that language. Clarity of diction is a must in most works, but English can sound mushy in the larynx of singers unused to its syntax and stress points (and American artists are not immune to this problem, either). The same holds true for our linguistic abilities in a foreign tongue. So the problem here, then, is one that cannot be solved by simply translating the text (hardly a simple matter in itself).
Whether we wish to admit or not, the use of supertitles and surtitles has revolutionized the opera-going habit. For the first time, audience members have at their disposal a reliable means by which they can finally break down the language barrier and understand what the characters are singing about.

Seat back LCD display of surtitles, in use at the Met Opera, New York
In that, I strongly take issue with the late British music critic and writer Rodney Milnes, who famously described surtitles as "idiot boards." Most people watching and listening to opera are a curious lot, who may know a thing or two about the music. They do know what they like, even though they might be clueless as to a character's motivation, or the intricacies of an opera's plot. But they most certainly are not "idiots." Or else, why would they be going to the opera? That was a poor line of defense, I must say, the proof being the overwhelming acceptance of this type of advanced technology in many of this and other country's opera houses.
Slim Your Way to Success
Another, more odious suggestion (ugh, I can hear the groans now) would be to trim some operas of their excessive fat, so that testy audiences could arrive home at a decent hour. The reasoning here is that many attendees are commuters, who happen to live in cities other than those in the Greater Metropolitan area. Since commuter trains operate on a fixed schedule, with wait times growing between trains the later the hour becomes, it's crucial for the public to leave the theater before the opera ends, in order to make it to their train before departure time.
The plan to cut certain operas — usually those five- and six-hour Wagnerian extravaganzas, with Strauss or Verdi, or perhaps even Rossini and Donizetti, waiting in the wings — to a more reasonable, real-world length sounds "feasible" in theory. What this means in execution, however, is that a work such as Die Meistersinger would have to end long before the midnight hour in order to satisfy the rush-hour crowd. It would need to start at around five thirty or six o'clock postmeridian time; which warrants your having to wolf down your meal, or grab a quick fast-food bite to eat, prior to curtain time. Still, if the opera's management slashes a few lines of dialog here and there, what would be the harm? As long as you can make the 11:54 to Yonkers, how could that be a bad thing?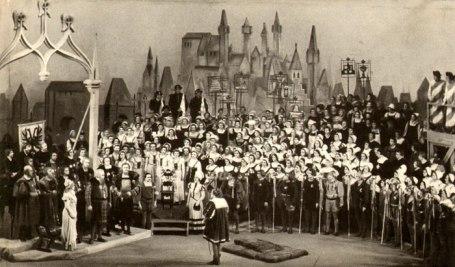 Act III of
Die Meistersinger
(Rudolf Kempe conducting, 1950)
Let me count the ways!
The Met was notorious in its heyday for slashing Die Meistersinger, or any of Wagner's works, to shreds. It ruined the continuity for purists, and made hash out of the composer's carefully constructed scoring. Thankfully, saner minds prevailed, and later Met Opera managements made the sound decision to present Die Meistersinger — and, for that matter, most of the standard and not-so-standard repertory items we know and love — in as complete a form as possible. And Wagner wasn't the only composer given this ill treatment. Mozart, Rossini, Donizetti, Verdi, Gounod, and various others had undergone this procedure with the judicious application of surgical scissors to their oeuvre.
Lovers of the art form have only benefited from the practice of "inclusion," as I like to call it. I've often commented about hearing, for the first time on the air, note-complete versions of my favorite works (Cavalleria and Pagliacci come readily to mind), many of which have never received a full hearing in the years they were performed at the house. What a difference that has made to people like me who've dreamed of catching every last beat of Rigoletto.
To have to go back to those olden times when works would breeze by in the twinkling of an eye; to hear Wotan's gripping Act II monolog in Die Walküre bereft of its most intricate passages; or lose whole sections of operas, such as was the case for decades with Donzietti's Lucia di Lammermoor, is to return to the operatic dark ages.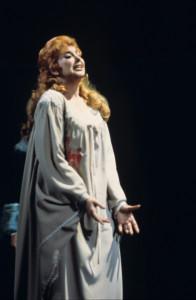 Beverly Sills as Lucia (San Francisco Opera, 1972)
As a case in point, it took the NYCO's adventurous Tito Capobianco production from 1969 — with Beverly Sills at the helm — to FINALLY allow audiences a chance to hear Raimondo's melodious Act II aria and duet with Lucia, as well as the fiery Wolf's Crag episode with Edgardo and Enrico, in addition to the brief, never-before-staged sequence in which Enrico (Lucia's brother) accuses Normanno of being the instigator behind the opera's tragic consequences.
In the years since French coloratura Lily Pons undertook Lucia, not only did she move the role's keys up an octave (!), but the Met indulged her "request" to cut the opera's last scene, the one that includes "Fra poco a me ricovero," a most excellent air for the tenor, along with Edgardo's ensuing suicide, "Tu che a Dio spiegasti l'ali," featuring one of Donizetti's loveliest, most gorgeous statements for voice and solo cello. Horror of horrors! How could that have been allowed to prevail? But yet, it was considered the norm back then, to cater to lead singers' whims and to the spurious demands of managers, impresarios, prima donnas, and their ilk.
In an age when opera stars ruled the roost, that was perfectly fine for most followers. Today, however, with the easy availability of complete recordings, satellite radio, CDs, videos, DVDs, and Blu-ray®, not to mention iTunes, YouTube, Met Opera on Demand, digital downloads, and such, listeners can indulge their taste for opera at any time, and at any place, all for a most reasonable price. We've become spoiled by progress, and I, for one, strenuously object to having to go back to the way things were. I don't know about you, but I get upset when even the most insignificant piece of music gets snipped away, especially if I have heard it reinstated in one of the myriad forms mentioned above.
On the other hand, we're powerless to do anything about it. If the Met and other companies insist on cutting the music to some scenes, who are we to say no? The only means of objection we have at our disposal is to boycott the theater, or not attend any of the performances. I must concur that some operas are in drastic need of a haircut, or a little trim along the sides, if you will. For example, I find Strauss' interminable Der Rosenkavalier a chore to sit though. And that boorish Baron Ochs is the most verbose individual I've ever had the displeasure to meet. If any opera needed trimming, that would be my prime target to start.
And then, there's always the argument that some operas sound LONGER when they're cut. I find this notion an odd one, to say the least, but I've heard it a number of times, usually during the Met's radio intermission, by any number of panelists on the Opera Quiz. How a work can seem lengthier by cutting is one of those psychoacoustic anomalies that defy physics and logic.
So who said opera was logical?
Copyright © 2016 by Josmar F. Lopes