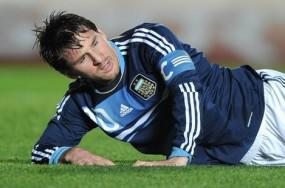 Alejandro Sabella debuted with a win. He was not the only one who was taking on the challenges of a new role. Lionel Messi also made his debut as captain of the national team after Sabella gave the armband that was held before by his Barcelona teammate Javier Mascherano. He also hopes that this is the first step taken towards rectifyng a situation that is far from optimal over at Ezeiza. In the interview he offered after the 1-0 win against Venezuela he spoke about that as well as the need for stability on the national team.
Since Messi appeared with the with the national team, five coaches sat on the national team bench (Pekerman, Basile, Maradona, Batista, and now Sabella). Messi mentioned that there needs to be more stability at the helm. He also admitted that the players and the results have a great deal to do with that as well.
"For a while (Argentina) have not been doing so well. We've been losing and failing. The truth is when are we going to win again?" said the 2008 Olympic gold medalist. "All we can do is continue working."
Messi obtaining the captaincy was yet another moment to cherish in his already illustrious career.
"I am happy, content, and grateful to earn the captain," said Messi. "I wanted it. It was about time I got it."
For Messi it was a very special moment to receive that armband and he feels that he earned based on one very important notion. "I heard that I wasn't a leader and could never be captain. I earned the respect of my teammates based on what on do on the pitch and that is very important," claimed Messi.
He also spoke about the criticisms that he received. "I always heard what was being said. There were lots of dumbass criticisms, about anything, they bother me but I am fine. I know what I want, what I give and feel for the national team."
Continue reading on Examiner.com Messi relishes challenge of being captain – National Argentina Football | Examiner.com