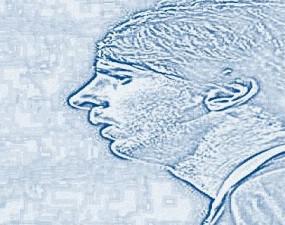 Reading what Juan Pablo Varsky wrote on Saturday helped me focus.  There are millions of thoughts rounding in my head and somehow the thoughts were channeled in the proper direction.  Lionel Messi was not the issue against Bolivia on Friday night.
A family does not display their most prized possession in the kitchen.  I have yet to see a Ferrari look cool when its on cinder blocks.  Whatever analogy you'd like to use, that is exactly the way Argentina are treating Lionel Messi right now. Tactically he's being used incorrectly and outside of the pitch questioning his heart, desire to win, and even patriotism are the easy answers to come up with.
But isn't that what we're all about?  Easy answers.  Rarely do we want to delve into a situation because we either have no knowledge of it, we don't have time to waste, or we really can't handle the truth.   If there was one thing uncovered is AFA, but that is another story for another time.   The reasons for Argentina's slow start have to be attributed to the lack of direction that they have from the head on down.
Messi was criticized harshly after the Bolivia game while Tevez stepped off to thunderous applause. Nothing further from the truth.  What I saw was a player that was running on treadmill and still getting further than his teammates.  Messi was the best player on this side on Friday, but the results were not in their favor and he was having just a tad bit of trouble fending off four defenders while his team turned to his magic on several occasions- and watched.
But there are reasons for this new low.
Partnerships
Garrincha- Pelé. Gullit-Van Basten.  Ebony and Ivory.  Well we don't have to go into the time machine-  Özil- Ronaldo, Xavi-Messi, Dani Alves-Messi.
Name one partnership Messi has made with any of his Argentine teammates? And no his Barca teammates don't count.
Pastore has been very limited with his play.   Mascherano is too far from him, although they stood close together in Germany's dismantllin of Diego Maradona's side in South Africa Cambiasso has been sporadic, Tevez doesn't connect, Lavezzi still doesn't have enough games under his belt, Sergio Agüero comes off the bench and it has some results.
Very few, if any, associations have been established with Messi. If you want to see Argentina truly play like Barca, then when is Messi going to hook up with Javier Zanetti?  Messi was already brilliant before Dani Alves arrived.  When the Brazilian right back arrived from Sevilla, the youngster went stratospheric. He partnered up well with him.  Messi began to threaten goal much more.  Most of all, that allowed Messi to come more towards the middle and run to the box and keep the defense honest.  They had to decide what poison to pick because was a Messi run or a Dani Alves pass to the oncoming Lio that would created shambolic defense.  Even the occasional Alves rocket from that angle made players wary.  Also Zanetti is not the same player hat Alves is.  Zanetti looks more to run to the line while Alves can do that but also run to goal with option one always being the pass.
Although Messi says the right things when he says that Ezequiel Lavezzi knows him "very well", what is being said on the pitch says something else.  There are really no players that are remotely on the same wavelength as him.
Now Batista's newest invention by necessity is to place Zanetti over on the left and place Pablo Zabaleta on the right is yet another change that will not benefit Messi or at least try to establish something on that end.  So if the coach has no clue how to use his ultimate weapon, how can you expect the teammates to suddenly figure it out?
Xavi and Iniesta… that is an obvious answer.  Messi will rarely have to go to his end of the pitch to obtain a ball.  Barca is not the Messi show, although he does put on some memorable performances.   This is why seeing Batista and Argentina's strategy of get the ball to Messi and have him figure it out seems to always trump his preaching of patience and possession.  Argentina's midfield sits back and waits for the opponent while Barca push up higher and pressure non-stop in an effort to regain the ball.  This would also allow for the ball to be closer to goal, thus less room for Messi to have to run.  When Xavi and Iniesta connect with him, it's a question of hand washing hand.  It's not a matter of them doing everything for Messi.  It's what he does for them off the ball that makes all the difference in the world for a pinpoint pass.
Playing like Barca?
Messi making the run and not finding a pass is not how he can take advantage of defenses.
In the midfield's defense- easier said than done.   If you push high you are leaving that backline virtually exposed to everything and anything that comes their way.   There we could only blame the poor development of defenders in Argentine football.   You know what… let's leave that for another day.
The players must think that because they have the best player on the planet, that he can dribble past five defenders every time.  That is why they watch with awe.  That is also why Carlos Tevez was open most of the time on that left flank.  Now "The People's Champ" is quickly becoming a tired act and the square peg stuck in the round hole.
Several want to criticize him because he's scored just as many goals as Gonzalo Higuaín.   Nobody remembers that three of Higuaín's goals came in one match and off rebounds.  One was a service by Messi that found him wide open.
Checho Batista says he wants to play "like Barca".   The problem is that they do not play with three defensive midfield types.   Playing like Barca does not mean just slapping together a 4-3-3 and then send them out to battle.  If anything Argentina look more like Real Madrid with a glass jaw.
Also to have a formation in the middle with three defensive midfielders that also work as deep-lying play makers make anyone scratch their head.  This is where the Pastore partnership could prove fructiferous, but that might make just a little too much sense.
What Checho as well as Maradona and Basile have done is the Hollywood equivalent of having Meryl Streep or Dustin Hoffman in you movie and casting them as extras.  Then when the move tanks, you allow them to take the blame for your failures as a director.  Hey, last time I checked it wasn't Messi letting a ball go between his legs for a goal.  It wasn't him that could not get the ball back from a Bolivia side that looked like the 1986 Germany side instead of a team that was near the bottom in CONMEBOL qualifying.
For Batista, Messi became his version of Robitussin.
-You need a nine? Messi is our nine.
-You need a defender?  Messi can defend.
-You need a keeper? Messi can score, too.
Then if you didn't have enough of his rants, here come the fans.
-Argentina can't defend because Messi can't get the job done.
-Argentina can't win because Messi doesn't do his job.
-Argentina didn't win because Messi didn't sing the national anthem.
It has been absolutely frustrating to see what the Argentine football fan, knowledgeable for the most part, has emerged into.  A complex, fickle mind with the simplicity of a straight 4-4-2 with a jingoistic caveat added to it.   When Messi shines at Barca, he's one of them.  When he struggles, with Argentina… he's Catalan.
Let's be honest, Argentina have been smoke and mirrors for the past three coaching cycles. Basile left his second cycle burned out.  Maradona was thrown out.  Now Sergio Batista has been figured out.
The Maradona Myth
Ever since I have been an adult I have heard that Maradona won the 1986 World Cup all by himself.  The tall tale gets taller with every single generation.  "Maradona played with ten bums."
Oh really?
This myth has been promulgated too long.  It's their blind romanticism with Diego that has led them to such ignoramus remarks.   I guess Jorge Valdano was such a bum, Real Madrid wanted him.  Jorge Burruchaga was the leading scorer of the 1983 Copa América as well as a Copa Lib and Intercontinental Cup winner.  Oh, by the way he scored the game-winner against Germany at the Azteca.
Even Batista was a top flight midfielder for Argentinos Juniors when they won the Copa Lib in 1985 and took Juventus to the limit in Japan.   José Luis Brown was plying his craft at Atético Nacional and people forget his injury in the Germany match where he played with his arm stuck to his body to give that final push.  Oscar Ruggeri was one of the finest central defenders in the game.  His play at River Plate helped solidify that team into a Copa Lib winner in 1986 and would then move to Real Madrid.
Other players that were not necessarily starters like Claudio Borghi were among some of the best players in the Argentine league as well.  Also players that had little influence as was the case with Ricardo Bochini and Daniel Passarella were on that side.  Passarella was just along for the ride- a torturous ride at that- to the finals.
This myth is so ingrained into Argentine football lore that they now expect Messi to single-handedly win games.  If he has not won games in that manner at Barcelona, what makes Argentines really think it's going to happen on a team that literally sits and waits to see what he is going to do next?
What Argentina think is that Barcelona's success is due to Messi.  What they don't realize (Batista included) Messi's success is due to Barca's work.   The team are a symbiotic organism, with all the parts working to perfection.  Their performance is based on the sum of the parts, not the performance of one piece.  Ricardo Lavolpe said in a press conference on Saturday that Copa América teams are struggling because "they are not teams, they are individuals".   In this list he used Argentina as the main example.  He mentioned that the team depended too much on Messi and that Sergio Batista was to blame for not putting his side in a position to be successful
So in other words, instead of pointing the finger at the team's best player… the coach should be to blame.  I have to agree with him.
Even scarier… I agree with Julio Grondona as well.