Katie has a family of four little boys who have taken over the entry of her home. She and her husband had been renovating the rest of their home one room at at time, but when it came to finishing this little entry area they had added she was stumped.
The entry is much more important in decorating that people realize it is everyone's first impression of your home, and like it or not they judge you based on it's condition.
Katie entered her "Mess"  in our Facebook Mess to YES Makeover contest, and she received the most votes winning an hour consultation. (Which we do in person or long distance!)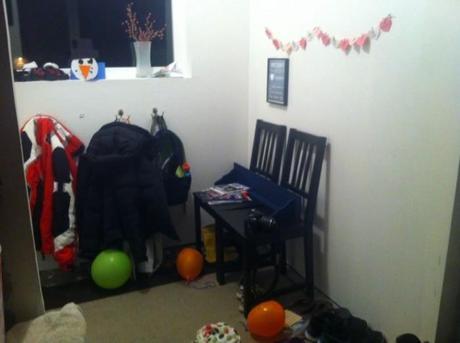 Katie"s "Mess"
The rest of the house has a clean Arts and Crafts style which we wanted to bring down into the entry. Katie and I also discussed creating a more stylish way to  handle backpacks, while protecting the wall, some of her hooks are just barely hanging in there.
There was a small square of slate floor when the original, un-expanded entry used to be and we easily decided similar slate would be the perfect base for the new space.
The wall color in the Living room and stair case (visible from the entry) was a warm neutral and I thought bringing it down into the space would make the space feel larger (by not breaking up the space into many colors) and more welcoming.
The window opens to the street and Katie wanted to dress up the window but wasn't sure if drapes would be too much in this space. I suggested framing the window with some simple molding and using Hunter Douglas Sillouettes. They have a more elegant look than a pleated blind, they have the option of privacy or transparency and they can also be completely opened, plus unlike drapes they don't get into the way of entry hall traffic. I find Silouettes one of the most versatile options, though I often actually use the Nantuckets which are the less expensive line of this style of window covering, but still made and guaranteed by Hunter Douglas, the real difference is that they come in less fabric/color options.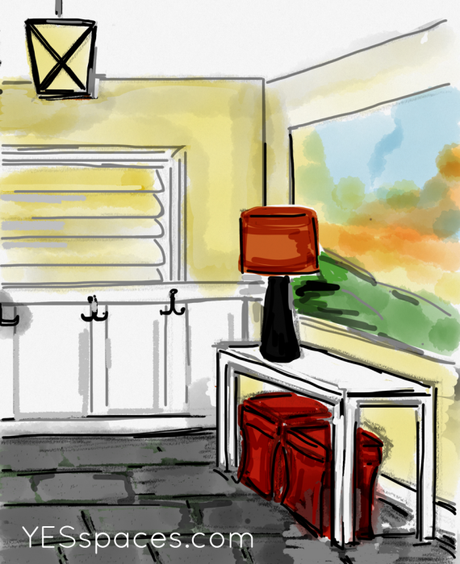 Here were some of my thoughts for Katie, I love a console with stools, because you can stash mittens and hats in storage ottomen, and kids can sit on them for help with laces but they tuck away for a more sophisticated look.
The arts and craft wainscoting on one wall gives a solid place for backpacks while adding some architectural interest.
We replaced the taped up art work with a large painting, there was already a space for kid's art in a close by area. A mirror would have been great too, bringing in light but she had one on an opposite wall so there was no need.
I also gave Katie a bench option for her front hall, adding storage baskets underneath would make this highly functional without the cost of a fully built-in mudroom. The risk of a console table, though it looks stylish is that it is an easy place to pile up possessions if you are not careful. Always better to have more than one option!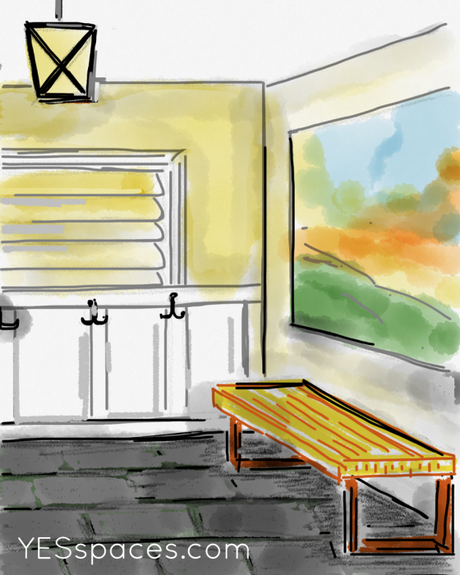 I was not going to be helping Katie with her purchasing, in fact I gave her some tips on a simple DIY lantern fixture she could create by repainting an outdoor light from her local ReStore. But I wanted to leave her with some inspiration images to make shopping and implementing the design a little easier for her.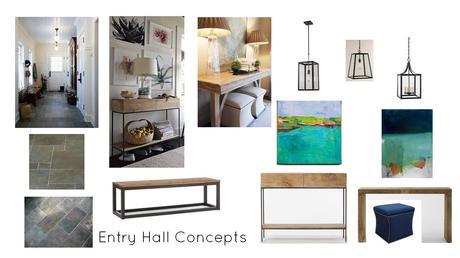 When I sent her the designs following our consultation this is what she sent me:
Thank you so much!!! These are lovely and I do like the mock up of the paneling for the wall. I definitely adore that look and wish that I could carry it around the house — but the lack of walls makes that hard. =). I also can't wait for a weekend to get out to the re-store in Beaverton. I will be on the hunt for the light fixture — LOVE the one you mocked up.
Thanks Katie! It was great helping you transform your Mess to a YES. Katie has promised to send us photos of her light fixture when she gets it installed and progress updates on her entry. I can't wait to see!
I would love to help you with your mess so watch for our monthly contests, sometimes we through a consultation into the prize and this is what you get!
Or, of course, you can always call email me directly. I love hearing from you.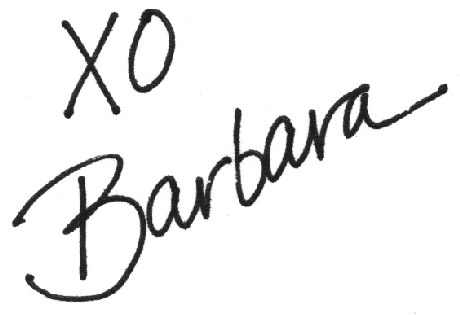 We are adding new videos to our YES Spaces DIY page regularly this year until we reach 52! Based on your input we have directions and when needed measurements and plans here for you as well. So be sure to subscribe here and over on YouTube so you don't miss anything!
If you want to dress up your home contact YES Spaces today! I would love to talk to you about your family and your space!
Visit our YES Spaces DIY channel to see videos of other family friendly projects!
Connect with us on Facebook for the "How To" behind some of today's most popular design ideas!
View our Pinterest Boards for my curated design inspiration!