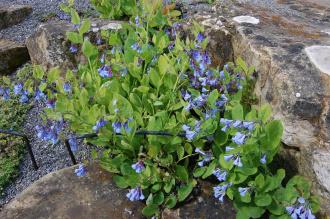 Mertensia virginica (23/04/2016, Kew Gardens, London)
Position: Full sun to partial shade
Flowering period: Spring
Soil: Moist, well drained
Eventual Height: 60cm
Eventual Spread: 45cm
Hardiness: 3b, 4a, 4b, 5a, 5b, 6a, 6b, 7a, 7b, 8a, 8b, 9a
Family: Boraginaceae
Mertensia virginica is a deciduous herbaceous perennial with a clump forming habit. Its leaves die to ground level during its dormant season in the summer months. Its green/ blue leaves are ovate with entire margins, up to 8cm long and 4cm across. Its blue flowers emerge from pink flower buds, are tubular, up to 2cm long and appear terminally.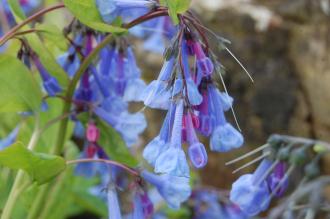 Mertensia virginica Flower (23/04/2016, Kew Gardens, London)
Mertensia virginica, commonly known as Virginia Bluebells or Virginia Cowslip, is native to east North America. In its native habitat it grows at deciduous woodland edges and openings and river floodplains. Mertensia virginica is synonymous with Mertensia pulmonarioides.
The etymological root of the binomial name Mertensia is named after Franz Karl Mertens (1764-1831), a German botanist. Virginica is derived from the Latin meaning 'from Virginia, USA'.

The landscape architect may find Mertensia virginica useful as an attractive groundcover deciduous perennial, suitable for light shade.
Ecologically, Mertensia virginica flowers are attractive to pollinating insects, particularly butterflies and moths.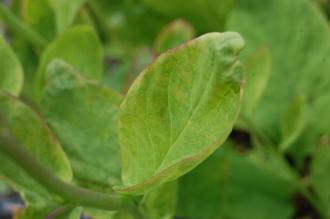 Mertensia virginica Leaf (23/04/2016, Kew Gardens, London)
The Royal Horticultural Society have given Mertensia virginica their prestigious Award of Garden Merit in 1993.
Mertensia virginica prefers moist, humus rich, well-drained soils. It tolerates most pH of soil.
Mertensia virginica requires little maintenance. Large clumps may be divided during its dormant period.


Landscape Architecture