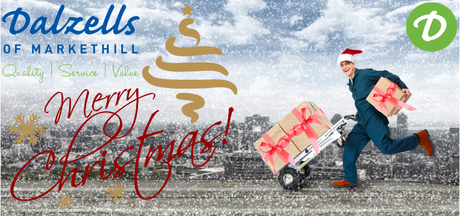 2020 – What A Year!
It's Christmas Eve yet again and what a strange year it has been, for many it will be one to forget – See Glen in 'Returns'! For all it has brought new challenges but perhaps it has in many ways it has reminded us all of the most important things in life; family, friends and community. A great many of you have chosen to 'Shop Local' this year, perhaps you always did, perhaps it's new to you, we'd like to thank you either which way. Hopefully it's been a revelation to you that local retailers are equal to and more often than not better than the national chains and faceless global giants. Stock at hand, personal service and the willingness of local independent retailers to go that extra mile has made a very real difference to soo many folk in need this year. Not to mention what they give back in terms of local employment, sponsorship, charity and cohesion.
Some of it has been strangely fun though, if not out right bizarre. The 'Great Freezer Mania of 2020' being one of them whereby the humble, oft forgotten Chest Freezer became the new 'must have' appliance! We found ourselves at the center of it as the first retailer in the UK to anticipate the event and place large orders – Cue newspaper articles and social media explosion!
Covid related stock shortages as a result of supply chain problems for components and haulage/shipping issues have also had an effect on normal delivery timeframes, in some cases this has caused delay and disappointment – Thank-you for your understanding and patience if you were effected in these strangest of times.
We'd also like to thank Harry, aka 'The Harry Man' (our longest serving employee!) on his F/T retirement and for his near thirty years of loyal service – That's alot of deliveries! Harry has seen the business grow at every stage from very humble beginings (Car and Cattle Trailer for deliveries – Seriously!) to were we are today. Always dependable, jovial and professional – Thank-you Harry.
We also had the pleasure to welcome Malcolm into the team having been overwhelmed by the large number of high quality applicants for the position.
It's also been a fabulous year of success for our many sponsored teams and sportspeople! Read all about them here.
Looking Ahead To 2021!
Next year will undoubtedly present new, possibly harder challenges that will be very different to that of this year. However it comes to pass we at Dalzells will continue to 'Deliver' in every way to you our loyal and growing customer base and the wider community as we have done for the last 64 years!
We intend to further invest in the business and move forward positively with a new Website for the Beds business and improvements here too on the Appliance site. New livery on our lorries advertising the beds business is also in the plans. If time allows we'll also give the adjacent Bank Building some TLC with a paint and livery in the windows to help brighten up the Main Street.
There are of course other things in the pipeline but some things have to be kept secret!
As ever our number one goal will be to continue to deliver you the Best Deals, Unbeatable Value and Service on all the brands you love and trust!
Holiday Opening 2020/21
Christmas Eve | 24th Dec – 9am to 4pm
Christmas Day | 25th Dec – Closed
Boxing Day | 26th Dec – Closed
Sunday 27 th Dec – Closed
Monday 28th Dec – Re-open 9am to 1pm (Hardware and LPG Fuel Retailer as per Govt. regulations – Additional measures in place)

Once again, thank you so much for all your support – We fully appreciate your business
We Wish You All A Very Merry Christmas and a Happy New Year!