While I myself am not the biggest fan of meringue, it's super fun to make- and for people who love it, these cookies make great gifts. The recipe below uses Jello-O, so the fun part is that you can make these in lots of different colors. I made these last year with both raspberry and lime Jello-O for Christmas, and they made great- and festive- gifts! So with all of the color options with Jello-O, you can make these suitable for just about every holiday. This idea came from a fabulous book called "Cookie Swap" by Lauren Chattman which is chock full of really unique cookie ideas.
What You'll Need:
3 large egg whites
1/8 tsp salt
1 package (3 oz) Jello-O (for this particular round, I used raspberry)
1/2 cup sugar
1 tsp vanilla extract
1 cup mini chocolate chips (these of course are optional, and the chocolate goes better with some flavors of Jello-O than others. I included them when making the raspberry version, but I didn't care for the chocolate when I made these with lime Jello-O.)
What to Do:
First, be sure to position one oven rack in the top third of the oven, and the other rack on the bottom third of the oven.
Pre-heat the oven to 275, and line 2 baking sheets with parchment paper. (The parchment paper is VERY important with this recipe, these cookies will stick like glue to baking sheets!)
With the whisk attachment on an electric mixer, beat the egg whites and salt on medium until frothy, about 30 seconds. Turn the speed to high and pour in the Jello-O, and next pour in the sugar in a slow, steady stream. Continue to beat until the egg whites are stiff and shiny, about 5 minutes.
This is what it'll look like while the egg whites are being beat to stiff peaks: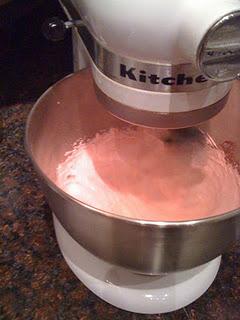 Once the 5 minutes is up and the egg whites are stiff and shiny, gently fold in the vanilla with a rubber spatula, and the mini chocolate chips, if you're using them.
You can form the cookies one of two ways- you can either drop tablespoonfuls of the meringue onto the prepared baking sheets, leaving about 1 1/2 inches between each cookie. Or, you can scoop the meringue into a ziplock bag with one corner snipped off, to make a makeshift pastry bag. Then, pipe the cookies, each about 1 1/2 inches in diameter, onto the baking sheets. (If you do this method, which is what I did, the cookies will come out almost in the form of a Hershey's Kiss).
Bake the meringues until they are firm on the outside but still soft on the inside, about 30 minutes. If you want a crispier result, bake for 40 minutes). Slide the parchment with the cookies to wire racks and cool for 5-10 minutes, then carefully peel them away from the paper.
These will keep fresh in an airtight container at room temperature for about one week. The last time I made these they were for a gift and I packaged them before I realized I forgot to take a picture once they were done... So the next time I make them I'll add a photo of the finished product!