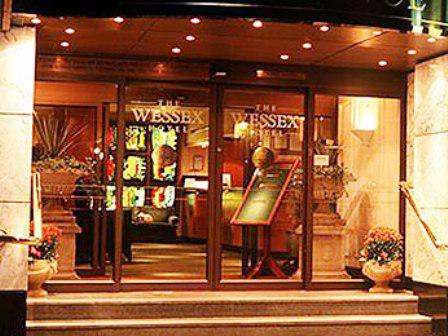 During my recent stay in Winchester, England a few weeks ago I was fortunate enough to stay at the Mercure Winchester Wessex Hotel, a four star hotel.  My check in was very smooth and the staff member that assisted me was very friendly and went out of her way to help me.  When I asked for assistance on the Keats' Walk described as "…follow in the footsteps of John Keats as you discover the landscape that inspired his sensuous ode 'To Autumn' " she  kindly found it on Google, printed it for me and told me the best place to start the trail.  I really appreciated how she took the extra step, rather than directing me to the Tourist Office as so many other hotels have when I've inquired about a local attraction.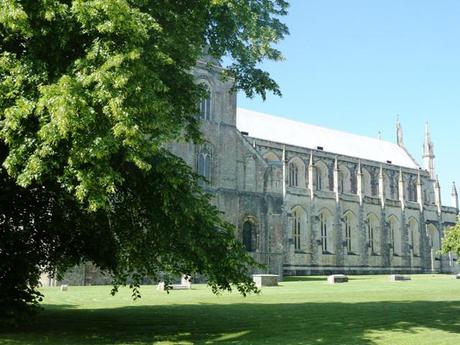 Mercure Winchester Wessex Hotel overlooks the impressive Winchester Cathedral.
The location of the Mercure Winchester Wessex Hotel can't be beat.  Not only is it in the heart of Winchester and a very convenient location (we didn't have a car and easily walked everywhere from our hotel and around Winchester) but it offers the best unrivaled view of Winchester Cathedral.  Our room faced Winchester Cathedral, and while we couldn't actually see the cathedral through the trees, but it was still lovely to have a green view.  When making a reservation, I would recommend requesting a room facing Winchester Cathedral, as this is also the quieter side of the hotel.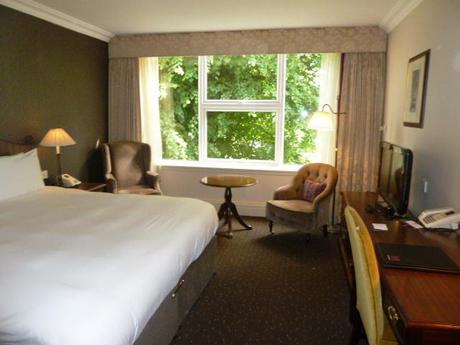 Our luxurious hotel room at the Mercure Winchester Wessex Hotel.
Our room itself was a good size, with big windows that opened and most important to me, it was extremely clean.  Luxurious touches could be found throughout the room such as a large flat screen TV, towel warmer, a king size bed and 24 hour room service.  We were very comfortable during our two day stay here.
Both mornings we had breakfast in the hotel at the Wessex Restaurant in which an English buffet breakfast was served with a good selection of hot items, fruit and cereal.  On each day we left feeling very full, but very satisfied.  When booking, you have the option of booking breakfast with your room which I would highly recommend or booking both breakfast and dinner for even further cost savings.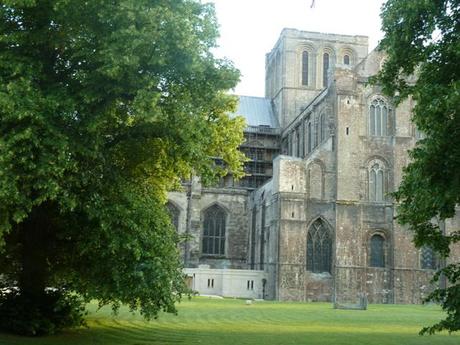 View of Winchester Cathedral from Wessex Restaurant
We also ate dinner our first night at the Mercure Winchester Wessex Hotel.  The restaurant has floor to ceiling windows on one side and guests are treated to beautiful views of Winchester Cathedral.  It's worth going for the views alone!
I am hard pressed to remember a time when I have received better service.  Our server was friendly, knowledgeable and very professional.  I have a gluten allergy and she knew which menu items contained gluten and which ones didn't, but she still double checked with  the chef, which I appreciated.  I was very surprised when gluten free bread arrived before my meal.  This has only happened to me in one other restaurant, normally I just do without as everyone else raids the bread basket.  Not only was I given gluten free bread, but it was the most delicious gluten free bread I've ever eaten anywhere!   Hats off to the chef!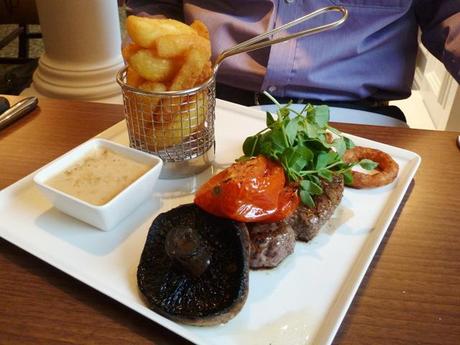 Our steaks were tender and artistically presented at the Wessex Restaurant.
The dinner menu at Wessex Restaurant is international and contemporary British cuisine, with many ingredients sourced locally, which I appreciated.  We were offered English wine, which I had never tried before, and in addition to the gluten free bread, started off with a creamy soup before moving onto our steak entrees, which were very tender and artfully presented.  The portions were a good size, so we were too full to even look at the dessert menu.  It was a very enjoyable dinner, made all the more special with  the incredible views of Winchester Cathedral.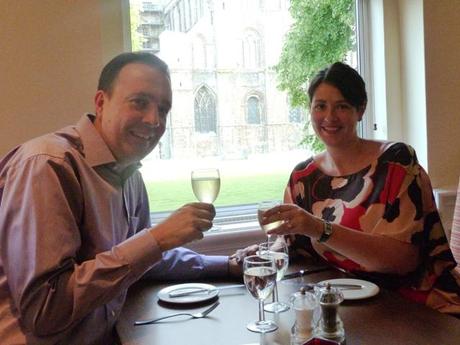 Enjoying our English wine and the view of Winchester Cathedral at the Wessex Restaurant.
I would highly recommend staying at the Mercure Winchester Wessex Hotel and would stay there again myself.  There are a lot of wonderful things about this hotel and restaurant, but the two that really stand out to me are the exemplary customer service I received both at the hotel reception and in the restaurant, and the amazing views of Winchester Cathedral.
Disclosure:  I received a complimentary stay and meals at the Mercure Winchester Wessex Hotel, but all opinions expressed are my own.