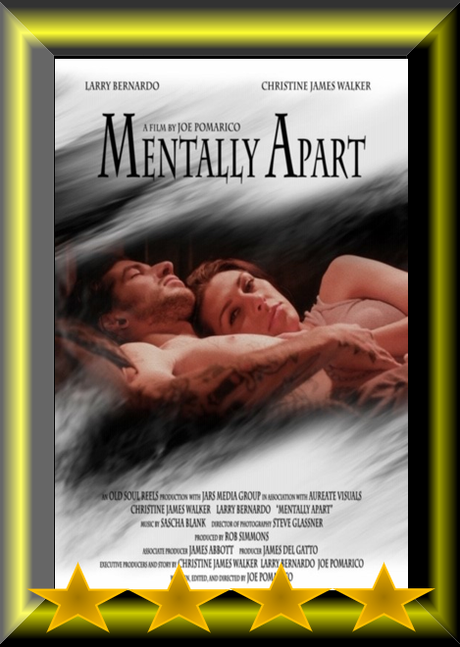 Director: Joe Pomarico
Writer: Joe Pomarico (Screenplay) Joe Pomarico, Larry Bernardo, Christine James Walker (Story)
Starring: Christine James Walker, Larry Bernardo
Plot: A beatific couple are buried in a dream relationship, but when their love slowly descends into nightmares, strange things begin to happen in their apartment.
Runtime: 1 Hour 35 Minutes
There may be spoilers in the rest of the review
Verdict: Thoughtful, Provoking Horror
Story: Mentally Apart starts when a young couple Luna (Walker) and Chuck (Bernardo) have their first date of a blossoming romance as we see how time continues to fly by in the relationship, leading up to wedding planning.
With Chuck busy writing his own book, he starts to notice strange things happening around the apartment, as it starts to put a strain on the couple relationship, leaving the mystery as to why everything is happening.
Thoughts on Mentally Apart
Characters – Luna is the woman with a past that can only be described as tragic, she sees hope in this new relationship. Chuck is the writer that is seen as a bad boy for Luna, he starts seeing the strange thing around the apartment. While we don't learn much about the two outside their relationship, the two characters do show the highs and lows of the relationship.
Performances – Christine James Walker and Larry Bernardo are our only two performers, they are both wonderful to watch, as they both show the chemistry a couple would have, they each get a solo moment or two to shine.
Story – The story here follows a couple's relationship as they first get to know each other along with the highs and lows, while not everything is what is seems for the couple. This is a story that will make you want to think about everything you are seeing, while certain parts might just be relationship conversations, be it long-term futures or who will take out trash, there is an uneasy feeling about how things are going, which will make you want to think about things more carefully.
Horror – The horror in the film comes from certain visions that the characters are going through, they can come out of nowhere, which is a big plus, because at times the drama will make you forget we are in a horror film.
Settings – The film is a singular location film, where everything takes place in the apartment the two decide to call home.

Scene of the Movie – Let's dance.
That Moment That Annoyed Me – A couple too many conversations about taking out the trash.
Final Thoughts – This is a thought-provoking horror that shows how relationships can become a nightmare people aren't willing to admit they are in, showing us how important each scene can be in a movie too.
Overall: Horror that Makes You Think.