Podcast: Play in new window | Download
You may have heard that tennis is 50% physical and 50% mental. For me, it's more like 75% mental. That's because tennis is not just physically demanding, it is one of the most mentally challenging sports out there. While many of our performance problems can be due to poor physical conditioning, inadequate coaching or just a lack of ability, a lot of mental factors can also have a huge impact on how well, or how poorly, we play. One of these is not having the right mindset during play. There are different mindsets you need to have for practice and for matches. In this episode, I tell you what these two mindsets are and how you can apply them to play better, more winning, tennis. You can listen to this episode by clicking on the media player above or by listening in with your favorite podcast app. You can also subscribe in iTunes by clicking on this link: tennisfixation.com/itunes.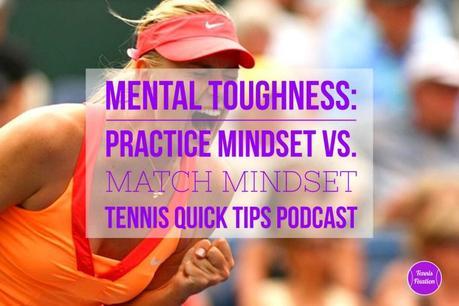 SHOW NOTES
My tip today is a mental toughness tip. Specifically, I'm going to tell you what your practice mindset needs to be vs. what your match mindset needs to be. These are two different things and it's very easy to distinguish between the two of them and to, in fact, develop your own practice mindset and match mindset.
What is Your Practice Mindset?
First let's talk about your practice mindset. When you're practicing, whether you're taking a lesson or doing drills, what you should be thinking about is yourself. How to work on your technique, your choices in things like shot selection or strategy. You can be very focused on what you're doing on the court and how you can improve on that.
For example, if you're having a lesson where you're practicing your serve or learning new serve technique, you will have an opportunity in that lesson to hit serve after serve. And usually, if you have a coach standing there by your side watching your serve and giving you coaching advice on how to tweak that serve, you'll have constant stream of input telling you little changes you can make to get a better serve.
So when you're practicing, it is all about yourself and what you can do to improve on what you're doing out on court. And again, using the serve as an example, you have a chance to hit serve after serve, so you can, in your mind, be telling yourself, "Oh, I didn't have a good toss there. I need to get that toss a little more out into the court." Or, "I am not swinging my racket properly. I'm not getting the proper spin on my serve. So on the next one I'm going to put a little more spin on it. I'm going to change that racket spin just a bit."
So that's your practice mindset - very focused on yourself.
What is Your Match Mindset?
Now, let's talk about your match mindset, what's different about that. And the difference is, when you're playing a match, you need to take the focus away from yourself and put it on what is happening on court. You need to be very aware of what's happening with your opponents, with your partner if you're playing doubles, and how you need to deal with those things.
So your focus is not on your technique and what you're doing. It's directed outward to what is happening on the court and how you need to respond to it. What type of shot you need to hit. Where you need to be moving. Where you need to be in place on the court. What type of footwork you're having. All of that to get you in the best possible place to hopefully hit a good shot, maybe a winning shot, that will help you move forward towards winning the match.
So - practice mindset - focused on yourself. Match mindset - focused outward.
For a Better Match Mindset, Let Go of Your Mistakes
Now here's my little tip for you. What I want you to remember when you're playing a match is not just this difference between the practice mindset and the match mindset. But to actually, during your matches, let those mistakes go. When you are making mistakes in technique, and let's go back to that serve example again, when you realize during a match that you are not getting the right amount of spin that you want on your serve, the match is not the time to practice your serve. You need to let that go for the moment and focus on winning the match. Have a match mindset vs. a practice mindset.
Again, during your match is not the time to be practicing your technique or tweaking it or, what most of us do, beating yourself up because your technique is poor or you're not getting the results you want because of your technique.
So have a match mindset where you let those mistakes go. You know and I know, we've all played plenty of players who seem to have very sloppy technique and yet somehow it works for them and they can pull off a win. You can be that person too if you can just release that beating yourself up during a match because of your technique. When you get to practice, you can have that practice mindset. You can work on perfecting that technique and worry about yourself and what you're doing. But during a match, let the mistakes and the errors go and keep your focus on the court and what's happening outside of yourself so that you can hopefully move closer towards victory.
So make a distinction between your practice mindset and your match mindset and make sure you're using the right one at the right time. You can become a mentally tougher player if you can do things like that.
SHARE, SUBSCRIBE AND REVIEW
If you want to make sure you never miss an episode, it's easy to subscribe! Just click on one of the buttons below: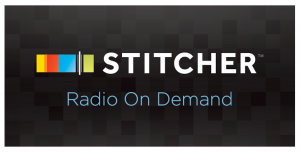 You can also get the direct RSS feed for your own favorite RSS Podcast Player by clicking here: Tennis Quick Tips Podcast RSS Feed.
And if you'd like to become a friend of the show, please leave an honest review on iTunes by clicking here: Tennis Quick Tips Podcast iTunes Page. It will help the show become more easily discovered by like-minded, awesome people just like you. I appreciate it!
Looking for a specific episode? All of the Tennis Quick Tips podcast episodes are listed on the Tennis Quick Tips Podcast page. Just click here to find what you're looking for: Tennis Quick Tips Podcast.
BUILD YOUR TENNIS FITNESS AND ENDURANCE
If you're really interested in building your endurance and fitness for tennis, I know you'll like my very first tennis mini-course, Simple Endurance Training for Tennis. For more information or to join the course, just click on the image below or visit: http://tennisfixation.com/endurance.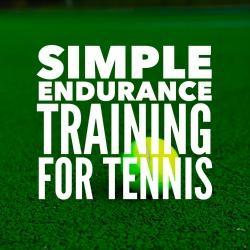 GET A BETTER SERVE FAST!
And if you're interested in getting a better serve - fast! - get my free ebook, 10 Quick Fixes to Improve Your Serve: No Lessons Required.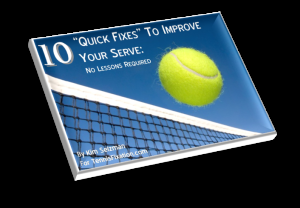 By applying the 10 simple tips to your serve that I give in this ebook, your serve can become a tool that you can use to gain control of points. It can become more powerful, more accurate, and something you're actually proud of. Just enter your email below and you'll get instant access to this free ebook as well as weekly updates with all of my best tennis tips!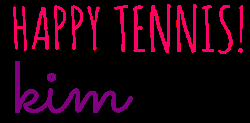 © Kim Selzman 2016 All Rights Reserved