In every one of the runway shows, whether it is originating in London, Paris, Milan, Los Angeles, or NYC has their collection that are meant to be bold and "attention-grabbing", but the clothes just don't seem to translate well to everyday life.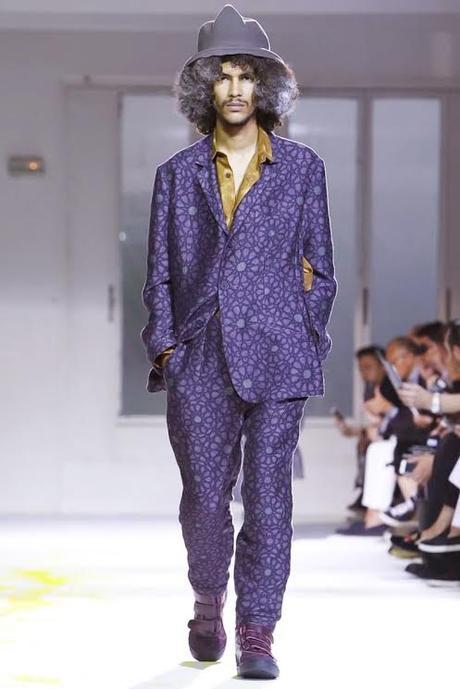 One such example is this outfit by Yohji Yamamoto.  Eggplant is a great color, but this one is a purple nightmare.  The design reminds me of the "Spirograph" children's drawing toy that produced repetitive curves with plastic gears.  The overwhelming design makes it impossible to see any of the seaming details and the bagginess of the jacket and pleated pants just seem to swallow up any body definition.  I also have to say that between the grey, multi-peak bucket hat, the shiny gold dress shirt, and the purple Velcro sneakers, I find the accessories as disturbing as the suit. Finally, and stop me if this is too mean, but the model himself could definitely use some curly hair solutions to address whatever that is going on with his hair…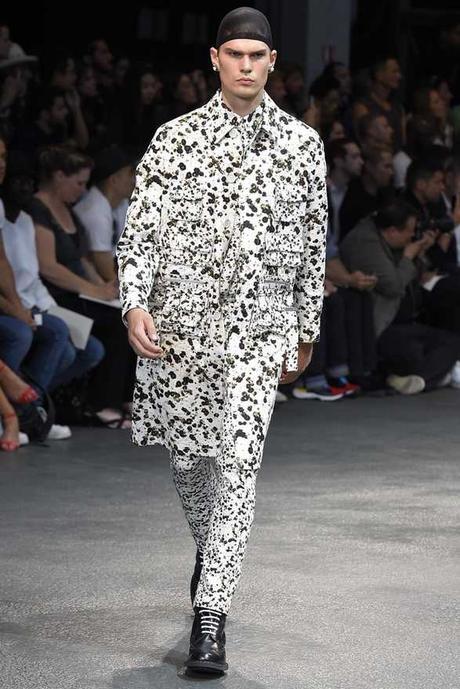 Next, is a men's runway outfit by Givenchy is classic black and white for Spring-Summer that makes me think of one of Cruella Deville's dalmations.  The use of the print on the top and bottom is too busy and makes the details of the multi-pockets on the front just about disappear.  It may have been a really cool looking coat and more wearable if it was in a solid color, but I don't see too many men that I know who would walk around town in this look.  I do, however, like the black boots.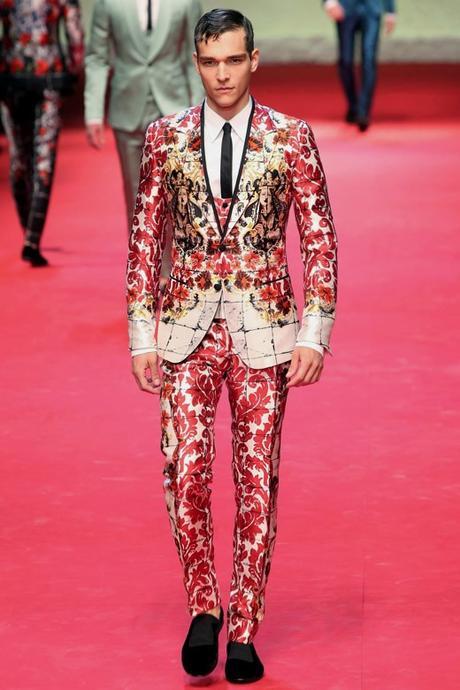 Last, but not least in the "unusual" category is this red, white, and black Damask pattern suit with two female figures on the chest of the jacket and explosions of color down both arms and legs. The bold red pattern is overlaid by a window pane sketched in black.  I have to say that the first thing that comes to my mind is "matador".  The cut of the suit is fantastic, but the pattern is just too distracting.  I don't see this suit making in into many men's closets voluntarily.