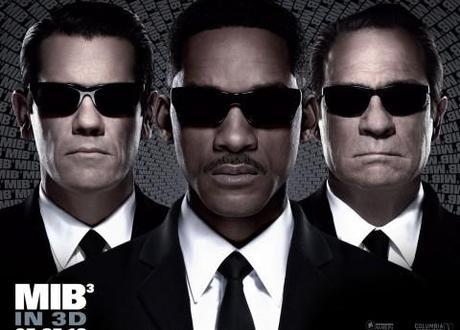 Men in Black is back - the third installment in the sci-fi comedy franchise opens May 25.
The background
It's been 15 years since the first installment of the Men In Black franchise, ten years since Men in Black 2, and now officers J (Will Smith) and K (Tommy Lee Jones) once again must save Earth from the secret alien inhabitants hellbent on its destruction. This time, J must return to the late '60s to team up with a younger K (played by Josh Brolin) in order to save Earth in the future. Emma Thompson joins the all-star cast as new ministry chief, Agent O, whilst Pussycat Dolls singer Nicole Scherzinger also appears.
So, is this the best Men in Black film yet? Not even close, say critics.

Does it compare to the original MiB? No
Most critics say no. What Culture say that the film "is akin to a child who did something which induced big laughs so decided to keep on doing it, each time getting less amusing until it's downright annoying". They also criticized "a lack of innovation, a failure to present a real threat from a developed villain and just a really weak, uninspired storyline". Filmonic said "there doesn't really seem to be a great reason for this movie to exist", and Digital Trends agreed, saying "this is a sequel that nobody really asked for or necessarily wanted". HITFIX said the film "looks cool, seems promising and goes absolutely nowhere", and although it was better than MiB II, it was "not as fresh or inspired as the original". TIME were perhaps the harshest critics, saying that the film seemed "so creaky and out of touch it inspires pity".
Unbalanced casting
What Culture complained Tommy Lee Jones and Josh Brolin are underused, "as Men in Black 3 is the Will Smith show. He dominates the film with his tired and tiresome comedy." HITFIX questioned the sidelining of Jones, saying "the filmmakers make the doubly dubious decision of robbing us of the proven Smith/Jones chemistry […] Instead, Smith primarily plays opposite Josh Brolin as Young Agent K, doing a perfectly solid Tommy Lee Jones impression but struggling to uncover any intriguing angles to the purposefully underdeveloped character."
Poor use of dramatic potential
Some critics said that MiB3 might have had something going for it, but the filmmakers failed to capitalize on this. LA Weekly said "as for the time-travel culture shock, you get a few hippies with speaking roles, and no significant engagement with the era's zeitgeist". What Culture agreed, saying the producers "even fail to have any fun with the past setting of 1969. Such a rich time period, the filmmakers actually manage to waste it", whilst the AV Club said the film's "take on the late '60s feels an awful lot like a psychedelic dress-up party, all broad caricatures and groovy vibes".