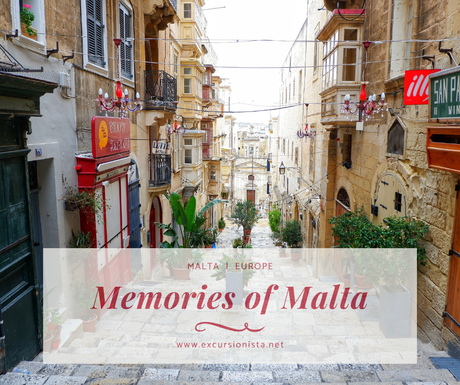 Malta is one of the smallest countries in the world. If you ask someone about it, chances are either they've never heard of it or don't know exactly where it is. It is a tiny island south of Sicily and also close to Northern Africa making it a favorite holiday destination for Europeans.
When Riz and I were choosing destinations to include in our last Europe trip, we decided to add Malta before heading to The Balkans. We didn't have any specific plans and decided to wing it.
We flew to Malta from Paris, and even though we arrived at night, we could already see the beautiful architecture. The churches were beautifully lit, and they seem to have a lot for such a tiny country. Malta looks like one big open-air museum!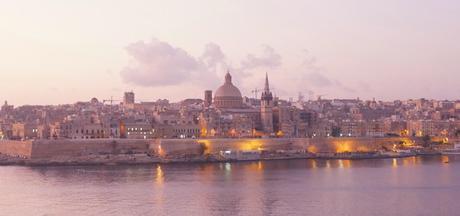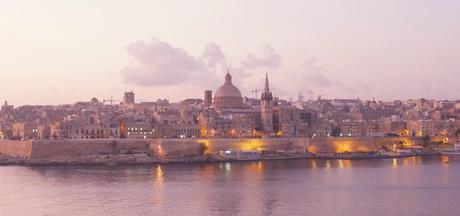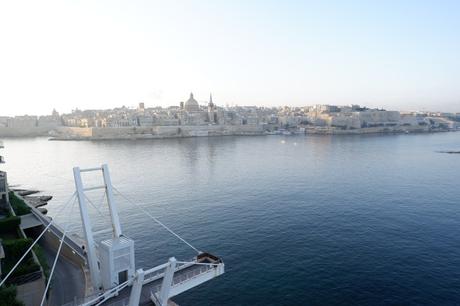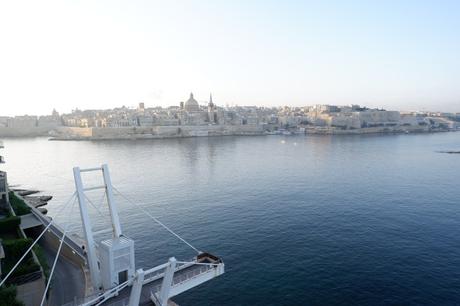 We can see Valletta from our balcony!
Our hotel in Sliema faces the sea and the views are amazing! There are plenty of restaurants and shops along the promenade, so it's very pleasant to stroll around especially at night.
Popeye Village
There's a bus stop for Bus 222 near our hotel, so we thought of going to Popeye Village the next day. The instructions from their website seemed pretty straightforward but we still got confused with the bus transfers. Anyway, we made it right around opening time, and I ended up spending my birthday in a former movie set turned theme park!
The entrance ticket includes a free boat trip, popcorn, and postcard. There's also a show where Popeye and friends recreate scenes from the movie and visitors can participate.
Mdina
After Popeye Village, we decided to go to Mdina or the Silent City. Figuring out how to get there was also an adventure. I think we made 3 or 4 bus changes before we reached the awe-inspiring ancient city. The hassle was so worth it, though, because every corner in Mdina is picturesque! We can't help but admire the architecture. It's so pleasant to walk around especially in the late afternoon.
Malta was once part of the British Empire, so you can still see some of the iconic red phone booths in Mdina and Valletta.
Birthday snack/early dinner at Fontanella Tea Garden.
Mdina was used as the setting for King's Landing in Game of Thrones Season 1. Catelyn Stark and Ser Rodrik Cassel entered through this gate in Episode 3. This GoT fan was so kilig that she got to visit a filming location. 😀
Blue Lagoon
We usually like taking public transport when visiting a new country, but we found that taking the bus eats up so much of our time. We asked the hotel reception what's the best way to go around and they recommended to either pre-book a taxi or book a ride using an app called Bolt which is similar to Uber. It was one of the best decisions we made as it saved us a lot of time and got us to Cirkewwa Ferry Terminal to catch the first boat ride to Blue Lagoon.
There are lockers and loungers that you can rent if you plan to stay longer. There's also a number of food trucks if you're feeling peckish. And once the music starts blasting, Blue Lagoon turns into a party island.
Being from The Philippines, clear blue waters is not something new to us. We're also used to white sand beaches, so the rocky shores of Blue Lagoon was quite a new experience. The sun was fierce that morning, but the water was surprisingly cold. It was quite refreshing!
We highly recommend going there first thing as it gets really crowded once the boats start arriving. If you have enough time, you can also go to Gozo. It's where the Azure Window once was, but it collapsed in 2017. Dwejra Bay in Gozo was the setting of Khal Drogo and Daenerys' Dothraki wedding. Yes, another iconic GoT filming location! Too bad we had to make it back in time to check out from our hotel in Sliema and then transfer to Valletta.
Valletta
In Valletta, we stayed at Palais Le Brun, a 16th century baroque mansion turned hotel. It was the perfect base for exploring Valletta as it's only two blocks away from the central square. We really loved the capital's old world charm. It's easy to wander aimlessly and stumble upon photogenic alleys. They also transform to al fresco restaurants in the evening.
Did you know that Valletta was the first ever planned city in Europe? The designs were drawn out by the Order of St. John of Jerusalem in 1565. The city's architecture is unlike anywhere else I've been!
We didn't have any expectations prior to coming to Malta, but it ended up as one of our favorite destinations to date!