Hello Lovelies,
Unofficially, Memorial Day is the start of summer. Bring on the backyard barbecues and summer-home weekend getaways! Or, even better, one of my favorite Memorial Day traditions is going for a picnic in the park. If you have no plans, why not invite your friends to your posh picnic party with these Picnic Memorial Day essentials? 
What are your plans for this weekend?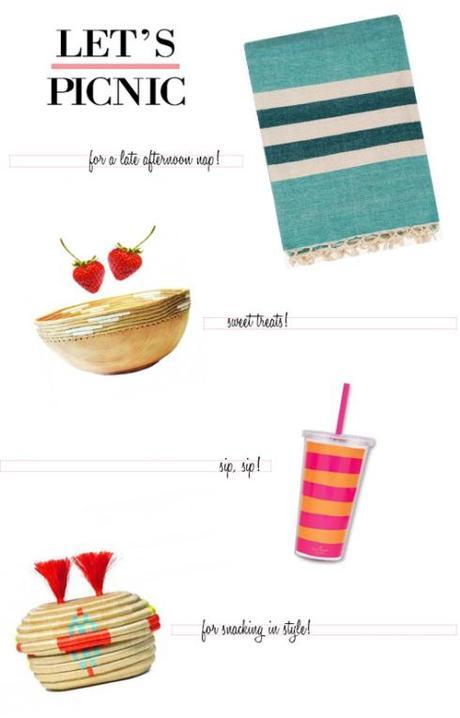 1: 
Vernon Throw
– Aqua, $65
2: Jina Wooden Bowl – Khaki, $55
3: Kate spade NY Insulated Tumbler – Orange/Pink, $18
4: Desta Pom Basket - Orange, $40
For those who have shopping in mind for the holiday, here are few great online home decor places having Memorial Day sales:
· Lulu & Georgia: 25% off everything. Ends May 26.
· ABC Carpet & Home: 20% off all rugs with code RUG20. Ends May 26.
· Crane & Canopy: Free shipping on orders over $150 with code MEMDAY14 starting May 23. Ends May 26.
· Crate & Barrel: Outdoor furniture up to 30% off.
· High Fashion Home: 50% off select items. Ends May 26.
· Loom Decor: Spend $100+ and get 10% off; spend $250+ and get 15% off; spend $500+ and get 25% off starting May 23. Ends May 30.