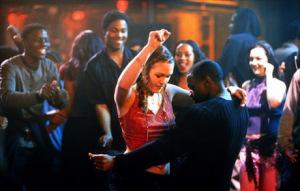 Photo Courtesy: rwdmag.com
Hi, my name is Kari and I want to be a part of a dance off.
I believe what sparked my love for the dance off was when I witnessed Julia Stiles dominate in "Save the Last Dance." This is long overdue, but must be said…Thank you Julia for giving me the confidence to back that ass up.
Whether it be at a bar, in the middle of the street or any flat surface, I want to be involved and I bet you do too. Below are some of my favise dance offs.
'White Chicks'
Leave it to the Wayans brothers to pull off an amazing dance off scene. "White Chicks" stars the brothers as two FBI agents who impersonate ladies in order to solve a case. You're probably thinking how ridiculous that sounds…but I pinky swear…this movie is hil.ar.ious.
P.S. keep an eye out for Busy Philipps and Jennifer Carpenter.
If you didn't think the Wayans brothers were going to win…slap yourself in the face.
'Lose My Breath' – Destiny's Child
It's classy Beyoncé vs. gangster Beyoncé. First of all, can there even be a winner in this scenario? Second of all, why are you still reading this and not watching the video?
When I dream about dance offs, this is exactly how I picture them. In the Destiny's Child scenario, I would probably take on the role of Michelle. I already rock a white jumpsuit every Thursday…gotta be on point for my ethics class. You dig it?
Britney Spears vs. Austin Powers
It's Britney Spears!
While many harass and harangue Britney for her singing abilities…you can't take away the fact that this bitch can dance and look good while doing it.
Sadly, this round goes to Austin. I do have one question though…how do I get bullets to shoot out of my breasts?
J.Lo vs. Tom Cruise
He is really making Katie Holmes proud with this one. Even though I do not endorse Tom Cruise at all…he does have some appeal when he embodies Les Grossman.
I deem J.Lo the winner…she is from da Bronx after all.
Catch you on the flip side.