My cuz Trish, at Mum's Gone To.. has tagged me in a travel meme, entitled The Greatest Journey.
Hmmm..... I suppose the obvious one would be moving from the UK to the States 22 years ago, but then yes, that would be rather obvious. And not something that I could get down in one post either.
I've just come back from Costa Rica, and engaged in a spot of vertigo-inducing zip-lining, but actually, one of my most memorable holidays was to Jamaica in 1986.
I went with a friend for three weeks, and stayed mainly in Kingston, with a family friend of another friend. It all started out great - It was the year after the memorable Band-Aid concert in England (and Philadelphia), and Kingston hosted "Hello Africa", a concert for the same cause. Apart from feeling more than a little nauseous from all the ganja in the air, I was in heaven as I love reggae music.
My friend and I caused quite a stir when we stepped out in the Kingston suburbs, where not many really, really white people (like me) were seen. The day we unwittingly walked all the way through Trenchtown was particularly lively, as people came out of wooden shacks and shops to have a look at us. Even the big black pig by the side of the road turned to stare! When we got to the port at the end of our "walk" a groups of young school children appeared, waiting for a ferry. They immediately crowded round us, touching the blue veins they could see on my wrists, and playing with my long (then curly) blonde hair. Just before the ferry came, they asked if they could sing us a song, then sat in a semi-circle around us and serenaded us for about 15 minutes. Magical.
Unfortunately, less than a week into our stay, the heavens opened and Jamaica was hit by terrible flooding. I remember hearing that they were sending the British paras in from Belize as the country had been declared a state of emergency. Nothing was open, no one could travel anywhere; in short, we were stuck indoors, bored stiff and unable to get an early flight home. Somehow we managed to find a bus going from Kingston to Negril, on the other side of the island, so we packed up and hopped on.
Now there was an experience. This wasn't your normal sight-seeing coach. This was a small 15 seater, that stopped anywhere (including by the side of the road while one lady jumped off to buy some eggs). It took us about 7 hours to get to Negril (no loo stops) and all the while, the lady behind me was playing with my hair! With the rain came the mosquitoes, and I was almost immediately bitten from head to foot. My friend and I tried to count my bites, but stopped after we counted 27 on my right foot. Women in the street would come over to me and suggest remedies and deterrents. I was half afraid they weren't going to let me back into the UK to be honest.
Negril back then was a fairly hip place but not the tourist attraction it is now. My friend and I found a not-so-dingy bar one night, drank a lot and the next thing I know she's having to convince a huge Jamaican guy that she was only joking when she said he could buy me! He followed us down the street and if it hadn't been for the nice German guys we met who pretended to be our friends, I'm not sure what would have happened.
The irony of the whole trip was that I managed to burn my face really badly - although the skies were full of clouds. After three weeks in what should have been a Caribbean paradise, I returned to England with a red, blistered face! Typical!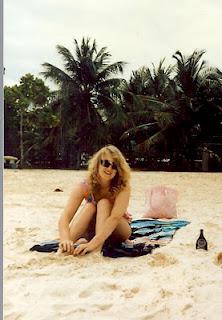 Notice lack of sun in sky - yet I still managed to completely burn my face! (And yes, I was wearing sun screen!)