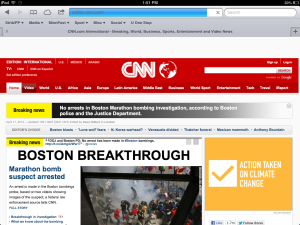 CNN homepage showing contradicting reports (via @journtoolbox)
Like many Americans and citizens around the world, I have been glued to my television, iPhone, and laptop since Monday afternoon when two bombs exploded at the Boston Marathon killing three people (including an 8-year-old boy) and severely injuring nearly 200 others. The public relies on reporters and news outlets to deliver accurate breaking news. Innocent lives were taken and changed forever and we want to know who was behind this despicable act and what their motivation was.
As a result of the birth of Twitter and Facebook and the creation of smart phones, everyone wants the news immediately and wants to be updated constantly. In the past couple of days the media has been guilty of jumping the gun and reporting inaccurate information to the public. During the hours following the attack on Monday, many in the media were reporting that a "Saudi national" was being questioned and held by police at a Boston hospital in connection to the bombings. This was later proven to be false at a press conference by Boston Police Commissioner Ed Davis.
This afternoon at 12:58PM CST, CNN tweeted "Suspect arrested in Boston terror attack, source says". Wolf Blitzer, Chris Cuomo, Anderson Cooper and other CNN reporters repeated the breaking news on air. I immediately took to my own Twitter to relay the news and texted a few friends about the latest development. CNN reporters then began discussing that FBI investigators were able to identify a suspect from video footage provided by a Lord & Taylor store near the occurrence of the second explosion. They reported that the individual was seen dropping an object on the ground and walking away moments before the explosion. Cuomo then stated that investigators were able to enhance the video and identify the individual (this has yet to be confirmed). CNN then went on to report that the suspect was being brought to the federal courthouse.
However at 1:21PM CST, ABC reporter Paula Faris tweeted "A federal law enforcement tells ABC News "no arrest" has been made. FBI reportedly preparing statement to refute reports to the contrary." NBC news was also reporting that no one had been arrested and that no one had even been identified as a suspect.
Okay, what is actually going on?
At 1:33PM CST, the Boston Police department tweeted "Despite reports to the contrary there has not been an arrest in the Marathon attack" and the FBI released a statement to the media saying, "Contrary to widespread reporting, no arrest has been made in connection with the Boston Marathon attack. Over the past day and a half, there have been a number of press reports based on information from unofficial sources that has been inaccurate. Since these stories often have unintended consequences, we ask the media, particularly at this early stage of the investigation, to exercise caution and attempt to verify information through appropriate official channels before reporting."
CNN reporters immediately retracted their previous report of an arrest being made and attempted to save face.
I understand that every news outlet wants to be the first to report the latest developments in this investigation of the Boston Marathon attack. However, as the Society of Professional Journalists tweeted this afternoon following CNN and other news outlets' blunders, journalists must "test the accuracy of information from all sources and exercise care to avoid inadvertent error". Furthermore, sources should be identified whenever possible. Honestly, I don't believe that for this particular story people should be giving information and requesting to remain anonymous. The public deserves to be given factual information from credible sources and should not be left to wonder if what they are hearing is true.
In another note, I think the racism that's coming out in some reporting needs to be addressed. While watching CNN this afternoon I heard the phrase "dark-skinned" uttered several times when describing the suspect that had been arrested. I was also very disappointed to hear Wolf Blitzer ask a colleague, "What is the suspect's skin color? Does he speak English with an accent? Does he only speak a foreign language?" Also, why didn't the media have anything to say as to why a Saudi national was being suspected by police Monday afternoon? Why did they only say over and over that a Saudi man was being held and questioned?
Based on what is being said by members of the media, people's emotions may be affected and they could be driven to commit horrible acts themselves. I think everyone in the media should take a deep breath, calm down, and remember the concept of responsible reporting.
Email: [email protected]
Twitter: @_Camelia & @talkrealdebate