Over at the HBO Inside True Blood Blog, Gianna interviews, Melissa Rauch, who played Summer in Season 3 and was Hoyt's rebound girlfriend.  She was known for her great biscuits and for her doll collection.  Somehow Hoyt and her didn't seem to hit it off even though she had the backing of Hoyt's mama.
Giana talks with her about her experience shooting True Blood, and she also seems to have a conversation with those notorious biscuits…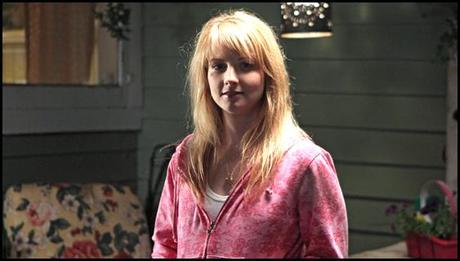 Gianna: So apparently your biscuits are famous?
Melissa: I'm really flattered, but in fairness, I can't take credit for my biscuits. They did extensive character research and poured over endless footage of Pillsbury commercials and Paula Deen cooking shows. If you want to do this interview with my biscuits alone, I totally understand…
Gianna: What was it like working with Jim Parrack and Ryan Kwanten?
Melissa: I seriously adore those guys. It was such a blast to work with them! They were so warm and welcoming to me. In addition to being extremely talented, much like the rest of the cast, they are unbelievably nice. Oh, wait, my biscuits want to add something…
Biscuits: "Ryan was a great sport as he had to eat a ton of me, but I know he loved it. Jim had one of me after we were done shooting, and I can tell he was really impressed. I'm not surprised… I'm delicious."
Melissa: I'm sorry, but please be aware that I take no responsibility for the over-inflated ego of my biscuits.
Gianna: Any favorite memories from the True Blood set?
Melissa: I seriously loved everything about my time on the True Blood set. One funny memory that comes to mind though, was one morning I was in the hair trailer and I saw a teeny, tiny hairpiece. I said, "That's the cutest hair piece I ever saw. Are they clip-on bangs?" Everyone started laughing. Turns out it was something called a "merkin." It's a hairpiece – but not for your head!
Gianna: Will we be seeing Summer again anytime soon?
Melissa: Hopefully, I would absolutely love it!
Gianna: Team Eric or Team Bill?
Melissa: That's a tough one. I love them both! I'll let my biscuits weigh in… they say they have a strong opinion on the subject:
Biscuits: "I think Sookie should get rid of both of them and fall madly in love with a batch of round, soft, doughy, leavened flour-based goodness often served with butter and jam."
source: inside-true-blood-blog.com