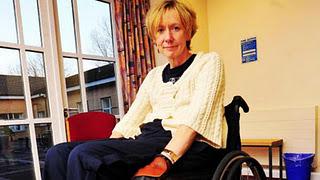 Everywhere you turn there is another cause demanding you open your purse. there are impoverished children, killer diseases needing researched, animals in danger and even writer's sheds appealing to be saved. 
And as the crunch threatens to turn into a depression I have less and less money to spare on charity that begins outside the home. I'm inclined, therefore, to limit calls on your generosity.
So all I'm going to do is draw your attention to a three-minute Radio 4 broadcast I heard on the easy home from work today.
Times writer Melanie Reid of Spinal Column fame was talking about how The Spinal Injuries Association helps the victims of crippling injury in the first desperate weeks. 
Not that long ago, Melanie was like so many of us - a busy working mother dashing about taking mobility for granted. Then 18 months ago she feel off her horse and in an instant became quadriplegic.
I don't really know Melanie on more than a nodding basis, but I have worked with her husband Dave for years. When our shifts have coincided, we've chatted - with no self pity on his part, I might add - about the seismic changes that have rocked their lives. They are rebuilding their future and getting used to very different circumstances. As she said: "It wasn't what he signed up for."
I wish them luck and ask you to listen to what Melanie had to say.