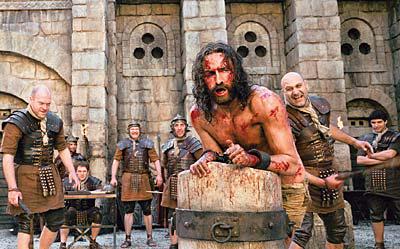 A scene from Mel Gibson's The Passion of the Christ. But will Gibson's film about the Maccabees avoid a whipping?
Is the world ready for a Jewish Braveheart? Let's hope so, as Mel Gibson, with the help of Warner Bros, is plotting a film about the Jewish hero Judah Maccabee. This chap led a revolt of Jews against a Seleucid army and overthrew the king, Antiochus IV, and in the process managed to liberate Jerusalem. Does that perhaps remind you a little bit of William Wallace, the hero of Braveheart? Although of course he didn't succeed in "liberating" Scotland at all, and the facts in that film were stretched to say the least.
The new film, which was apparently being mooted as far back as 2006 (when Gibson was famously recorded in a drunken anti-Semitic rant), will be written by Joe Eszterhas, the Hollywood screenwriter famous for such films as Basic Instinct and Flashdance, (in neither of which a city is liberated, but there you go). Gibson, of course, has touched on Biblical material before, with 2004's The Passion of the Christ, noted for being entirely in Aramaic and Latin.
According to Deadline, which broke the story, Gibson has "first option" to direct, but will certainly produce the film. The site reported that Maccabee's story of triumph against tyranny is celebrated by Jews across the world as Hanukkah, the Festival of Lights, leading The Huffington Post to call the film a "Hanukkah surprise."
"Judah Maccabee deserves better. He is a hero of the Jewish people and a universal hero in the struggle for religious liberty. It would be a travesty to have his story told by one who has no respect and sensitivity for other people's religious views," Abraham Foxman, national director of the Anti Defamation League, told The Hollywood Reporter.
Latkes and applesauce. The Hollywood Reporter said that some Jewish groups weren't happy about the choice, and quoted Rabbi Marvin Heir: "Mel Gibson has shown nothing but antagonism and disrespect to Jews. First of all there were the anti-Semitic remarks he made, his portrayal of Jews in 'The Passion of Christ." [sic] Ami Eden on The Jewish Telegraphic Agency's blog said that it was ironic that the real Maccabees weren't around today, as they would have "made Abe Foxman and Ari Emmanuel look like latkes," and would no doubt have turned Gibson "into apple sauce." Aceshowbiz, on the other hand, took the view that by this project, Mel Gibson "is going to redeem himself."
A competent filmmaker? Brandon Marcus on Veryaware said that he still thought Gibson was a "scumbag". Though Gibson is a "competent filmmaker", the project makes Marcus "feel uncomfortable" since Gibson's name is so linked to scandal. If Gibson really believes in the message of the Maccabees, then maybe he should "step away from it." Chevytruck, a commentator on the website Catholic Answers said "I wonder what liberal group will find fault with this movie…"
Poetic justice. Dan Friedman on The Schmooze said that whilst it wasn't known if Gibson would act in the film, there would be "poetic justice" if Gibson could get forgiveness if he actually played Judah Maccabee – "a fundamentalist religious zealot who, by opposing the global superpower of the age using terrorism, was able to drive civilization out of the Middle-East." Of course, if he didn't play Judah, he could play Antiochus: "historical Jew-killer and opponent of Jewish self-governance." The real miracle will be if Gibson avoids "getting a hammering."
More on culture

Drive: Pure genre bliss
The Ides of March
Conan the Barbarian
One Day
The Help divides critics
Rise of the Planet of the Apes
Cowboys & Aliens
The Sense of an Ending
Wild Abandon