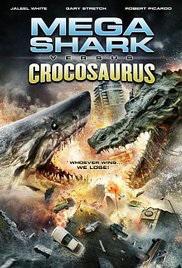 Director: Christopher Ray
Writer: Naomi L Selfman (Screenplay) Micho Rutare (Story)
Starring: Gary Strech, Jaleel White, Sarah Lieving, Robert Picardo, Gerald Webb, Dylan Vox, Hanna Cowley, Steve Mason, Robert R Shafer
Plot: A megalodon battles with a crocosaurus causing massive destruction. The US Army has to try and destroy the havoc creating monsters.
There may be spoilers the rest of the review
Verdict: Horrendous
Story: Mega Shark vs. Crocosaurus starts as we watching a mining situation which ends up uncovering an ancient crocodile. We move onto a Navy ship to follow Dr McCormick (White) whose work with sharks leads him to think a giant shark has returned.
With the lines drawn up expert hunter Nigel Putnam (Stretch) must team up with scientist McCormick to stop both of the two monsters cause havoc all over the world.
Mega Shark vs. Crocosaurus is what you expect to see from the asylum film but what is one that can't even go down as one to watch that is so bad you have to see. This film doesn't get the correct style to make this happen. It is completely ripping off any of similar style of films which ends up making this just such a hard film to enjoy or even liking.
Actor Review
Gary Stretch: Nigel Putnam is the expert hunter that has worked with the deadliest animals on the planet. Now he finds himself up against a Crocosaurus the biggest crocodile he has ever seen a chance to make this his biggest trophy ever only to find he need to help fight a giant shark too. He is a trademark rough around the edges hunter that is filled with morale questions. Gary is solid but steals from many other characters.
Jaleel White: Dr Terry McCormick is an expert in dealing with underwater communication with sharks, he hunted the megalodon before but this time it has become personal. Jaleel is trying to get his way out of the character that will always be remembered for.
Sarah Lieving: Agent Hutchinson is the liaison with which both Nigel and Terry find themselves working for Admiral Calvin. Sarah basic supporting cast member.
Robert Picardo: Admiral Calvin is the man trying to arrange the capture of both beasts, he has an elite team to fight against them but does he have enough? Robert does the basics without being important.
Support Cast: Mega Shark vs. Crocosaurus has a disposable supporting cast.
Director Review: Christopher Ray – Christopher doesn't capture the idea that works really well in other outing of asylum.
Action: Mega Shark vs. Crocosaurus has very basic action scenes that are all CGI.
Horror: Mega Shark vs. Crocosaurus doesn't capture the real horror.
Sci-Fi: Mega Shark vs. Crocosaurus no.
Settings: Mega Shark vs. Crocosaurus uses cheaper locations.
Special Effects: Mega Shark vs. Crocosaurus has some of the worst effects I have ever seen.
Suggestion: Mega Shark vs. Crocosaurus just no. (Avoid)
Best Part: Nothing.
Worst Part: Everything.
Action Scene Of The Film:
Believability: No
Chances of Tears: No
Chances of Sequel: No
Post Credits Scene: No
Oscar Chances: No
Runtime: 1 Hour 28 Minutes
Tagline: Whoever wins… we lose!
Trivia: The tagline for this film is lifted off of AVP: Alien vs. Predator (2004).
Overall: Plain awful nothing else more.
Rating