Legendary, legend-making….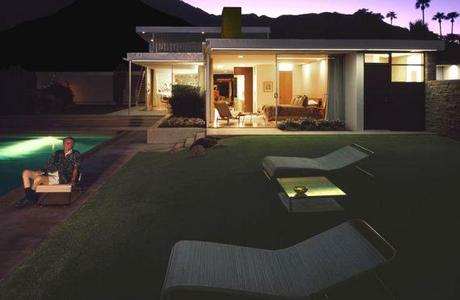 [ Julius Shulman revisiting the Kaufmann House in Palm Springs ]
For my fourth "Design Under the Influence" post on La Dolce Vita today, I talk about how Derek Lam was inspired by Neutra's Kaufmann House in Palm Springs when designing his Spring 2012 collection. It's a fun look at fashion meets architecture — but perhaps more so, fashion meets architecture photography, as Lam was clearly influenced by Slim Aarons' "Poolside Gossip" and "Kaufmann House, 1970." (Go check it out to see what I mean!)
Looking at the iconic house again, I was reminded of one lucky afternoon in 2007 when I got to visit legendary architecture photographer Julius Shulman at his home in the Hollywood Hills. He was 96 at the time, but still as sharp as ever, and quite a spitfire. He brought up a very interesting question that I still ponder: What's more famous, Neutra's architecture, or Shulman's photograph of the architecture?
I remember Shulman seemed to say with both pride and a hint of bittersweetness in his voice that he was still making a living off of work by mid-century architects like Neutra and Lautner who had all passed away decades before. But in a symbiotic kind of way, these same architects became famous because of his photography. At first I chuckled at the thought, and then realized, he is totally right! Would we even know some of these structures if it wasn't for his beautiful photography?
OK so now for something kind of fun he told us about two of his most famous shots…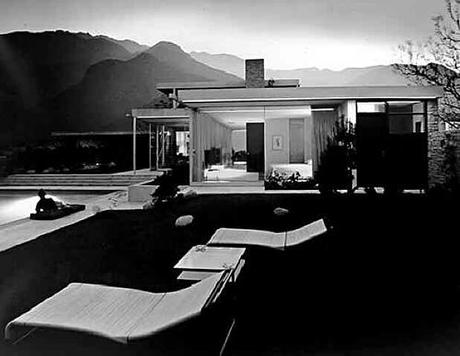 [ Richard Neutra's Kaufmann House, by Julius Shulman ]
#1: In the Kaufmann House photo above, he said the only reason there was a woman laying poolside was to cover up the light in the pool that was ruining the shot!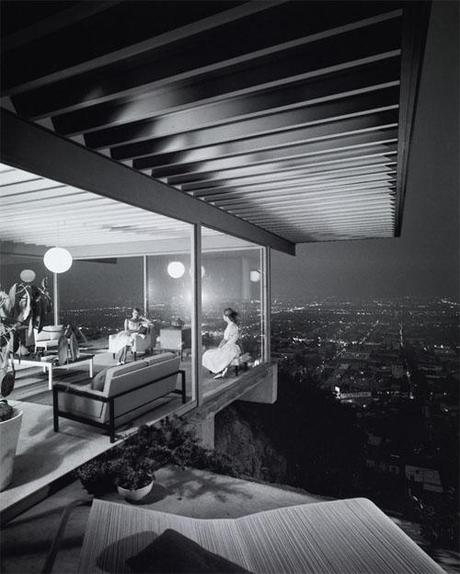 [ Koenig's Case Study House #22 by Julius Shulman ]
#2: And in his most famous photograph above, Shulman mentioned his first test shots from this angle did not have any life to them. He thought it was kind of dull, so he had the ladies sit there but didn't tell them he was photographing them!
Now let's take a quick look at a few of Shulman's other photographs, and appreciate the fact that this very talented man chronicled a period of architecture that revolutionized the home for the modern family: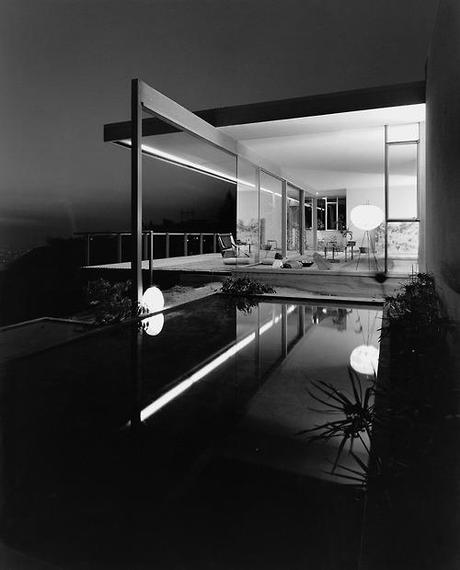 [ Neutra's Chuey House by Julius Shulman ]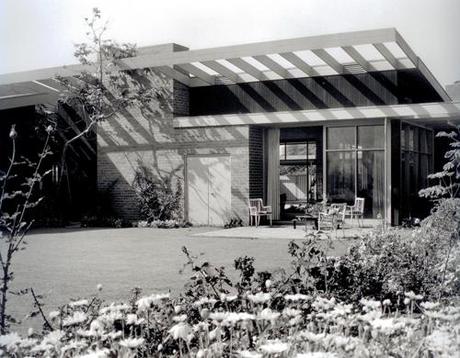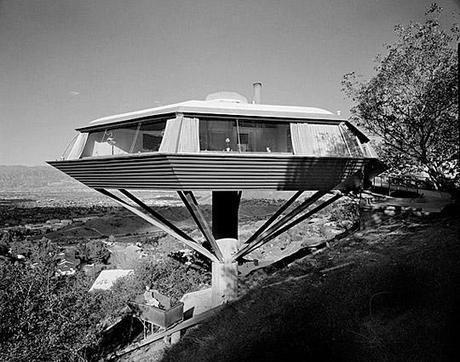 [ Lautner's Chemosphere by Julius Shulman ]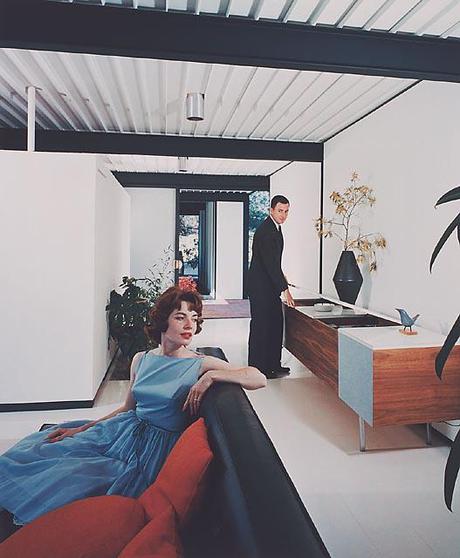 [ Koenig's Case Study House #21 by Julius Shulman ]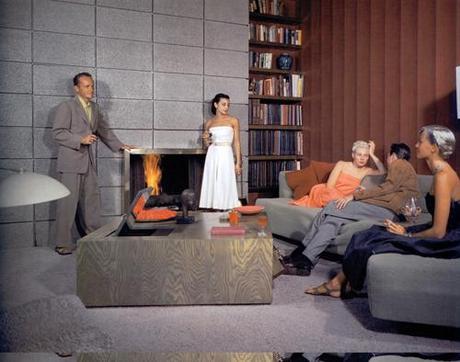 [ Spencer Residence by Julius Shulman ]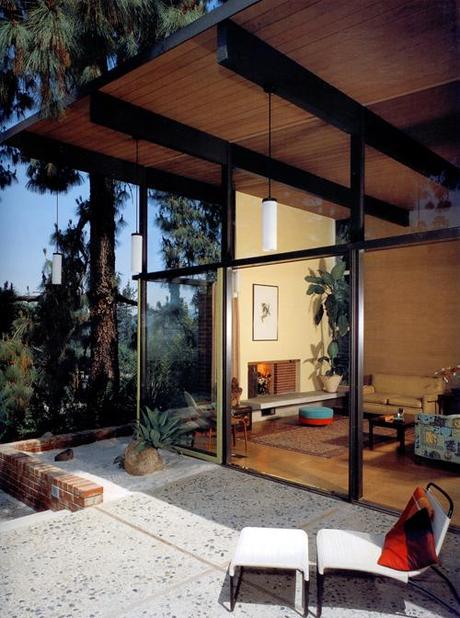 [ Leeds Residence by Julius Shulman ]
I feel so very fortunate to have had the opportunity to spend the afternoon with him. He gave us a tour of his house and grounds, and it was obvious how much he really loved his home (designed by architect Raphael Soriano). And going into his office and studio was like stepping back in time. He was quite proud that the Getty was archiving his entire life's work, and that a three-volume collaboration with Taschen from his personal collection, "Modernism Rediscovered" was about to be released.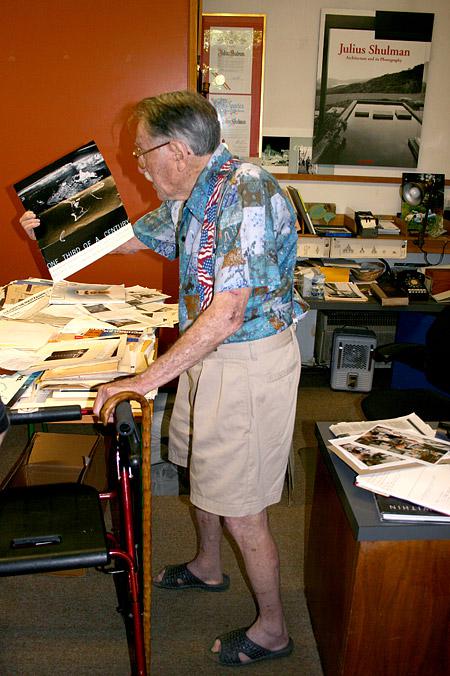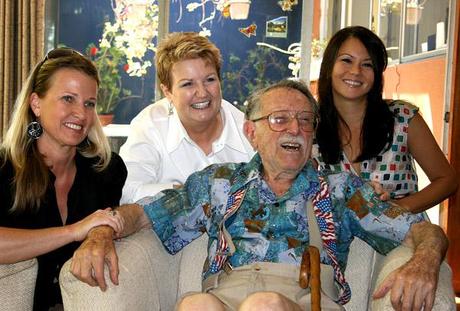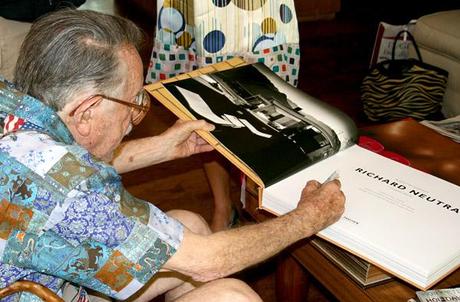 That book is now a family heirloom, you better believe it!