{by} Sasha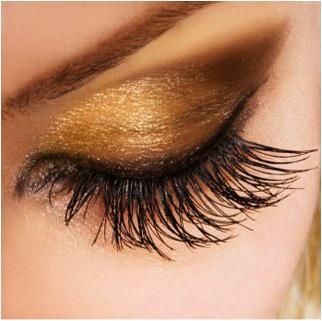 Ultra long eyelashes have been the obsession of many women for ages (Cleopatra, Bette Davis, Kim Kardashian). No surprise, really, as long, full, dark lashes can make a face stand out. Sadly, most of us weren't born with amazing lashes and often need a little help plumping them up. For those seeking eyelash assistance, there are a plethora of options from eyelash tinting to mascaras that promise to fatten and lengthen to synthetic lash extensions. Of your myriad of choices one of the most impressive is most definitely the semi-permanent synthetic eyelash. These carbon copies are about as close as it gets to real, authentic looking lashes. If you haven't tried semi-permanent eyelashes, I apologize in advance for turning you on to your next beauty addiction. If you're ready to ditch your mascara and sport lashes that will give Jennifer Lopez a run for her money, read on…
The Scoop On Semi-Permanent Lashes
Each synthetic lash is applied one meticulous strand at a time to one of your real lashes and range in count from 60-120 extensions per eye.  The process is a painless, easy breezy one and takes 90 to 120 minutes (depending on the number of lashes being applied) all while you're comfortably reclined. Ok, onto the cost as we're all on a beauty budget these days. The major investment of semi-permanent lashes is the initial full set. The average cost of a set is around $250 (and touch ups are typically around $50-$100).  Initially, I cringed a bit at the price but when I did the math on the 3 different mascara brands I use collectively (one for lengthening, one for plumping, one for pure volume), the price didn't hurt my feelings too much.
How Long Do They Last?
Like the hair on your head, lashes grow out and shed in a cycle (which is typically about 2 months). We tend to shed between 1 and 5 natural lashes per day depending on one's individual growth cycle. Each extension will remain in place until the natural lash it sits on falls out. So, refills are necessary every 2-3 weeks as the natural lashes/lash extensions shed. The refill process takes anywhere from 15 to 30 minutes (depending on how many need to be replenished).
How To Make Your New Lashes Last Even Longer
Ok, so you've spent the bucks (and time) to acquire your Kim Kardashian-like lashes and are all about making them last. Here are a few tips to ensure you get the most lash mileage out of your extensions:
Sleep on your back. This is super important post treatment to ensure the glue is fully dry. After two nights, you can resume your regular sleeping position.
Hands off. It will be tempting to touch your lush, ultra-long lashes, but don't. Eyelashes shed pretty easily to begin with…don't add any extra tugging or pulling to the mix.
Spoolie them. To avoid any criss-crossed lashes or kinks, use a spoolie brush (a tall skinny wand used for brows and lashes) ever-so-gently comb them. Repeat: ever-so-gently comb them. (Did I mention the importance of being uber gentle when coming them out?)
Handle with care. When removing makeup, be ultra gentle when going over the lash area. It's recommended to use a gentle cleaning wipe.
There. Now you are an eyelash extension guru. This beauty do is guaranteed to make your peepers utter showstoppers this season…