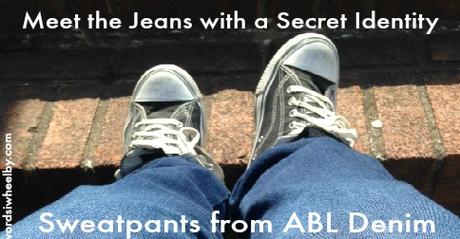 "How do you put your pants on?"
To this day, that remains one of the strangest questions I've ever been asked. The question in and of itself isn't strange, but the context of it made the moment pretty weird. I was in high school and I had stayed late that day for a club meeting. While we were waiting for our adviser, a guy (who I actually might have thought was cute) just spat out the question as though it was perfectly normal conversation.
I was taken aback, but I decided to sass him a bit. "Just like everyone else. Why? Want a demonstration?" He could tell I wasn't amused, so he dropped it.
Truth be told, though, I doubt I put on pants just like everyone else. Pants are kind of a pain. But due to the minor fact that I'm required to be fully dressed in public, I do a little seated left-right-wiggle-shimmy-shake dance routine and make it happen.
Because of this, I'm constantly on a mission to find a pair of pants that makes the perfect dance partner. Recently, ABL Denim jeans gave me the opportunity to choose a pair of their pants for review, and promptly swept me off my wheels.
ABL Denim makes jeans specifically to accommodate people with various disabilities, including wheelchair users and people who have certain sensory preferences. I originally chose to try their A Jean Premium, but I found the denim material to be a bit too stiff for me. Certainly, this won't be the case for everyone and the A Jean is incredibly well made. I just happen to struggle with even the slightest stiffness in fabric. So, I asked ABL Denim if I could try their Denim Sweatpant instead and they happily obliged.
Seriously, how have I lived without these pants for so long? I know I sound like I'm being overdramatic, but the ABL Denim sweatpants are so comfortable and easy to get on that I can't stop wearing them.
The fabric is soft and breathable, just like an old, broken-in pair of sweats, but they look exactly like any other classic pair of jeans you'd buy as a wardrobe staple. No one has detected that they have a secret identity.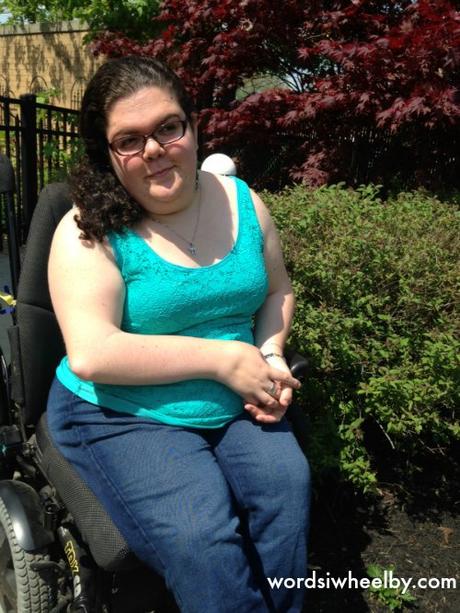 I opted for the pants to be straight-leg rather than cuffed with elastic at the end, so it makes it even easier to get them on and off. The pants also have an elastic waist with a sturdy drawstring that makes it less of an ordeal to pull them up. I actually happen to prefer pants that don't have zippers or buttons, because when you sit down all day, these can start to dig into the bottom of your stomach. And the drawstring is a great alternative for people like me, because I have dexterity issues at times and would consider myself a bit button-challenged.
One thing that's really important to note about the denim sweatpants is that you may need to get them hemmed. I'm short, and definitely had to have the pants resized. I decided to bring them to a local tailor, but if you're good with getting accurate measurements or know someone who is, you can send your measurements along with your order and ABL Denim provides the additional service of hemming the pants prior to delivery.
After putting my pants to the test, I'm in love. Although they're considered "adaptive" clothing, they're completely wearable for people of any ability level, wheelchair-user or not. They're absolutely worth the investment, comparable in price and quality to other major brands of jeans. And if you're a jeans-and-cute-shirt kind of girl like me, they'll become your go-to pair of pants.
If you've decided you must have your own pair of jeans from ABL Denim right this second, just visit ABLDenim.com. And because it's your lucky day, you can use the discount code WordsIWheelBy10 while placing your order and get 10% off! Once you have the chance to try them out, let me know if you love your pair as much as I do! If you're feeling in the mood to channel your inner-model, tweet a picture of you wearing your new jeans to @emily_ladau and to @abldenim. We'd love to see you showing off!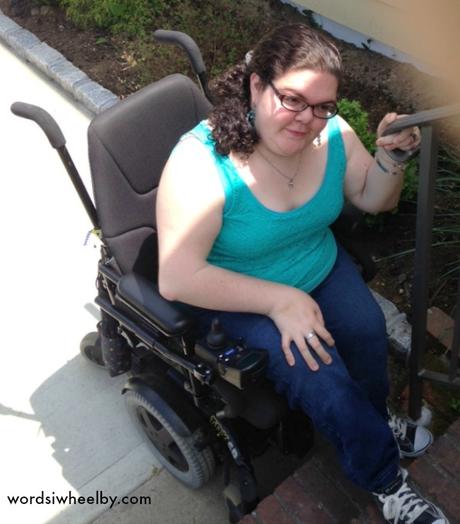 Disclosure: The ABL Denim Sweatpant was provided to me free of charge for review. All opinions are my own. If you use the discount code WordsIWheelBy10 to make a purchase from the ABL Denim website, I will receive a small commission from the sale. Thank you!