I heard this moments ago on the radio and knew right away that I was hearing the voice of what has become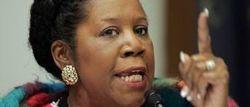 for me the best example, amongst many, of why this country is in deep dookey:
"I stand here as a freed slave because this Congress came together. Are we going to be able to do it today to free America?"
Somebody will have video of this at some point I'm sure and when I get the chance, I'll embed it.
Words don't mean things, we've known that for some time now and particularly ever since progressives have assumed the reigns of governmental power but this takes the cake.
Sheila Jackson Lee is a buffoon.  And the sad irony here is that her policies, and those she supports, have done more to keep her constituents on the plantation than anything anyone else has ever done and in fact, if I can take this a step further, she's in essence a slave owner, keeping her people down for nine terms (18 years).
But yea... she's a freed slave.
And I'm the Pope.
Sheez.