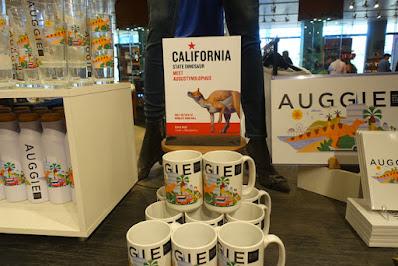 Did you know that California had a state dinosaur? Meet Auggie. 

In September 2017, 

Augustynolophusmorrisi (Auggie's scientific name), was declared the official state dinosaur of California, the only place i

ts fossil bones have been found. It

 was a large hadrosaur, reaching 26 feet in length and weighed a hefty 3.3 tons.

 Like all species of hadrosaur, Auggie was a plant eater.

 Hadrosaurs were one of the few known species of dinosaur that chewed their food.
I first learned about Auggie on a recent visit to the Natural History Museum of Los Angeles County, where numerous Auggie souvenirs are featured in the gift shop. The museum also has an impressive display of dinosaur fossils.

I have always been fascinated with dinosaurs and prehistoric animals and written a number of books about them. Here are a few. You can find these books in your library or as ebooks on Amazon.