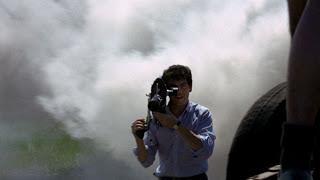 "All good people deplore things at a distance."
Haskell Wexler's
Medium Cool
(1969) is a unique cinematic happening. Wexler found his fictional drama colliding with history, namely the tumult accompanying 1968's Democratic National Convention in Chicago. The result provides a fascinating intersection of art and reality.
Cameraman John Cassellis (Robert Forster) grows weary working for a Chicago TV station. He's interested in serious stories about social issues, while his network wants blood and guts spectacle. John strikes up a relationship with Eileen (Verna Bloom), widow of a soldier, whose affection reinvigorates John's purpose. As 1968 crashes along, their personal problems grow consumed by world-historical tumult.
From its opening scene, with John and his soundman Gus (Peter Bonerz) filming an accident scene,
Medium Cool
muses on the disconnect between journalism and reality. A long subplot involves a black cabby (Frank McCoy) treated by suspicion for turning in $10,000; the police think he stole it, his roommates think he's a sellout. John grows numb to his stories' human impact; he wants to make a difference, but finds his pandering producers more interested in ratings. It's a bleak message, repeated in everything from
Network
to
Nightcrawler
.
But
Medium Cool
is less about narrative than technique. Much of
Medium Cool
is unstaged, allowing for wonderfully unguarded moments. A Bobby Kennedy fan admits she supports him for his long hair; a hippie chats with a National Guardsman between riots; poor kids swarm onto a media car. The cabby subplot results in an awkward scene of Black Panthers lecturing John on his lack of social consciousness. The lecture concludes with the Panther warning about imminent violence, capped by a shock cut to white women firing pistols.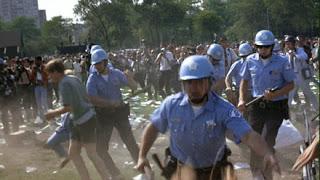 Wexler's no documentarian, stringing his players along through calculated shots and set pieces. There's a repeated motif of Eileen's son (Harold Blankenship) unleashing a dove, which turns up everywhere from a stockyard to John's bedroom. More effective are Wexler's set pieces: a long, elaborate love scene between John and his girlfriend (Marianna Hill); elliptical flashbacks of Eileen's life in West Virginia; a trippy nightclub visit scored by the Mothers of Invention; tracking shots of police and Guardsmen deploying around the Conrad Hilton.
Medium Cool
builds towards impending doom. Wexler films a Black Power rally headed by Jesse Jackson and hotel cooks listening to Kennedy's final speech, before fate comes crashing through. The final half-hour shows the Siege of Chicago, with Eileen wandering amidst antiwar protests and the resultant "police riot." Tom Hayden denounces the Vietnam War, cops club journalists and teargas scatters everyone. It's so jaw-dropping that even trite touches (
Happy Days Are Here Again
playing over maimed protestors) can't dilute its power.
The film offers a breakthrough role for Robert Forster, who managed a respectable career without becoming an A-lister. Forster makes a surly hero, not especially likeable but struggling to recapture his humanity. Verna Bloom's sweet, wounded performance provides a human core; Marianna Hill is sultry counterpoint. Most others are nonprofessionals, from thirteen year old Harold Blankenship to the hectoring Panthers. Peter Boyle has a walk-on as a gun store owner.
We've seen many documentaries, mockumentaries and satires since
Medium Cool
, but none quite like it. No matter how cynical or detached we act, we can't escape history. From its documentary footage to its bleak, ironic coda,
Cool
is a haunting, impactful experience.