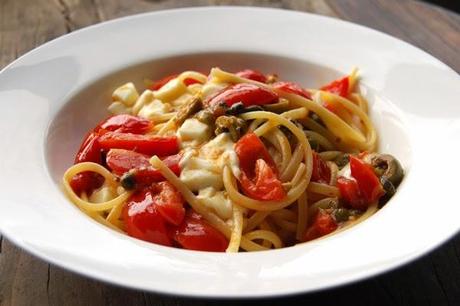 This is a summer dish, but if you can find ripe cherry tomatoes, then it can be made every season. And it's one of those pasta dishes where the sauce is so quick it can be made as the pasta cooks - my favorites when I don't have time to plan ahead. Despite its disarming simplicity, this dish is very complete and balanced - the acidity of the tomato is countered by the creaminess of the mozzarella, and the sweetness of the tomato-mozzarella base is countered by the savoriness of capers and olives. So, let's dive into it!
Ingredients for 2 servings
- 5 oz (140 g) dried linguine or spaghetti
- 1 tablespoon extra virgin olive oil
- 2 tablespoons capers (brine-pickled)
- 3 tablespoons green olives (pitted and sliced, brine-pickled)
- 9 oz (250 g) cherry tomatoes, each cut lengthwise in four
- 1 teaspoon of dried oregano
- 4 oz (115 g) fresh mozzarella (e.g. 2 medium bocconcini), diced
- Salt and pepper
Preparation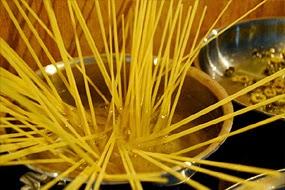 1) Toss the pasta in salted boiling water.
In a pan, sauté capers and olives in the oil.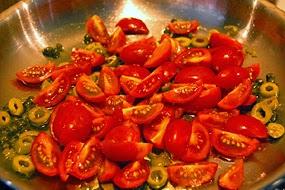 2) Add the tomatoes
maintaining medium heat.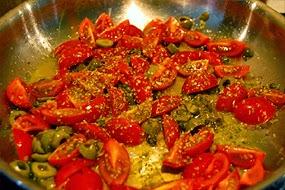 3) Add the oregano and roast for 3-4
minutes. Adjust salt and pepper.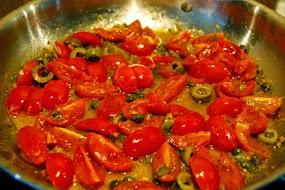 4) Cover with a lid and cook at low heat
until the tomatoes wilt (about 5 minutes).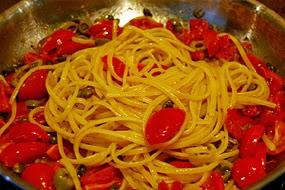 5) Rapidly drain the pasta and finish
cooking it in the sauce until al dente.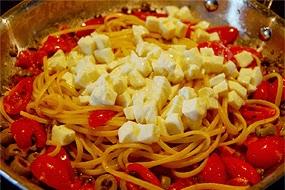 6) Take the pan off the heat, add the
mozzarella, stir briefly. Serve immediately.