In July 1980 (When I was 4 months old, barely able to even run a marathon) James Shapiro set off on a solo run across the USA, starting in Los Angeles as I will and finishing as I will in New York.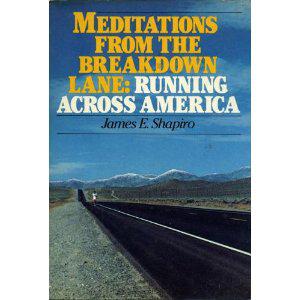 His account is quite poetic and he kept a journal with him all the time to capture all of the events and thoughts he enjoyed (and suffered) along his 3100 mile 80 day adventure. The book in another that is difficult to find (and expensive to buy). I thought it was worth the effort though. I can see myself building a library of ultra-running classics.
He did the run as a "Journeyman", meaning self supported rather than being in a race. The majority of the runners who beforehand had completed this run across the continent have done so in an organised race. To this day there have been 240 known foot crossings. Shapiro was the 108th.
This is a very personal first hand account of what it is like to run across America. He was not in a race but was running 45-50 miles a day without rest. Every few pages seemed to jump between what it was like to be running such an epic distance and a feeling of what it is like to be in a particular place in America, usually in the middle of nowhere.
Much of the book focuses on the characters that he met along the way and his straining relationship with friends who come to support him. There is something quite eery about doing a run and joining up so many insular towns and outpost and people who only exist because the roads are so vast. Oddly it would have been easier to do this unsupported in the 20's as there were still plenty of towns and people along the route 66. Now there is not reason to have them more than 200 miles from each other now.
In each town a small soap opera plays out and Shapiro just watches while eating three meals in minutes. He speaks candidly about falling out with the people helping him, as if they are trying to get in the way of his journey.
It paints a picture that runners are not supposed to be there, running on highways like that. He makes himself sound like an alien running where only people protected by juggernauts should enter. Before the days when all crossings are well publicised he just got up and went for it alone.
I like the chapter about him getting his gear put together, the relentless drive to minimise weight by cutting down to the smallest of sleeping bags and taking no luxuries. The disappointment of not getting the sleeping bag to be as small as possible.
One things that jumped out of me from this is that when running from west to east I'll never actually be facing a sunset. The sun will always come up right ahead of me and disappear behind my back.
Another great read to get me more excited about the summer. Despite being surrounded by people all the way in the US I am sure I'll get the same feeling on loneliness as Shapiro did back when I was still an incoherent dribbling defacating mess.