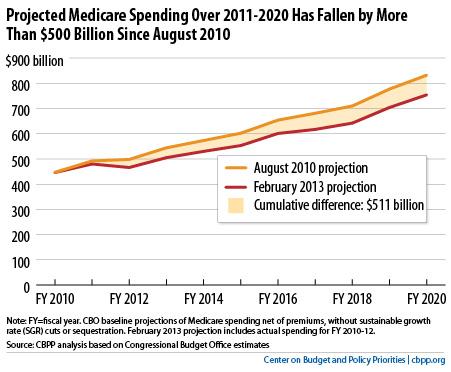 As I have posted before, our debt problem is directly tied to our healthcare problem; we spend way too much on substandard care, when compared with the rest of the advanced world. Some good news has emerged on that front, however. The Center for Budget Policies and Priorities (who thinks of these names?) has a new forecast of Medicare spending through 202o.
The takeaway from this chart is simple: healthcare spending is America is slowing, and because of that, Medicare is expected to spend $511 billion less than it would otherwise.
CBO has reduced its projections of Medicare spending in response to a pattern of very low spending growth in the past three years.  Medicare spending per beneficiary in fiscal year 2012 increased by only 0.4 percent — well below the 3.4-percent growth in gross domestic product (GDP) per capita.  Over the 2010-2012 period, Medicare spending per beneficiary grew at an annual rate of 1.9 percent, while GDP per capita increased by 3.2 percent a year.  CBO projects that Medicare cost growth will remain subdued for the rest of the decade.

Medicare spending growth has slowed even more than costs in private health insurance, according to Standard & Poor's and Medicare's actuary.  Although some of the slowdown stems from the recession, CBO Director Douglas Elmendorf and other experts have concluded that a substantial part reflects structural changes in the health care system.  Professional associations, hospitals, and doctors are taking steps to curb costly and ineffective procedures and treatment.

No one knows how long this good news will continue, but even if cost growth remains moderate, Medicare spending will keep rising as more baby boomers become eligible for benefits.  Making the U.S. health care system more efficient thus remains our biggest budget challenge.  Yet the recent spending data and CBO's new projections belie claims that policymakers must radically restructure Medicare to put it on a sound financial footing.