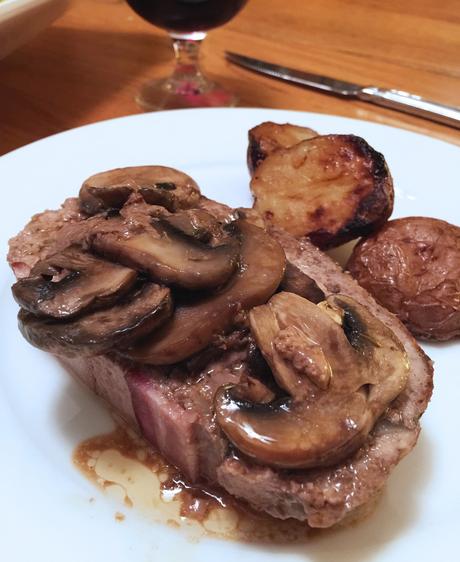 "Meatloaf, smeatloaf, double beatloaf. I hate meatloaf." This quote from the 1983 movie, A Christmas Story could have been taken directly from a scene in our family kitchen growing up. There is a notorious story from my childhood that can still cause my mom's jaw to set during the retelling.
Upon arriving home from school one day, I noticed that there were two items strategically placed on the kitchen counter: a lump of thawing hamburger and a loaf of Wonder bread. These two ingredients placed in close proximity at this time of the afternoon could only mean one thing, one bad thing: meatloaf.  So being a clever and resourceful daughter, I waited for just the right moment when Mom's back was turned I nonchalantly stole the bread from the counter and hid it.
Tick, tock, tick, tock; I waited in my room pretending to be doing homework. Nothing. My father arrived home and pleasantries were exchanged; still nothing, until… "Where's the bread" came a slightly shrill call from my mom. "What bread?" my dad and I replied in unison. "The bread for the meatloaf." came the brief and definitive explanation from Mom. Dad then made the face; the I-hate-meatloaf-more-than-even-you-do face. I silently mouthed, "I hid it," to my Dad whose eyes instantly lit up. Mom came trudging down the hall. I was busted, yet, there I stood steadfast and determined not to give in to the mundane meatloaf menace. Low and behold Dad backed me up! "We aren't really in the mood for meatloaf tonight," he diplomatically attempted to skirt the issue. Mom retorted something about us never being in the mood for meatloaf. The cards were on the table, all bets were off, the secret was out; "No, in fact, we hate meatloaf and would prefer to never have it again," Dad responded. And we didn't. Meatloaf was off the regular menu rotation, reserved only for occasions when mom was cooking for herself or for Dom who completely shares her love for the hamburger-bread amalgamation.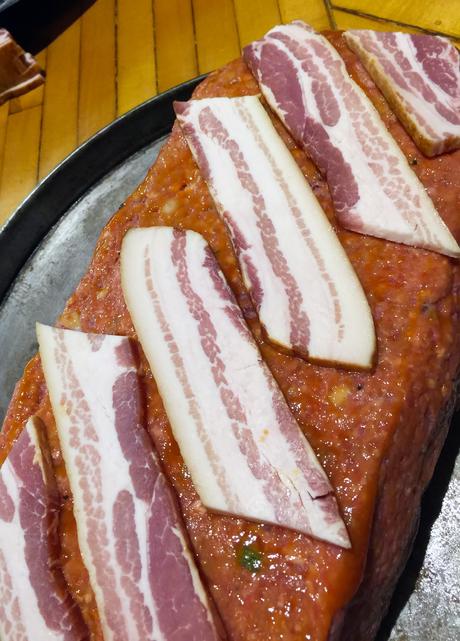 Dom, who knows of my meatloaf aversion and typically honors my preference not to ingest the dish, recently needed a meatloaf fix on a stormy, unfriendly evening. He dug out a dusty copy of James Beard's tome of recipes and set to work at creating dinner. I've known him a long time and he knows me; he knew that if he used JB's recipe, I wouldn't (couldn't) dream of protesting. So here is Dom's variation on meatloaf inspired by the equally indomitable James Beard.
2 pounds ground beef
1 pound ground pork
2 doves of garlic, minced
1 large onion, finely chopped
1 teaspoon salt
1 teaspoon black pepper, freshly ground
½ teaspoon oregano
1 teaspoon jalapeno pepper
½ cup bread crumbs
2 eggs
Thickly-sliced bacon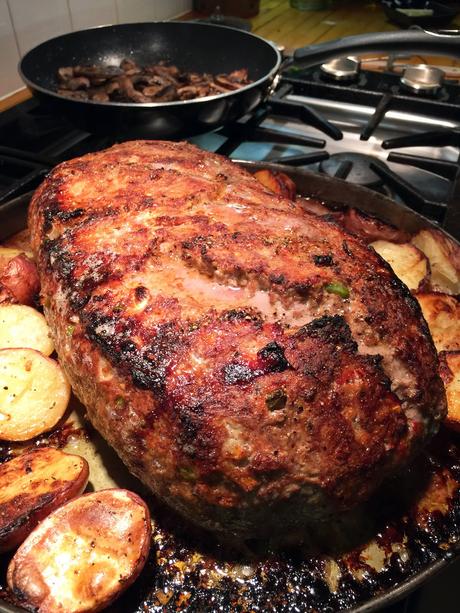 Mix all ingredients except bacon thoroughly and knead with the fingers until the mixture is very thoroughly blended. Form into a long loaf or cake and press firmly. Arrange enough slices of bacon or salt pork on the bottom of a baking pan to hold the meat loaf. Brush the loaf liberally with a mixture of half ketchup and half yellow mustard and then cross with 2 to 4 additional slices of bacon. Roast at 325°, basting occasionally with more ketchup and mustard, for 1½ to 2 hours, or until the loaf is cooked through.
Once the internal temperature reaches 155°F, the loaf is done and can be removed from the oven.  Let it stand for 10 to 15 minutes before carving to allow the juices to settle. If you want to try my Mom's and Dom's favorite preparation, wait until lunch the next day and sandwich a thick slice between pieces of crusty bread.