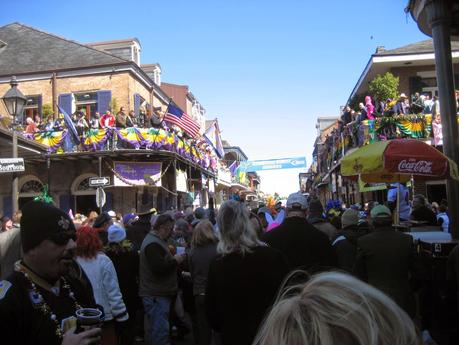 It's been 5 years since I attended Mardi Gras in New Orleans and let me tell you what a blast it was! Except for an allergic reaction to oysters (and they were sooooo good!) I had a blast!  But you know what they say, "What happens at Mardi Gras stays in New Orleans."
This year on Fat Tuesday I wasn't in New Orleans but I was celebrating Fat Tuesday. Not with your typical Gumbo or Jambalaya but with Meatloaf.  Meatloaf is not a big dish in our house, however this adapted recipe from Paul Prudhomme happens to be.
I've altered the recipe a few times with the beef mixture, but the alteration that stays constant is I added wine to the mix.  When I began the process of preparing the meatloaf I needed a 1/2 cup of wine.  When I reached for the wine we had opened - a 2005 Chappellet Cabernet Franc, Paul had a cow.  He wouldn't let me use an expensive wine to put in the meatloaf.
Guess where he went...to the wine shop and came back with Apothic Red.  I can't say I traded my glass of Cab Franc for the Aptothic Red, but the Aptohic Red did go well in the meatloaf.
The Cabernet Franc did go well with the meatloaf, however  I think a cooler climate Cab Franc or a Syrah would have paired better.  The meatloaf is killer!
I've made this a few times. Some with 100% ground beef, this evening I used 1/2 ground beef, 1/2 ground hot sausage.  You choose your combo and here is the rest of the recipe.  For this recipe I halved it, as there were only two of us and I didn't want to eat meatloaf for a week.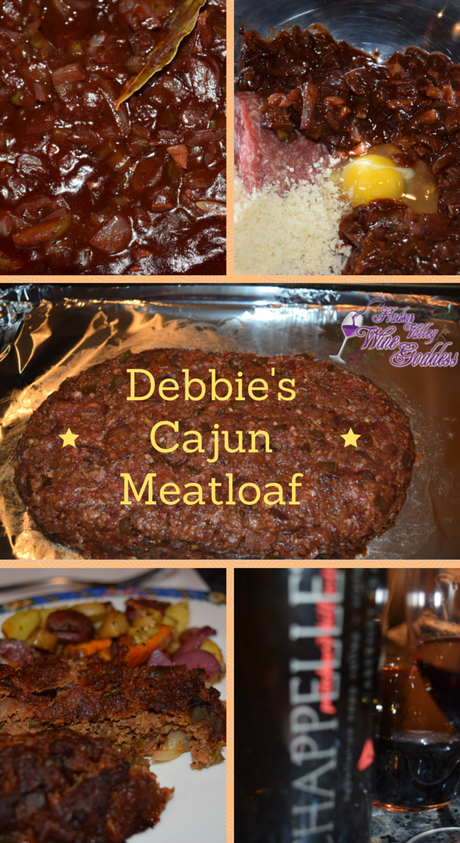 Debbie's Cajun Meatloaf
Seasoning Mix
2 bay leaves
1 tbs salt
1tsp cayenne pepper
1 tsp black pepper
1/2 tsp white pepper
1/2 tsp ground cumin
1/2 tsp ground nutmeg
---------------------------
4 tbs unsalted butter
3/4 finely chopped onions
1/2 cup finely chopped green bell peppers
2 minced garlic cloves
1tbs Tabasco sauce
1tbs Worcestershire sauce
1/2 cup red wine
1/2 cup catsup
2 lbs ground beef or a mix of beef and ground pork
2 egs
1 cup panko
Combine the seasoning mix ingredients in a small bowl and set aside.
Melt butter in a 1 quart saucepan over medium heat.  Add the onions, peppers, garlic and seasoning mix.  Saute until mixture begins to stick excessively to pan.  Stir in wine and Catsup.  Continue cooking for 2 minutes.  Remove from heat and let cool.
Place ground beef mixture in a bowl and add eggs, cooked veggie mixture but remove the bay leaf, and panko.  Mix by hand and then turn onto a cookie sheet. Shape into a loaf.  I like it crispy so I made my loaf thin and wide.
Bake uncovered at 350 for 25 minutes, then raise heat to 400 and continue to cook for 35 minutes.
Enjoy.